More Evidence of WND's Loony Nature
Grover Norquist isn't conservative enough for WND.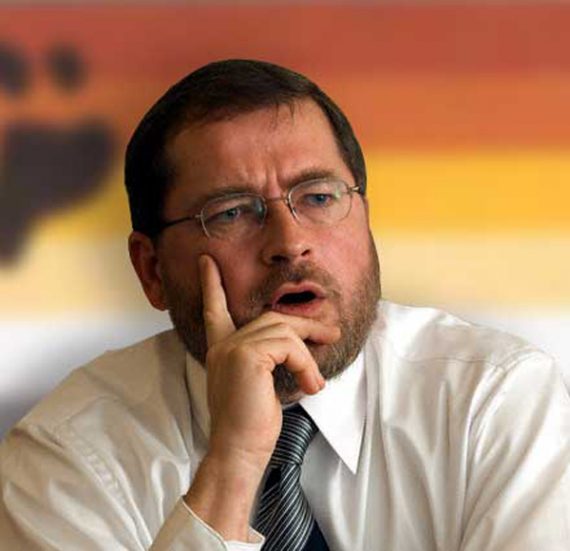 Not that one needs additional evidence of the fringe nature of World Net Daily (and Joseph Farah in particular), but here's the latest:  It's time to dump Grover Norquist.
Now, let it be know that I think that Grover Norquist has been a major problem for American politics because of his pig-headed insistence of an utterly simplistic anti-tax position that has induced a large number Republicans to sign pledges to eschew the hard work of governing (which requires making hard decisions at times) in favor a mindless devotion to no new taxes no matter what.
However, this is not Farah's problem with Norquist.  Instead, he is concerned that "that Norquist represents the gravitational center of an effort at Muslim Brotherhood infiltration of the conservative movement and politics in America more generally – especially Republican politics."
Yes, Norquist is "Sharia-friendly" and  "shockingly pro-Islamist" and is seeking "to spread the tentacles of stealthy jihad through the corridors of power, including the White House."
Now you know.
And, just for kicks, Farah calls Norquist "pro-perversion" because of his involvement with GOProud.
Ok, so Farah thinks that Grover Norquist is a stealth Islamist bent on spreading Shariah while at the same time is promoting perversion by being involved with pro-gay rights Republican group.  The cognitive dissonance here is pretty stunning.
On balance, it would appear that Farah's beef with Norquist is just a manifestation of anti-Muslim bigotry (based on association).
Further, it goes to show how fringe WND is if it is going to say that the central anti-tax conservative who sits on the boards of the NRA, American Conservative Union and the Nixon Center simply isn't conservative enough for them.
I fail to see how anyone can take WND seriously  (although I know some of our commenters occasionally like to link to it).