More Faux Google Doodle Outrage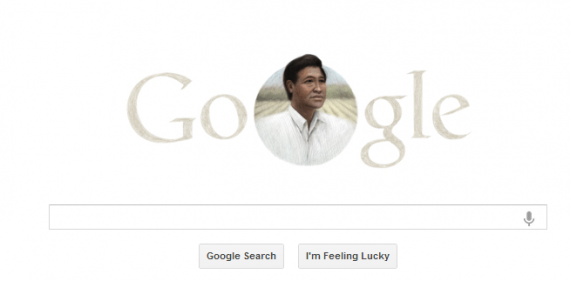 Every time there's some kind of major holiday, or the anniversary of some important event, there are always people at the ready to claim outrage over something they considered important not being appropriately marked with a doodle on Google's home page. Typically, you see this happen over some event with American historical meaning such as Memorial Day, Veterans Day, or the anniversaries of the attack on Pearl Harbor and the D-Day Invasion. This time around, it's Easter:
On Easter Sunday, Google is honoring the birthday of the late labor organizer Cesar Chavez by placing a Chavez portrait within the middle "o" of the Google logo that appears on the homepage of the popular search engine.

While Google frequently decorates its logo to celebrate various holidays and special events, it is unclear why the company chose specifically to honor Chavez's birthday, instead of Easter Sunday.

Chavez co-founded the organization now known as the United Farm Workers union (UFW). He became an iconic figure in the labor movement, with his stature only increasing since his death in 1993.

President Barack Obama released a statement in 2011 proclaiming March 31 "Cesar Chavez Day," declaring, "I call upon all Americans to observe this day with appropriate service, community, and educational programs to honor Cesar Chavez's enduring legacy."

Google CEO Eric Schmidt was an informal adviser to both of President Obama's presidential campaigns, a member of the Obama White House transition team in 2009 and a onetime prospect for an Obama Cabinet post during the president's second term.
As you can expect, this has resulted in the usual righteous outrage from the usual suspects, who seem to have found a lot of time to comment on their blogs and on Twitter because Google wasn't honoring a day that they consider religiously significant. Now,while I'll admit it's odd that Google chose to honor Chavez, it's worth noting that Google has not displayed an Easter-themed Doodle for thirteen years now. Even if they did have one it would obviously feature colored eggs, bunnies, and other images associated with the secular side of the day, not anything overtly religious. More importantly, though, I have to wonder why people get upset over things like this. Is their faith so weak that it can only be affirmed if they see an appropriate Doodle on the Google homepage? It just doesn't make any sense to me.