More on the Former Name of Perry's Hunting Lodge
The story of Perry's hunting lodge probably doesn't tell us that much about Perry, but it is still telling.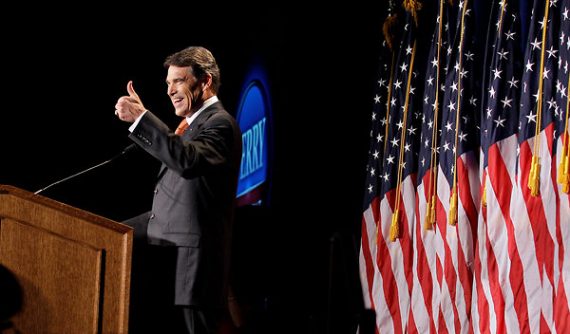 At the Atlantic, Ta-Nehisi Coates writes:
In all seriousness, I think this says very little about Rick Perry, and a lot more about the country he seeks to govern.
He has a point—and his post is worth reading in full.
A key conclusion:
what we see on display in the quotes is the insidiousness of racism, the way it gets in the blood, and literally alters the senses. A black woman in the county claims she was constantly addressed as "Nigger." A white man, in the very same county, claims that "Blacks were perfectly satisfied."

Several people in the story have no notion of why the name "Niggerhead" would be offensive. It's just what it is.
Having grown up in Texas and having lived over a decade in Alabama (and with family from the state), I can personally attest to some of the attitudes that Coates notes:  many whites from the pre-civil rights generation just don't see what the big deal was.  This is reminiscent of the quote that got Haley Barbour in trouble not that long ago, in fact:
Mississippi Gov. Haley Barbour says he doesn't remember the Civil Rights Era being "that bad" despite attending a Martin Luther King, Jr. rally nearly 50 years ago.

"I just don't remember it as being that bad," Barbour (R), 63, told the conservative Weekly Standard, which did a lengthy profile on the governor. "I remember Martin Luther King came to town, in '62. He spoke out at the old fairground and it was full of people, black and white.
For those who were trying to puzzle out why the vast majority of African-Americans tend not to want to vote Republican in a recent comment thread, these types of statements ought to be instructive.  There is still a great deal of denial amongst southern whites in particular, about this country's experience with race and racism.  They all too frequently consider it as something that was a) not really all that bad (at least they don't remember it that way) and b) is settled (so why fuss about it now?).   The story of the hunting lodge in question underscores this.  Forget Perry, the fact that the lodge kept the offensive name until the 1980s is telling enough, especially when multiple people from the area are quoted as saying things like "No one thought anything about it" (which, I expect, was true).  And in regards to the notion that because it was a place name it therefore was easy to overlook the offensiveness of the name, I give you mistermix at Balloon Juice.