More on the "Republic, not a Democracy" Business as Linked to the Electoral College
Be clear on what one is defending.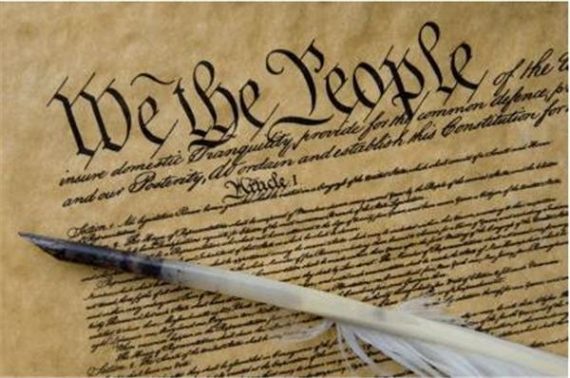 It has been quite fashionable in the last several weeks, chiefly in defense of the electoral college, to proclaim "the United States is a republic, not a democracy" or to specifically state "we have a constitutional republic." I will note that the explanation usually goes not further than said statement, but the implication is clear that a republic is superior, in some way, to a democracy and that said superiority has something to do with protecting individual or minority rights. I have to infer a lot of that, because I have rarely encountered anyone who goes much beyond just making the declaration on this topic to actually tell me what distinction is actually being drawn.
Now, I have extensively written on this before (even in print), with my most complete post (I think) being Madison's Defintion(s) of Republic which details pretty well the origins of the democracy/republic contrast that James Madison introduced into American political discourse (and what it really should mean to contemporary deployments of the terms in question). I have also contributed A "Republic v. Democracy" Lexicon which provides numerous definitions to the terms under discussion (and is, in many ways, a companion to this post–and indeed, some of this post contains variations on language used in the other).
In regards to most claims that "we have a republic, not a democracy," I think that a lot of the conversation is focused on confusion over when a system should employ majority-based decision rules and when it should privilege minority preferences. Specifically, the sense one gets from the declarations is that a "republic" somehow better protects minority rights than does a "democracy" because the latter values majority will over minority (sometimes to the tyrannical application of the majority's will over the minority).
However, in the modern context (i.e., since the 19th century, give or take) the idea of "democracy" is one of representation coupled with majority rule for basic governance and a profound protection for human rights, i.e., minority protections. Indeed, the quality of a given democracy focuses on both the degree to which its electoral system captures an accurate representation of the population (i.e., reflects majority rule) and the degree to which is protects minority rights and preferences (i.e., access to rights, privileges, and representation for all members of its society). I cannot stress enough that what I am here describing is true in all the democracies I have names so far in this piece (as well as any others one might care to name).
Also: the most basic definition of "republic" is simply a state whose head of state is not a monarch. It has nothing to do with protecting minority rights.
As such, proclamations that republicans protect citizens better than democracies is incorrect, and is founded in, at best, fuzzy understandings of the terms being used.
So, beyond definitions, let's look at the issue of whether majority or minority preferences should be preferred (even to take into consideration minorities of one, i.e., individuals). It should be noted, above all else, that all democracies (in the modern sense of the term, see below for more) function mainly on principles that take seriously majority preferences, and usually privilege them in most circumstances–especially day-to-day decision-making (e.g., legislation). However, it is also true that all democracies give serious weight to minority rights. This fact has zero to do with any distinction one could make between democracies and republics.
There are two kinds of minority empowerment. The first kind (the democratic kind) is that which ensures protection of minority rights even if the exercise of those rights runs counter to majority preference. Allowing a religious minority the right to worship fits here, as do policies that dismantle discrimination against specific groups, such as the move to desegregate schools as the result of the Brown v. Board of Education ruling.
The second kind (the undemocratic kind) is that which allows a numeric minority to have undue influence over the majority, either by design or by accident. If we operate from the notion that all humans are equal, then their preferences should be counted as equivalent unless there is some compelling higher reason (such as protecting fundamental human rights) to not do so.
It is also important to note that simply empowering minority preferences in a way that trumps majority will is anti-democratic unless such empowerment is necessary to allow enjoyment of basic human rights. So, curtailing majority preferences on racial discrimination is a democratic act in the sense that it is helping to extend fundamental human rights to all co-equal citizens. However, to create institutions that empower minorities to make decisions in the hopes of thwarting majority will when there is no over-riding need to thwart said will, is inherently undemocratic.
So, for example, the electoral college has inherently undemocratic elements: it counts some citizens as more important than others. Specifically, if undervalues the power of the vote for citizens in larger population states and over-values the vote of citizens in lower population states. It violates the very nature of the dictum: "all [humans] are created equal" as well as the core idea of one person, one vote. And it is worth noting that it does so in a way that does not further any specific protection of minority rights as described above. So, if one's goal in saying "we have a republic, not a democracy" is to defend the electoral college, then one is defending anti-democratic practices that value some voters over others for no particularly good reason (or, at least, to defend a political compromise from the 1780s, and nothing more). It is to defend a system of minority privilege that does not rectify an injustice or extol in some way fundamental individual rights. Rather, it undemocratically allows less voters to thwart the will of other voters in an asymmetrical fashion. A voter in California or Texas is undervalued versus another voter in Wyoming or South Dakota. And before one tries to argue urban/rural balancing, I would note that there are far more rural persons in California or Texas than there are in Wyoming, and yet the system inherently favors the citizens in Wyoming over the citizens in California or Texas.
To defend the electoral college is to defend the notion that not all citizens are equal. It is to defend the idea that voter A is less democratically significant than voter B. It is an undemocratic system and it even violates the basic notion of republicanism–the idea of power from the people, so even the "we have a republic" bit doesn't really make senses, unless one is talking the kind of republic they have in China.
At least be clear on what one is defending.