Murkowski Stripped of Committee Post?
The Republican Leadership is treating Lisa Murkowski very differently than the Democrats handled Joe Lieberman in 2006.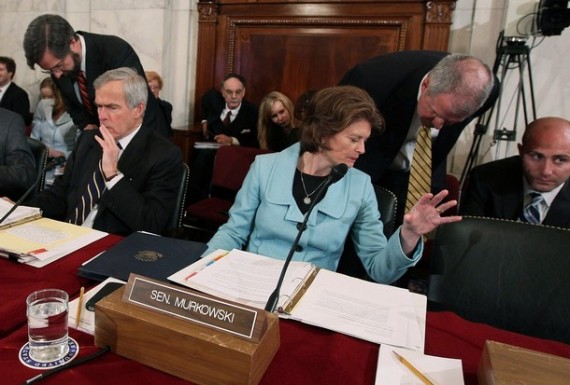 The Republican leadership is playing hard ball with sore loser Lisa Murkowski, having stripped her of her party leadership post and on the verge of stripping her committee leadership posts.
Senate Republicans just said they will move tomorrow to strip Alaska Sen. Lisa Murkowski, R-Alaska, from her post as ranking Republican on the Senate Energy Committee.

Republicans say Wednesday they will vote to elect an acting ranking member and then the full GOP conference will ratify the vote.

Republicans will also vote to elect a replacement for Murkowski in the leadership. She resigned Friday as vice chair of the Senate GOP conference.

National Republican Senatorial Committee Chairman, John Cornyn, R-Texas, told CNN this is, "the appropriate thing to do. When you chose not to accept the judgment of the primary voters and run as a write in… it has consequences."

Another Republican came out of the Senate GOP lunch and told CNN it was clear Murkowski has virtually no support among her colleagues anymore.
The contrast with the Democrats' treatment of Joe Lieberman four years ago after he decided to run as an independent after his primary defeat to Ned Lamont is striking.  Despite his running against the winner of the Democratic primary and even endorsing some Republican candidates, Lieberman was allowed to keep his seniority in the Democratic caucus.
The Democrats then, like the Republicans now, were riding a wave toward picking up control of both Houses of Congress.  (I still think the GOP will fall short of re-taking the Senate, given the gap and the matchups, but it's not outside the realm of possibility.)   Like the Democrats of 2006, the Republicans of 2010 need every vote they can get in their caucus. The major difference is that Lieberman was virtually assured of winning the general election, while the current polling has Murkowski trailing Republican nominee Jim Miller.  So, it makes sense for the leadership to pull out all the stops to support their party's candidate, whereas the Democratic leadership's support for Lamont was relatively token.
If Murkowski somehow wins the general election, I'd expect her to caucus with the Republicans and to be allowed to retain her seniority.   But, for the moment, she's thumbing her nose at the party's primary voters and the leadership has to make a stand.  That's politics.
UPDATE (9/23):  Murkowski Won't Lose Post After All