Naval Academy's Culture Problem
The long investigation into rape at the Naval Academy has revealed some ugly truths.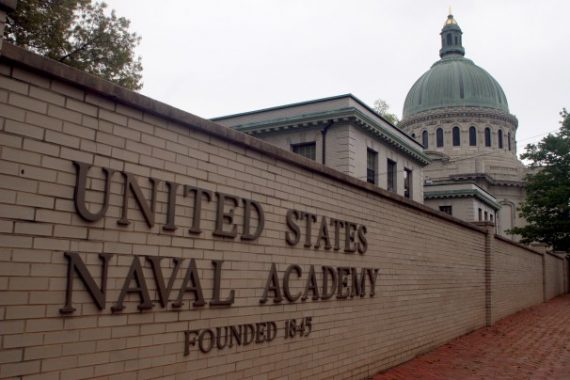 The long investigation into rape at the Naval Academy has revealed some ugly truths about its culture.
WaPo ("Rape hearing offers an unflattering glimpse of Naval Academy culture"):
The hearing, which concluded Tuesday, will determine whether the case goes to a court-martial. Its outcome is still weeks away, but the testimony provided a sometimes unflattering glimpse into the culture of the Naval Academy, one of the country's storied training grounds for military leaders.

The 11 midshipmen who took the witness stand described a world of binge drinking, casual sex, social-media harassment and lying — behaviors that can be found on any other college campus. But for some academy alumni, it was a disturbing portrait of an institution that imposes strict rules on aspiring young officers whose educations are funded by U.S. taxpayers.

[…]

Still, the transgressions exposed at the hearing have some people questioning whether the pressures and constraints placed on midshipmen are part of the problem.

"There are a lot of needless restrictions," said Bruce Fleming, an English professor who has taught at the academy for 27 years. As a result, "there is a 'get back at the man' mentality."

A 2006 study of alcohol abuse at the Naval Academy found that a higher proportion of midshipman interviewed reported binge drinking in the previous six months than students at civilian colleges did over the course of a year. The participants blamed the limited opportunities to let loose, according to the study, which Lt. Cmdr. Lydia Doye, a Naval Academy graduate, conducted for her graduate-school thesis. This fueled a need to "make up for lost time," the study said, and tended to "feed more intense drinking."

The academy has been battling binge drinking for years, and officials said they have made progress. The number of midshipmen disciplined for alcohol-related incidents fell by 70 percent between 2010 and 2013, Schofield said.

Prohibitions against drinking extend to all freshmen, including those who are 21. Midshipmen cannot have alcohol in their dormitory, Bancroft Hall. The purpose of the rules is to mimic the conditions graduates will face once they are commissioned and deployed, academy officials said.

Midshipmen are policed as soon as they choose to attend. They are given a drug and alcohol test upon their induction, Schofield said. Any candidate with a blood alcohol count of .05 percent or above is sent for a medical evaluation. Anyone who tests positive for drugs is kicked out on the spot.

Since 2010, midshipmen have been subject to random breath tests. They also get an earful from an alcohol and drug education officer before and after summer leave, and before spring break.

Once a month, midshipmen turning 21 take part in "Responsible Use '21st Birthday' Dinner Training," where they get up to two alcoholic drinks with dinner in a banquet room at the academy, learn how to compute their blood alcohol content and get a breath test.

The consequences for getting caught drunk or sneaking in a six-pack are demerits or, depending on the circumstances, expulsion.

Sex is also highly restricted. Male and female midshipmen have to keep the door open when they are in the same room in Bancroft Hall. And no sexual contact is allowed on the academy grounds. "That includes everything from hand-holding to the wildest orgies," Fleming said.

To evade the rules, athletes on a number of teams pool their money and rent off-campus houses, where they can drink and have sex. Before it was shut down by academy officials, the Black Pineapple served as a retreat for the football players and their friends. Team members were renting the house on Witmer Court in Rolling Hills for $2,200 a month, according to an online ad posted about a year ago.

Fleming has argued for years that the unforgiving environment on campus leads to unintended consequences and that banning consensual sex undermines sexual-assault prevention efforts. Twenty percent of midshipmen are women.

"We can't teach them about sexual assault when everything is tarred with the same moral brush," he said.
While I agree with Fleming that the absurdly restrictive policies both incentivize bad behavior and blur the line between "the rules" and honorable conduct, there's something else amiss here. The academies have had a no sex, no PDA policy going back to at least the early 1980s and probably from the first days of going co-ed in 1976. Similarly, there was no alcohol permitted in the barracks at West Point thirty years ago—and probably well before that—and cadets were essentially confined to the barracks, classrooms, parade grounds, and athletic fields during the week.
The MADD culture was just taking hold when I was a plebe in 1984 and members of the armed services—including cadets and midshipmen at the service academies—were permitted to consume alcohol on base regardless of age and the restrictions imposed by the state off base. There were classes Saturday morning and Monday through Friday. Saturday nights at Eisenhower Hall, which provided the only venue and opportunity to get beer, featured a lot of binge drinking. Cadets were only allowed to purchase one beer at a time, so the more enterprising would buy their beer and get back in line, consuming it on their way to the front.
Still, and at a time when attitude toward women in the military in general and women at the academy in particular were much less evolved, there was next to zero problem with sexual assault, much less rape. So something else is going on. And, for whatever reason, despite similar structures and policies, the Air Force and Naval academies have had much more of a problem than their Military counterpart.
Almost by definition, it's a leadership problem. But the issues have persisted over a couple decades and a long line of superintendents and commandants at this point. So, there's some cultural difference—whether in attitudes toward women or something else–that  has to be solved. We're at a point where the Secretary of Defense and Chairman of the Joint Chiefs—indeed, the Commander-in-Chief himself—are making this a top priority. One hopes they'll get to the bottom of the problem and root it out.