Navy Building Carrier Drone
The Navy is building a ridiculously expensive robot spy plane.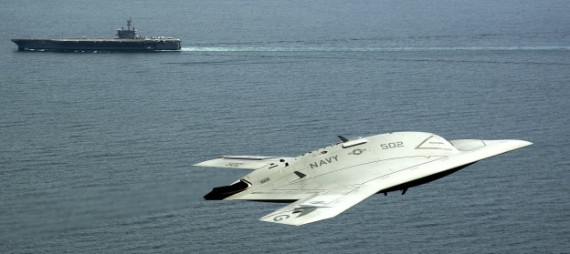 The Navy is building a ridiculously expensive robot spy plane.
USNI News ("Navy Docs Reveal UCLASS Minimum Ranges and Maximum Costs"):
The Navy aims to build a stealthy pilotless aircraft to patrol at a minimum range of 600 nautical miles around an aircraft carrier at a maximum cost of $150 million a copy, according to a May Navy requirements documents obtained by USNI News.

The Unmanned Carrier Launched Airborne Surveillance and Strike (UCLASS) so-called key performance perimeters (KKPs) outline an aircraft that will primarily fill information, reconnaissance, surveillance and targeting (ISRT) roles for the service's carrier strike group with a limited ability to strike targets at a range of 2,000 nautical miles from the strike group in lightly contested environments, according to the documents.

[…]

The KPPs call for an aircraft that can field a 3,000 pounds worth of payload, including a 1,000 pounds of air-to-surface weapons — including the 500 pound Joint Direct Attack Munitions and Small Diameter Bomb II.

To compare, the F/A-18E/F Super Hornet — the current manned carrier strike fighter — can carry almost 18,000 pounds of ordinance and external fuel.

[…]

Put into perspective, a single F/A-18E/F Super Hornet has a recurring flyaway cost of $66.9 million an aircraft, according to 2012 Navy budget documents.

[…]

"You normally have a 12 hour fly day with a 12 hour gap in airborne surveillance in the strike group," Corgnati said. "You can launch UCLASS at the end of your fly day and it can span that gap while your flight deck is shut down."
The ISR role is one that would seem especially well suited to remotely piloted vehicles. The work is incredibly tedious and the hours long. Those flying UCLASS remotely can work in shifts in a way that pilots of Super Hornet can not.
That the UCLASS will cost more than twice what an F/A-18E/F costs, though, boggles the mind. Typically, drones are cheap to produce if expensive to operate. I lack anything near the technical knowledge to understand why existing RPVs can't be flown off carriers; offhand, it would seem a simple task to make the conversion.
via Sam LaGrone