NBA Wants to Ban Shelly Sterling, Too
The NBA wants to get rid of Donald Sterling's estranged wife, too.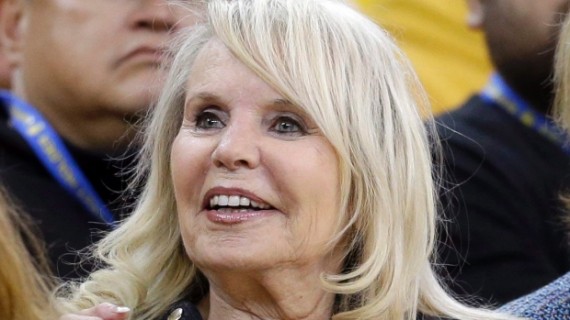 The NBA wants to get rid of Donald Sterling's estranged wife, too.
ESPN ("NBA looking to oust Shelly Sterling"):
The NBA believes it has the legal grounds to oust both Shelly Sterling and her husband as owners, despite the fact that commissioner Adam Silver's punishments were specifically leveled only against Donald, according to sources with knowledge of the league's legal strategy.

Shelly Sterling, the estranged wife of exiled Los Angeles Clippers owner Donald Sterling, has made it clear to the NBA that she intends to retain her 50 percent ownership interest in the team.

She has publicly and privately cooperated with the league in its actions to ban her husband for life and move to oust him from ownership. However, the league's contention will be that Shelly Sterling — while entitled to a 50 percent interest in the franchise — has never been approved by the board of governors as the controlling owner. She and team president Andy Roeser, who went on an indefinite leave of absence this week, were only alternate governors.

In order to become the team's new controlling owner, Shelly Sterling would have to be approved by the board of governors, which is unlikely given her association with her husband of 58 years.

Former Lakers great Magic Johnson said Friday that none of the current Clippers players would play for Shelly Sterling if she retains her ownership.

"Those guys are not going to play for anybody (named) Sterling," Johnson told USA TODAY Sports and two other reporters at the Omni Dallas Hotel. "It's just how it is. It's hard to separate the two. … It's going to be hard for them to sell that to the fans and definitely to the players."

[…]

ESPN.com's Darren Rovell reported last week that the NBA believes it has a case to remove Donald Sterling because he has signed several contracts over the years that state an owner will not take any position or action that will materially and adversely affect a team or the league. Owners also sign morals clauses, which state they will be upheld to the highest standard of ethical and moral behavior.

The NBA believes that Sterling's racist statements in a private conversation with his assistant V. Stiviano, which were later published by TMZ, constitute a violation of those contracts.

When morals clauses are enacted and result in termination of agreements, including endorsement deals, the courts often are charged with interpreting who was right, but sources with knowledge of the NBA's legal strategy believe that they have enough to force Sterling to sell.

Shelly Sterling has publicly distanced herself from her estranged husband -whom she's been separated from for the last few years — since the scandal broke two weeks ago. "Donald's on his own," O'Donnell said. "She's distanced herself from him, she's repudiated his racist statements. He has nothing to do with the team anymore, he can't go to the games. What happens to Donald, happens to Donald. She wants to retain her interests.

"Shelly was found by Commissioner Silver to be blameless. This is about Donald. Push Donald out, but don't throw his innocent wife over the cliff."
'While I have reservations about punishing Donald Sterling for private conversation, I understand why the NBA banned him. Further, while I'm not sure that expressing bigoted thoughts is in and of itself a violation of "morals," I think they're on pretty firm legal ground in forcing him to sell his ownership stake.
For the life of me, though, I can't see any grounds for punishing his estranged wife.  They've been separated for years, she is in no way involved in the conversation—which was, after all, with Mr. Sterling's mistress—and she quickly repudiated the remarks. They're going to divest her of her ownership stake on the basis of her last name being "Sterling"? That would be outrageous, indeed.
Magic Johnson—who has something of a conflict of interest here, since he is apparently in the market to buy the team—has argued that Mrs. Sterling is complicit:
"When they accused them of (being) slumlords, that was both, it wasn't one person," Johnson said. "It was both of them. … They will never recover from this. All the sponsors pulling out, they will pull out for good if she is owning it. It's not going to be the same."
Regardless of her involvement in that matter, of which I have only passing knowledge, it has long since been adjudicated. It took place well before Doc Rivers agreed to come aboard as coach and before any of the current players signed their contract with the Sterling-owned club. It's therefore a rather thin pretext for any of them to get out of their contract with the Clippers.