Neither Trump Nor DeSantis?
An unconvincing column from an old pro.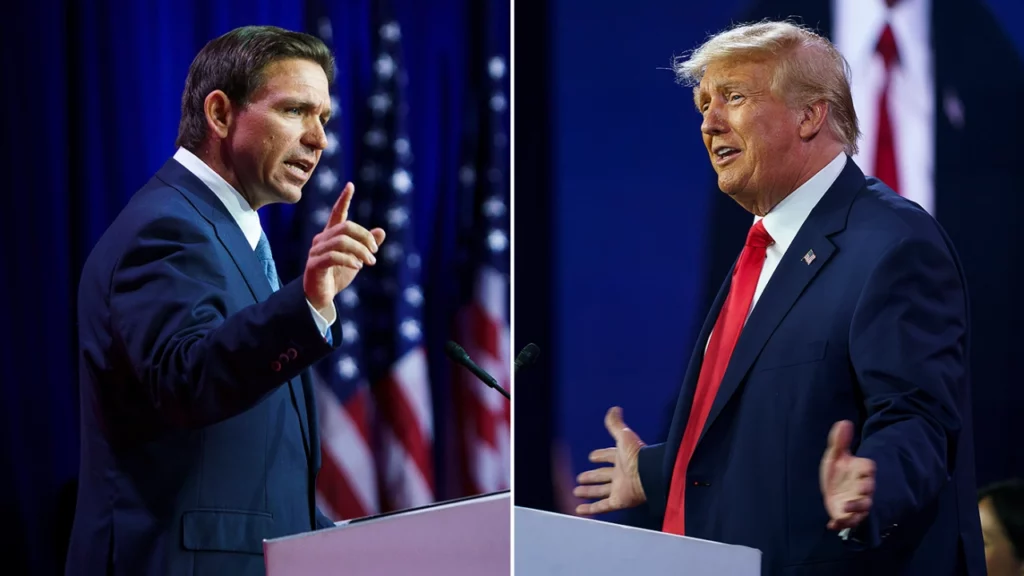 WaPo columnist George Will assures us that, contrary to widespread assumption, "Neither Trump nor DeSantis will get the GOP nomination." That's comforting news, indeed!
What, you may ask, is the basis for this contrarian prediction?
Inevitably, there comes a rebellion against inevitability. Voters have been told that Donald Trump is the all-but-inevitable Republican nominee and that Florida Gov. Ron DeSantis, operating atop a mountain of cash, will inevitably be Trump's only significant challenger.

Voters, however, become contrary when told that the game's outcome is known in the top of the first inning. Hence what G.K. Chesterton called the game of "Cheat the Prophet": People listen politely to explanations of what is inevitable, then make something else happen.
Okay.
The 2024 Republican nomination question was supposed to be: Could anyone harpoon the Great Orange Whale? Who knew that he would harpoon himself, repeatedly? Or that DeSantis, playing Captain Ahab, would pay Trump the sincerest form of flattery by imitating his persona as an unhappy warrior? The nation is dispirited by the prospect of an all-too-familiar binary choice (between Joe Biden and Trump). Republicans might soon recoil from another: between Trump and DeSantis. Both candidacies are brittle.
Mmm hmm.
So, here's the thing. From the perspective of erstwhile Republicans who disdained Trump from the moment he descended the escalator to announce his 2016 run, like Will and myself, it seems obvious that Trump is committing one own goal after another. But those people have mostly left the party. and, like it or not, Trump continues to lead the rest of the field by a country mile. He's at 50% in the polls, DeSantis is at 21%, and no one else cracks double digits.
Trump, as stale as a month-old crust of sourdough, is running to win the 2020 election. His crybaby crusade might cause even his star-spangled supporters to wonder how to square their proclaimed love of the nation with their hero's insistence that it is so saturated with corruption that his landslide win could be erased without a peep from courts. Including some with his — how sharper than a serpent's tooth it is to have a thankless judge — appointees.
Again, this attributes rationality to an electorate that has demonstrated none. That Trump cares only about himself is hardly new news.
And this nod to history doesn't help make the case, either:
Trump's self-harpooning includes expressing contempt for Iowa's popular governor, Kim Reynolds, because she refuses to endorse him, even though he alone, he says, is responsible for her election. And he is too grand to appear with rival candidates at events, perhaps even the Aug. 23 debate in Milwaukee.

In the 1980 campaign, Ronald Reagan, who was not considered the inevitable GOP nominee, made only eight Iowa campaign appearances, spending a total of 49 hours in the state (according to Steven F. Hayward's "The Age of Reagan: The Fall of the Old Liberal Order, 1964-1980"). And Reagan skipped the Des Moines Register's Jan. 5 debate, which 58 percent of Iowa voters watched. Voters do not dislike inevitabilities more than they dislike politicians who seem to feel entitled to special dispensations. Reagan's post-debate support plummeted from 50 percent in November to 26 percent a week before the caucuses, which he lost to George H.W. Bush.
Yes, Trump is about to repeat the pattern of Ronald Reagan who . . . [checks notes] . . . went on to win the 1980 Republican nomination and then the presidency in a landslide?
For those readers for whom a 43-year-old election is too recent, Will trots out this one:
DeSantis, after nearly two months of intensified exposure to non-Floridians, resembles a political Edsel. That was the new car model that debuted to much fanfare in 1957, backed by Ford's marketing might. It expired in 1959, becoming a byword for disastrously misreading consumers. DeSantis is running hard to be president of Iowa, or of that minority of Iowans who will vote in the January caucuses and think Trump is ideologically squishy (e.g., regarding wokeness) and insufficiently abrasive (e.g., regarding gay rights).
While I was yet to be born (my parents were only 14) in 1957, I've heard tell of the Edsel. And the analogy with DeSantis—whose campaign thus far resembles a lead balloon (maybe we can work in a Hindenburg reference?) has some merit.
And, clearly, the key is to be neither too focused on Iowa nor unfocused. Perhaps there's a Goldilocks candidate out there?
The Republican nomination contest is accelerating, as is Ukraine's counteroffensive, the latter underscoring the stakes of the former.
Whoa! I did not see a reference straight out of today's newspapers coming!
During Spain's civil war, a rebel general boasted that he had four columns marching on Madrid and "a fifth column" in Madrid, meaning supporters of the army's insurgency.
Ah, we're back to the 1930s. That's more like it!
Vladimir Putin's fifth column is not in Kyiv but in the Trump-DeSantis faction of the Republican Party.

Putin has two hopes for a less than completely mortifying rescue from his Ukraine blunder. One is the election of Trump, whose frivolousness about national security complements his weakling's admiration for a bully. Putin's other hope is the election of DeSantis, who says (or said, before retreating when criticized) Russia's attempt to erase a European nation is a "territorial dispute." And whose pandering to Trumpkins prevents him from denouncing House Republicans who are as eager to abandon Ukraine as they would have been to abandon Czechoslovakia in 1938.
I must admit I've lost the bead of this interlocking series of analogies. But we actually abandoned Czechoslovakia in 1938, no? I seem to recall reading somewhere that we didn't join the war effort until the Japanese (or was it the Germans?) bombed Pearl Harbor at the tail end of 1941.
A New Hampshire student, referring to the Jan. 6, 2021, riot that followed Trump's incendiary harangue and disrupted the certifying of electoral votes, asked DeSantis last month whether Trump "violated the peaceful transfer of power." DeSantis's less-than-courageous answer: "I wasn't anywhere near Washington that day. I have nothing to do with what happened that day." Good grief. He wasn't anywhere near Gettysburg in July 1863 and had nothing to do with the moon landing in July 1969, but that does not preclude him from having thoughts about these events.
Good point! We should have a quiz-off or something. Maybe we could ask him about abandoning Czechoslovakia.
Would I like a Republican nominee who forthrightly admitted that Trump lost the 2020 election fair and square and then fomented an insurrection to steal it? Yes, please. But I don't see one of those out there. (In a post-column disclosure, Will confesses that his wife is working in some capacity for Tim Scott's campaign. He has not exactly been a beacon of courage on this front.)
Will closes:
Political prophesy is optional folly, but: There are not enough Republicans, in Iowa or the nation, enamored of the snarling contest between Trump and DeSantis — their competition to see who can despise the most American defects — to nominate either of them. Which is grim news for President Biden.
I would very much like to see Will proven right here. The Iowa Republican Caucus is on January 15, exactly six months from today. Thus far, I haven't seen a candidate who can plausibly beat Trump with Republican primary voters.