Nerdiest Correction Ever
An item in the Extra Bases baseball notebook last Sunday misidentified, in some editions, the origin of the name Orcrist the Goblin Cleaver, which Mets pitcher R. A. Dickey gave one of his bats. Orcrist was not, as Dickey had said, the name of the sword used by Bilbo Baggins in the Misty Mountains in "The Hobbit"; Orcrist was the sword used by the dwarf Thorin Oakenshield in the book. (Bilbo Baggins's sword was called Sting.)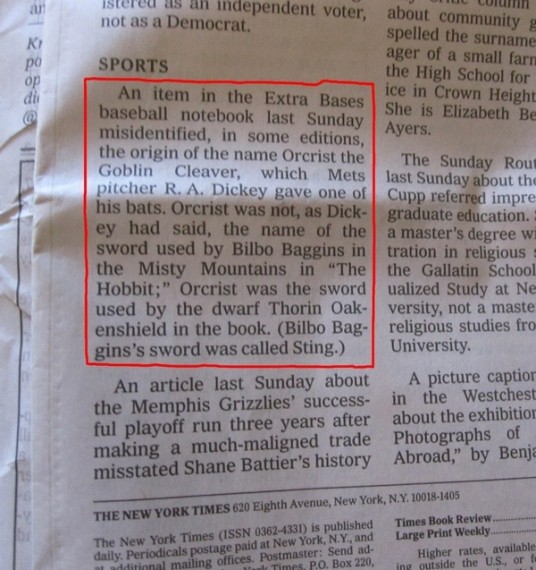 My wife passes along this correction posted at the New York Times Baseball Blog:
An item in the Extra Bases baseball notebook last Sunday misidentified, in some editions, the origin of the name Orcrist the Goblin Cleaver, which Mets pitcher R. A. Dickey gave one of his bats. Orcrist was not, as Dickey had said, the name of the sword used by Bilbo Baggins in the Misty Mountains in "The Hobbit"; Orcrist was the sword used by the dwarf Thorin Oakenshield in the book. (Bilbo Baggins's sword was called Sting.)
Both BuzzFeed's Dave Stopera, PJ Tatler's Bryan Preston, and the Baltimore Sun's Luke Broadwater call it "the nerdiest correction ever." I'm hard pressed to disagree.
Gawker's Max Read ups the NYT for nerdiness.
Orcrist, as everyone knows, was Thorin Oakenshield's sword. But it's not the Times' fault! It's the fault of Mets pitcher R.A. Dickey, who doesn't even know the origin of his bats' names.

[…]

For extra credit, note the typographical error in the print edition that was corrected for web! For extra-extra credit, note why "Orcrist the Goblin Cleaver" is not, technically, the name of Thorin Oakenshield's sword.
For the record, despite having read the books in question, I haven't a clue.