Netflix Gets Out of DVD Business, Spins of Qwikster
In a truly bizarre move, Netflix is spinning off the DVD-by-mail business that built them into an international brand and going stream-only. Those wishing to keep getting movies will have to sign on to something called Qwikster.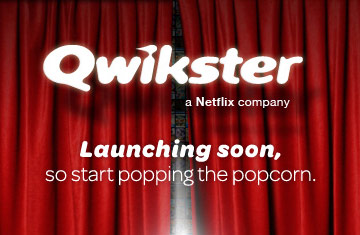 In a truly bizarre move, Netflix is spinning off the DVD-by-mail business that built them into an international brand and going stream-only. Those wishing to keep getting movies will have to sign on to something called Qwikster.
Atlantic Wire's Adam Clark Estes ("Netflix Is Killing Their DVD Business to Save Their Company") thinks this is a smart strategy.
Netflix is dividing in order to conquer. Sunday night, the company's co-founder and CEO Reed Hastings announced in a blog post that they would be splitting up their DVD-by-mail and streaming services into separate businesses. Netflix will live on as a streaming-only service, and in a few weeks, the DVD service will become Qwikster, a name that Hastings says "refers to quick delivery" and that tweeting tech types are having a blast making fun of.
Estes' Atlantic colleague Alexis Madrigal ("Hastings's Hasty Move: Netflix Splits in Two, Renames DVD Business") calls this a "hasty move."
 Leaving aside whether it's wise to guide a company based on a hunch about history, there are a couple of indications that Netflix might be moving too fast. Number one is that they didn't secure the Twitter handle @Qwikster or the homophone domain Quickster.com. Based on his tweets, @Qwikster is a young male who likes to smoke pot more than he likes to tweet. Quickster is owned by a domain name squatter advertising various types of flooring.

I have to wonder if Hastings started to panic as Netflix stock nosedived last week. After peaking at over $300 during the summer, Netflix's share price is down to $155. It has lost almost a quarter of its value in just the past week of trading.
TechCrunch's Erick Schonfeld ("Breaking: Netflix Splits DVD And Streaming Businesses; Creates Qwikster For DVDs") thinks it makes long-term sense:
Customers can still subscribe to both, but the two sites will not be integrated anymore. Qwikster will also now offer video game rentals through the mail, a long-requested service. With this move, Hastings is reaffirming his long-held belief that streaming is the future of Netflix and the future of entertainment, and Wall Street can judge its progress by how well the streaming business is doing on its own. Separating the businesses will also force customers to make a choice, and it is obvious which choice Hastings wants them to make (hint: it starts with an "N"). Earlier today, I wrote a post beseeching Hastings not to listen to Wall Street after his stock got hammered. You've got to give him credit for moving fast in the direction where he thinks the greatest opportunity lies.
GigaOM's Ryan Lawler ("Netflix's DVD business: Does Qwikster have a future?") argues the move will kill the DVD business.
But what happens when you create a separate website, with separate queue management and a separate billing mechanism? If you're Netflix, you lose the power of the existing customer relationship and much of the goodwill that you've built up over the last several years. Regardless of the miscues in handling the price change and the separation of the DVD business, the Netflix brand still carries tremendous value to a number of existing and potential new subscribers.

You also lose the power of the bundle. One reason cable companies have been aggressively pushing triple-play packages over the last several years is that users who subscribe to two or more services are much less likely to quit. By separating DVD-by-mail and streaming businesses into separate billing relationships with subscribers, Netflix is exposing both to potentially higher churn.
Dan Frommer ("Netflix wants to get rid of its DVD business so badly that it's changing the name… to Qwikster") believes, "the future of Netflix is streaming videos. Period. Not mailing them to your house via the U.S. Postal Service, but delivering them to your TV and devices over the Internet."
That's almost certainly right. But even if this makes sense in the long term, it's just bizarre right now. My wife and I have been longtime Netflix subscribers and used their streaming capability for years via our Roku box until the recent price hike. We'd be perfectly happy to stream all our movies and quit sending discs back and forth. There is just one small problem: There's hardly anything available via streaming!
Frommer seems to think that Netflix will somehow force the studios to change that: "Netflix first has to convince Hollywood to stream its best movies, and it needs to train consumers to stream movies as a default behavior. That means making sure that the streaming business can stand on its own."
But wouldn't it make sense to first get movies for streaming, then train customers (via preferential pricing) to stream them, and then get rid of the DVD business? Skipping the first step is a recipe for frustration.