New Audio Reveals Trump Is Okay With Lewd Comments About His Daughter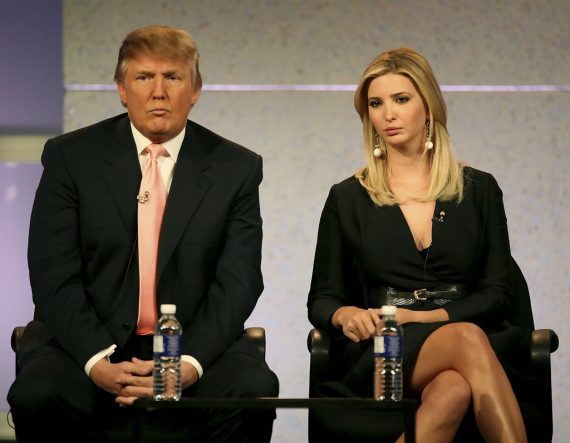 Predictably, the revelation of an audiotape in which he is recorded making lewd comments about women is leading to the revelation of other past comments by Donald Trump that are certain to become an issue in the coming days. This afternoon, for example, CNN is out with excerpts from Trump's past appearances with Howard Stern in which he appears to be perfectl0y comfortable with similar comments about his own daughter:
Donald Trump engaged in crude and demeaning conversations about women over a 17-year-period with radio shock-jock Howard Stern, according to a review by CNN's KFile of hours of newly uncovered audio.

Among the topics Trump discussed: his daughter Ivanka's physique, having sex with women on their menstrual cycles, threesomes, and checking out of a relationship with women after they turn 35.

Trump's long track record of making misogynistic comments and engaging in lewd conversations about sex took on a new and much darker tone on Friday night, when the "Washington Post" published audio of Trump, caught on a hot mic in 2005, bragging about how women let him do whatever he wants to them because he's a celebrity.

(…)

In more than one interview with Stern, Trump took part in conversations about Ivanka Trump's appearance, including one about the size of her breasts.

In an October 2006 interview, Stern remarks that Ivanka "looks more voluptuous than ever," and asked if she had gotten breast implants. Trump is willing to engage in the discussion about his own daughter, telling Stern that she did not get implants.

"She's actually always been very voluptuous," Trump responds. "She's tall, she's almost 6 feet tall and she's been, she's an amazing beauty."

In another interview, from September 2004, Stern asks Trump if he can call Ivanka "a piece of ass," to which Trump responds in the affirmative.

"My daughter is beautiful, Ivanka," says Trump.

"By the way, your daughter," says Stern.

"She's beautiful," responds Trump.

"Can I say this? A piece of ass," Stern responds.

"Yeah," says Trump.
Here are the audio clips
There's more at the link regarding Trump's comments about women that I'm sure will offend most people, but his comments about his daughter come across as particularly troubling, especially given the fact that he's made other such comments about her in the past:
On March 6, 2006, to promote The Apprentice, Donald Trump and his daughter Ivanka appeared on ABC talk show The View. Cohost Star Jones kicked off the interview by asking what Mr. Trump would do if Playboy put Ivanka on the cover of its magazine.

"This is going to be an interesting answer," Ivanka, in a moment of foresight, predicted.

"I don't think Ivanka would do that [pose for nude photographs] inside the magazine," Trump says, speaking for his daughter. "Although she does have a very nice figure. I've said that if Ivanka weren't my daughter, perhaps, I would be dating her."

And then, as the words he had just spoken formed meaning in his mind, Trump asked: "Is that terrible?"

Joy Behar asks "Who are you, Woody Allen?" Everyone laughs, including Donald Trump, who remarks "That's very good." To be fair, Trump has so far avoided marrying his daughter, unlike Allen, who has been a very interesting Google alert subject for the last year and a half.

In response to this comments on The View, Trump's people issued a statement that the Donald was "absolutely joking" and "making fun of himself for his tendency to date younger women." This would not be the last time Trump's people issued a clarifying statement.
Here's the video:
I suspect that this is only the beginning of the revelations about Trump's past comments during his three decades as a media celebrity.