New Jersey The Next Same-Sex Marriage Battleground?
People are looking to New Jersey as the next same-sex marriage battleground, but it's not going to be an easy fight.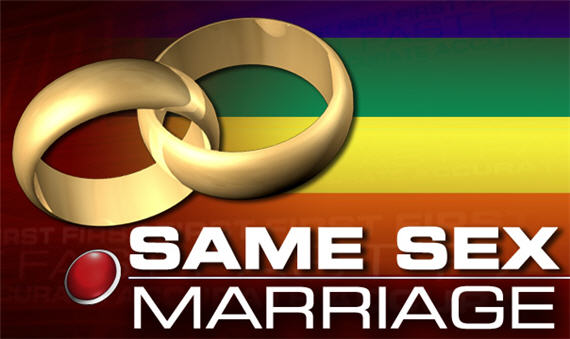 New Jersey Governor Chris Christie spoke out quite strongly against the Supreme Court's decision striking down the Defense of Marriage Act, calling it "an act of judicial supremacy" in a radio interview mere hours after the decision was released. This shouldn't really come as much of a surprise. Notwithstanding his reputation as a generally moderate Republican, Christie has consistently opposed same-sex marriage and has already vetoed a bill sent to him that would've added New Jersey to the list of states that recognize marriages regardless of sexual orientation. However, there are several avenues by which same-sex marriage may come to New Jersey despite Christie's opposition:
In the wake of the Supreme Court decision, Buono is pushing the legislature for a vote to override his veto of gay marriage legislation last fall.

Lawmakers who need [political] cover, they certainly have it now," she told the Post. "Those that need a way to rationalize their vote to override, they've got it."

But some gay marriage activists say they simply don't have the 15 votes in the legislature to overcome Christie's veto. State Senate President Stephen Sweeney says he is planning a vote but has not scheduled one.

"It's under discussion at this point," Buono said. "We want to make sure that we're successful."

That takes us to the legal fight. Lamda Legal will file a motion for summary judgment in a case before New Jersey Superior Court that argues the state's civil unions are not equal to marriage.

In 2006, the New Jersey Supreme Court ruled that under the state constitution, gay couples are entitled to the same rights as married couples.

"That's what makes us unique, and that's why New Jersey is the epicenter for the next big battle on marriage equality," said Udi Ofer, executive director of the New Jersey American Civil Liberties Union.

In response to the 2006 ruling, the legislature passed a bill establishing civil unions in the state. Since civil unions were adopted in the state, marriage advocates have argued that they are not equal to marriage. The DOMA ruling bolsters that claim. While couples in civil unions may get some federal benefits after the ruling — it's a legal gray area — they will not get the automatic benefits enjoyed by spouses in states where gay marriage is legal.

"If there was ever a question about whether civil unions are equivalent to marriage, that question was answered by the Supreme Court," said Sally Goldfarb, a Rutgers professor who specializes in family law. "Valid same-sex marriages are going to be automatically entitled to recognition by the federal government. Civil unions are not."
Not being at all well-versed in New Jersey law, I'm not going to comment on the merits of the legal argument here, especially since there have been some changes to the makeup of New Jersey's Supreme Court since that 2006 ruling that led to the legalization of civil unions in the state. However, to the extent that the Court's ruling depended on the idea that same-sex couples must be given the same rights and benefits as opposite-sex couples then it strikes me that the Supreme Court's opinion in United States v. Windsor that this is no longer the case. Married couples living in New Jersey are entitled to the literally thousands of potential benefits available to married couples under Federal Law, while persons in civil unions are not. Is that sufficient under the New Jersey Court's holding in Lewis v. Harris to lead the Court to issue a ruling that same-sex marriage must be legalized in the Garden State? More importantly, would the Court be willing to follow in the footsteps of fellow Courts in Massachusetts and Iowa and make such a far-reaching ruling? One clue in that regard may be the fact that, in its 2006 ruling, the Court decided to leave the matter of finding a way to give same-sex couples equal benefits to the legislature rather than imposing it from above. Whichever way they decide to go though, it's likely to be at least a year before there's a definitive final ruling in that case since any appeal from the trial Court would first have to go through the Superior Court's Appellate Division.
There's legal option, of course, in the form of a Federal Court challenge building on the Supreme Court's equal protection language in United States v. Windsor. With the right Plaintiff(s) and the right argument, it's something that could work. However, it would take even more time than the current litigation pending in the state courts, and the legal ground appears to be more promising at the state court level than in Federal Court at the moment. Nonetheless, one would imagine that someone is looking into this option.
That's why Democrats seem to be talking about trying to override Christie's 2012 veto of the bill that would have legalized same-sex marriage. Most polls show that New Jersey residents favor same-sex marriage, at this point, so it would definitely be a political winner for Democrats, perhaps one that would help stem the tide of the anticipate Chris Christie landslide in November from having a serious impact on Democratic seats in the legislature. There's just one problem facing Democrats, and it's the fact that they presently don't have the votes on their own to override a veto. They're three votes short in the State Senate and at least six votes short in the General Assembly. In the Assembly, six of Democratic members voted against the bill so they would need to pick up twelve votes there to override the veto, including all six of the Democrats who originally voted against the bill. In other words, overriding the veto isn't going to be easy at all.
That leaves one final option, a referendum. Christie has said several times that while he opposes same-sex marriage himself he would do nothing to block an effort to send the issue to the people. As I've noted before, recent polling has shown that voters in the state overwhelmingly favor same-sex marriage, so one expects that the referendum is likely to pass easily. Garden State Democrats have criticized the referendum idea as being too costly but, in the end, it may be the fastest and easiest option to get same-sex marriage legalized in the state. It's too late, I believe, to get a referendum on the ballot for November, but there would seem to be more than enough time to get one on the ballot for the 2014 mid-terms.
Of course, there is another option. Democrats could unseat Christie. But, we all know that's not going to happen.