New York City Snow Cleanup Hampered By Union Work Stoppage
Streets in New York City like this one on Staten Island went unplowed for days thanks to a work slowdown by sanitation workers, which raises the question of what Public Sector Unions should be allowed to do.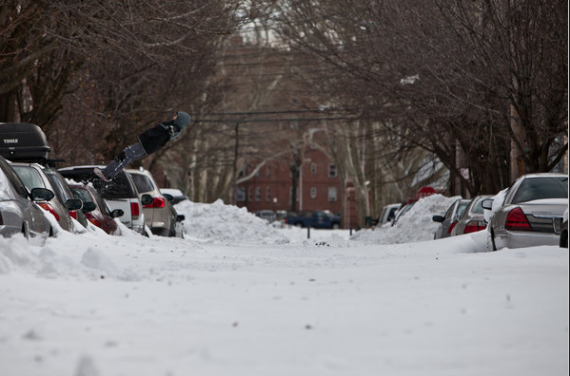 It appears that the huge problems that New York City has had in digging out from last weekend's blizzard were the result of a union work stoppage motivated by a fight between the City and the Sanitation Workers Union:
These garbage men really stink.

Selfish Sanitation Department bosses from the snow-slammed outer boroughs ordered their drivers to snarl the blizzard cleanup to protest budget cuts — a disastrous move that turned streets into a minefield for emergency-services vehicles, The Post has learned.

Miles of roads stretching from as north as Whitestone, Queens, to the south shore of Staten Island still remained treacherously unplowed last night because of the shameless job action, several sources and a city lawmaker said, which was over a raft of demotions, attrition and budget cuts.

"They sent a message to the rest of the city that these particular labor issues are more important," said City Councilman Dan Halloran (R-Queens), who was visited yesterday by a group of guilt-ridden sanitation workers who confessed the shameless plot.

Halloran said he met with three plow workers from the Sanitation Department — and two Department of Transportation supervisors who were on loan — at his office after he was flooded with irate calls from constituents.

The snitches "didn't want to be identified because they were afraid of retaliation," Halloran said. "They were told [by supervisors] to take off routes [and] not do the plowing of some of the major arteries in a timely manner. They were told to make the mayor pay for the layoffs, the reductions in rank for the supervisors, shrinking the rolls of the rank-and-file."

New York's Strongest used a variety of tactics to drag out the plowing process — and pad overtime checks — which included keeping plows slightly higher than the roadways and skipping over streets along their routes, the sources said.

The snow-removal snitches said they were told to keep their plows off most streets and to wait for orders before attacking the accumulating piles of snow.
Assuming this is true it's likely to provide much more ammunition to the arguments of those on the right who have started speaking out against the very idea of a public employees being allowed to unionize. Personally, I don't think it would be appropriate to ban people from voluntarily associating just because they're public employees. However, situations like this do raise the legitimate question of whether public employees in certain positions should be legally permitted to engage in some of the tactics that unions in the private sector engage during work disputes. When you're a position where your job is one that is essential to the operation of the city — like a policeman, fireman, or sanitation worker — I think it's highly questionable to concede that you should the right to go on strike. Essentially what happens in that situation is that the Union has a huge negotiating advantage over the city because leaders would not want to deal with the backlash that would result from the fact that garbage hasn't been picked up in a week.
Ronald Reagan set the precedent for this in 1980 when he fired every air traffic controller in the country for going on a strike that they were not legally permitted to call. Of course, no American city would be able to do the same thing with it's police force for fire department, which is why forbidding essential public employees from going on strike seems to me to be an entirely reasonable idea.