Why Do People Live In New York City Again?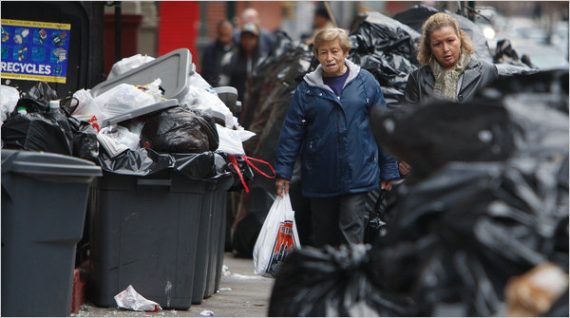 Yesterday, James Joyner noted one of the "joys" of living in the Big Apple; the fact that most Manhattan apartments don't come with a washer/dryer unit.
Today, we learn that parts of Manhattan have gone ten days without residential garbage pickup thanks to Sanitation Department trucks being diverted to snow removal:
Garbage is the new snow in New York City.

Bags of trash tower on the sidewalks outside apartment buildings, while garbage cans left buried since the city's last pickup, on Christmas Eve, poke through dirty mounds of melting snow.

New Yorkers still cursing City Hall for seldom-seen plows after the Christmas weekend snowstorm are transferring their ire to garbage trucks, which will make their first reappearances on Monday. Alternate-side parking rules will still be suspended.

But the Sanitation Department said it would resume residential garbage collection — beginning Monday at 7 a.m. — in only a "limited" fashion.

"We will have 50 percent of normal collection trucks out," said Keith W. Mellis, a department spokesman. "We still have 50 percent of the trucks out for snow-clearing operations."

Those who get regular Monday garbage collection, he said, should put their trash (including Christmas trees) outside, but not items to be recycled. Workers will collect the bags. Eventually.
And some people actually pay extra to live there.
Update: On the other hand, there is this news:
New York (CNN) — Many New York residents have been piling criticism on city officials over heaps of snow and uncollected garbage lining streets after last week's blizzard. But trash bags left on one curbside may have saved a man's life, police said.

The garbage apparently broke the fall of a man who attempted suicide by jumping from the ninth floor of a building in Midtown Manhattan Sunday, the New York Police Department said.

Police did not release the name of the man, who was still in critical condition late Sunday.
So, I suppose some good came of this