Snow Hits DC, Idiocy Ensues
People failing to treat emergencies as emergencies make matters worse.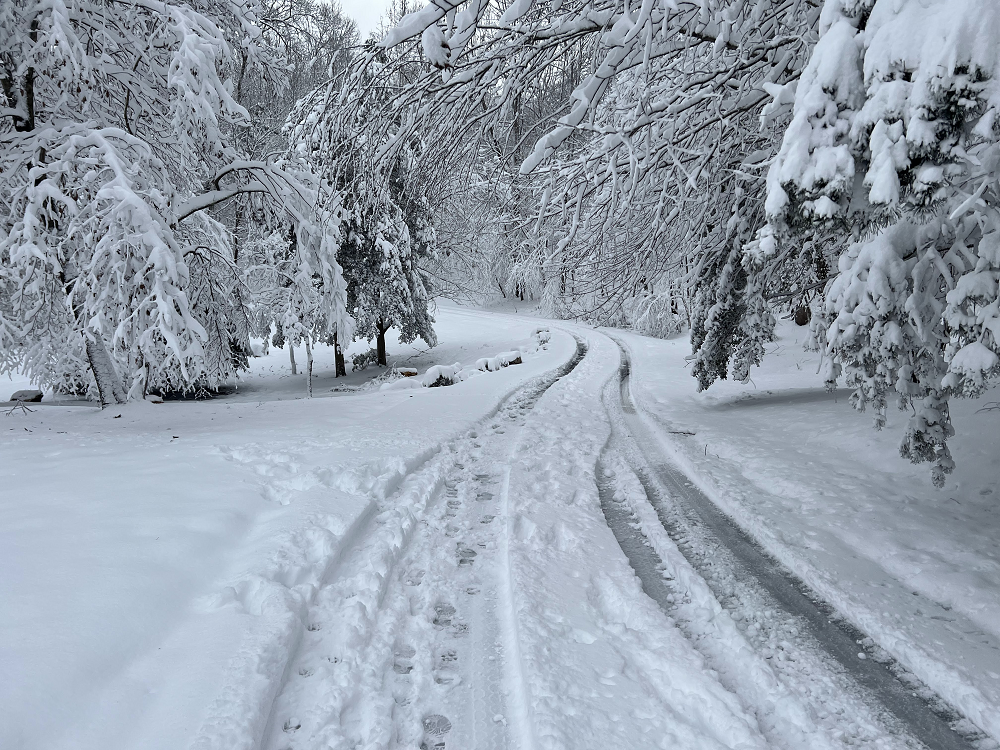 While we get snow with some regularity in the DC area, we don't get anything like the amounts common further north and, consequentially, aren't equipped to handle it. This is exacerbated by the metroplex consisting of a Federal District with limited home rule and little ability to tax most who work there, parts of Virginia, and parts of Maryland. While there are snow plows and budgets for treating the roads and such, it can take some time.
When I woke up Sunday morning, the weather app on my phone showed a Winter Weather Warning, notifying me that we were likely to get 3-5 inches on Monday. That came as a surprise, as it had been unseasonably warm on Christmas and New Year, with highs well into the 60s. So, I anticipated that schools would likely close and that I would be working from home yesterday and likely today. This proved correct.
Apparently, quite a number of people were surprised, despite ample warning to stay home and off the roads unless absolutely necessary.
CNN ("Motorists stranded for hours along I-95 after winter storm causes havoc and leaves more than 400,000 without power"):
Drivers were stranded for hours on a major interstate Monday night after a severe winter storm caused a massive backup — and authorities scrambled to clear a path.

"We wish we had a timetable, ETA or an educated guess on when travel will resume on I-95," the Virginia Department of Transportation said on Twitter, describing the situation as frustrating and scary.

Motorists expressed their anger on social media as they sat in vehicles, unable to move and worried about the falling temperature after a storm that dropped several inches of snow across the Mid-Atlantic and Southeast and left more than 400,000 customers without power.

The section of I-95 in the Fredericksburg, Virginia, area was blocked by multiple disabled vehicles and downed trees, VDOT said.

"As VDOT removes disabled vehicles, and plows/treats road to make it safe for passage as they are removed, (Virginia State Police) troopers will reach each driver," VDOT said.

The Fredericksburg area received at least 14 inches of snow from the storm, according to the National Weather Service (NWS) in the Baltimore/Washington area. Fredericksburg sits between Richmond, Virginia, and Washington, DC.

An estimated 20 to 30 trucks were stuck on I-95 northbound near the Thornburg exit, according to VDOT, which said towing crews were on the scene.
WaPo ("3 killed, 1 injured in weather-related crash as D.C. grapples with biggest snow since pandemic"):
Three people were killed Monday evening in Montgomery County when a car collided with a snowplow hours after a winter storm dumped several inches of snow across the Washington region, an area largely spared from blizzards during two years of intermittent pandemic shutdowns.

One person was critically injured in the crash, which occurred about 6:45 p.m. on Columbia Pike at Briggs Chaney Road in the White Oak-Burtonsville area of eastern Montgomery, officials said. Initial accounts indicated that the car had run into the rear of the plow.

The storm brought power outages, traffic snarls on major highways and untimely closures of coronavirus testing sites.

As adults grappled with school cancellations and the suspension of Metrobus service, children ventured outside to celebrate the most snow to fall in one storm since January 2019 — a time when antigen testing was not a holiday ritual and mask-wearing largely was confined to Halloween.

Crews in several jurisdictions treated roads and highways amid hundreds of vehicle crashes, transportation officials said. By midmorning, the region was covered in heavy, wet snow that left vehicles stuck on roads, bridges and ramps and brought down tree branches, knocking out power service.

The snowy conditions led to scores of vehicle crashes across the region, including a pileup along Interstate 95 in Virginia. A crash involving six tractor-trailers closed southbound I-95 near Centreport Parkway (Exit 136) in Stafford County, the Virginia Department of Transportation said. Northbound I-95 was down to one lane near Courthouse Road (Exit 140) in Stafford because of disabled tractor-trailers, the agency said. At 11:37 p.m., the agency's Fredericksburg District said in a tweet that about 20 to 30 trucks were "stuck near the Matta River area" south of exit 118 on northbound I-95.

In Northern Virginia, about 2,000 trucks and snowplows treated roads, according to Ellen Kamilakis, a spokeswoman for the state's Department of Transportation.

Many drivers were stranded or damaged their cars after "going too fast for conditions," the Virginia State Police tweeted. "Pls stay off the roads. Limit travel only if necessary."

Maryland State Police said officers had responded to 199 crashes and 237 disabled or unattended vehicles through 9:30 p.m. Virginia State Police had responded to 559 crashes through early afternoon.

Traffic along the Capital Beltway's outer loop near the Woodrow Wilson Bridge was stopped about 11 a.m. because the snow made it impassable, transportation officials said. Jackknifed tractor-trailers left eastbound Route 50 closed in Maryland and westbound Interstate 64 blocked in Virginia. No injuries were reported.

[..]

Vito Maggiolo, spokesman for the D.C. fire department, said firefighters responded to numerous calls for vehicles stuck in snow and downed trees and power wires. He said there were reports of fire vehicles having difficulties getting around some snow-covered streets "primarily because we have people out on the road who shouldn't be on the road."

[…]

Kevin Whitaker, a retired federal employee who lives on the edge of Arlington County, said snowplows had still not reached his street in the Rock Spring neighborhood as of Monday evening.

That left a frustrating — and almost absurdist — disparity in accessible roads in the area. On his stretch of 38th Street North, the uncollected snowfall had begun to freeze into six-inch-high ruts. But down the street in Fairfax County, the road had been clean and dry for hours.

To make matters worse, Whitaker said, county officials pushed back promises to resume trash and recycling pickup by only a matter of days. And when he tried to submit a complaint on the county's website about the unplowed snow, the site refused to accept new submissions.

Having lived on and off in Arlington for about four decades, "I've just never seen a situation where they haven't cleared the roads at all," said Whitaker, 64. "The reality is frustrating. … At the end of the day, we're all counting on the county to do the right thing."

Arlington officials said in a statement that snow removal is "currently impacted by COVID19-related staffing shortages" and that roads "are being cleared as quickly and safely as possible." Like some other jurisdictions in the region, the county has set up an online map for residents to check the status of plowing progress on their street.
I don't know these people's circumstances. Maybe they legitimately had no choice but to be on the road. But too many folks just ignore the conditions, conducting their lives as though nothing is going on. Need something from Walmart? Why, I'm going out!
It's selfish and stupid. And compounds the problem, making it impossible for snowplows, treatment trucks, power trucks, and emergency vehicles that absolutely need to be on the road to take care of business.