I-95 Snow Nightmare Over
It took more than 24 hours but traffic is moving again.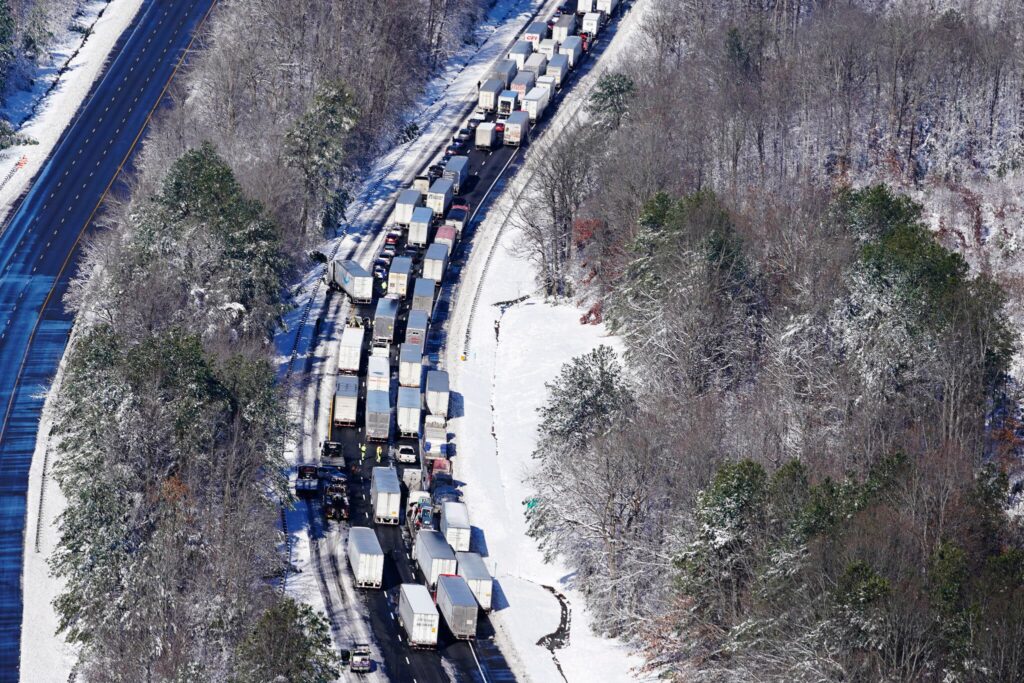 WTOP ("I-95 in Va. reopens as motorists battle bailout traffic jam on Route 1"):
Interstate 95 in Virginia fully reopened Tuesday night after more than a day of blockage, which caused havoc for thousands of commuters who were trapped on to the roadway for hours.

To clear the roads and evacuate motorists, northbound and southbound lanes of Interstate 95 from exit 152 (Dumfries Road) to exit 104 (Carmel Church) were closed to travel. Crews continued work to remove stopped trucks, treat the roads for icing and remove snow. Motorists were also encouraged to avoid the area, or use local routes to reach their destinations.

Initially, officials expected the closed section of I-95 to reopen by Wednesday morning's rush hour with no traffic-related injuries or deaths reported as a result of the shutdown. Emergency crews were able to move all disabled vehicles off the interstate in order to reopen the roads by Tuesday evening.

In a tweet, Virginia Gov. Ralph Northam said that despite I-95 reopening, drivers should stay off the roads as travel conditions remain hazardous through Stafford, Spotsylvania and Caroline counties.

With commuters looking for alternate routes out of I-95, traffic delays have also grown along Route 1 between Woodbridge and Fredericksburg, according to Dave Dildine in the WTOP Traffic Center.

The traffic center also reported all traffic stopped on both directions due to icy conditions on US-1 near Telegraph Road and Boswell's Corner near Quantico. WTOP's Rich Hunter reports that Stafford County Sheriff's Office have contacted VDOT for assistance as salt trucks treat the road.
The base at Quantico, where I work, is closed for a third straight day. As I live to the north, I generally access it via exit 150A while those who live to the south do so via exit 148.
The good news is that, while hundreds, if not thousands, of people were stranded in extremely cold for around here temperatures (it was in the teens Monday night and well into Tuesday) for quite a long time, nobody died as a result of this. While my natural inclination is to blame most of these people for failing to heed warnings to avoid driving in the storm, most seem to be blaming the governor and other state officials for not doing more ahead of time.
His explanation is actually pretty good:
In a phone call with reporters, Northam said that rain falling before Monday morning's snowstorm would have washed away any chemicals or salt used to pretreat the roads.

"First we had rain, which meant that we couldn't adequately pretreat the roads. Then we had slushy snow that fell a lot faster than our snow plows could move it," Northam said. "And then, as night fell, the temperatures dropped below freezing. All those together created the perfect storm for what happened on I-95."

In addition to the preliminary conditions, multiple tractor-trailers that jackknifed on the highway, further complicated cleanup efforts.

"When that happens, it's going to create a mess … and it's going to take time to clean up, whether it happens in a winter storm or on a sunny summer day," Northam said.

In response to questions about why Virginia's National Guard had not been called to support state responders, Northam said the Guard had received no requests from localities along I-95. He also said deploying the Guard wouldn't have been an "immediate solution" to the crisis.

"Remember that our guard members have day jobs. In fact, as you all remember last Jan. 6, we sent the National Guard to help at the Capitol after the insurrection, but it was the next day before they were able to arrive."
And he repeated the pre-storm advice:
"We don't need more people on the highways, we need to clear the highway," the governor said. "So I would ask people to stay off our roads until we can get them clear."
I get that some people had little choice. One woman who tweeted her way through the ordeal noted that her flight back from Florida had been repeatedly delayed and she needed to get back home. One person in the above-quoted WTOP article was trying to get someone to "essential surgery" and another to get to a father's funeral in the southern part of the state. And I'm sure a lot of "essential" workers had to get to their jobs at the risk of being fired or got released from their job after the storm got going.
I'm still trying to figure out why Senator Tim Kaine, who left his house well into the storm when it was obvious it was going to be pretty bad, drove to the Capitol. I appreciate my public servants putting in a good day's work but the Senate was only in a pro forma session for 17 minutes Monday and, surely, it would have been better for his staff to work remotely rather than risk their lives—not to mention interfering with snow removal crews—by being on the road.
UPDATE: Shortly after posting, I saw an interview with Kaine as he arrived at the Capitol and he explained that he was en route to a meeting on the voting rights bill. Which, of course, could easily have been turned into a conference call or Zoom meeting—as evidenced by the fact that it was in fact turned into a conference call, which he participated in via his mobile phone while stuck in the car.
I will say that he has handled all of this with good humor. Virginia politics is odd, in that governors are ineligible to serve consecutive terms. So both Kaine (2006 to 2010) and his colleague Mark Warner (2002-2006) are both former governors. As such, Kaine has a pretty good sense of how hard Northam's job is. That, presumably combined with them both being Democrats, means he's loathe to blame the governor for failing to anticipate the storm being way worse than forecast.