Of Blizzards And Political Firestorms
Cory Booker, Michael Bloomberg, and Chris Christie have been in the news this week due to the political fallout over their handling of the East Coast blizzard.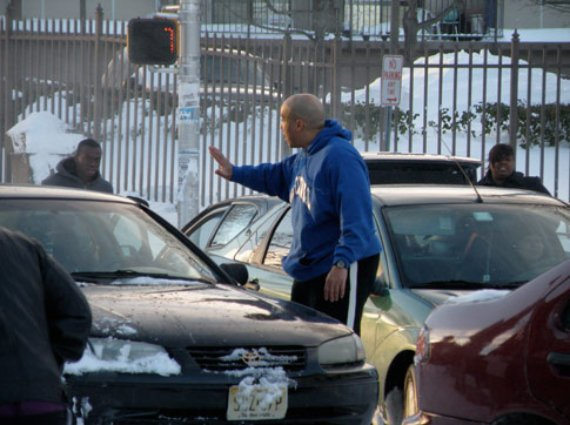 This past weekend's massive East Coast snowstorm has thrust three politicians into the national news, and it hasn't all been for the good. In New York City, which had one of it's biggest snowstorms in years, Mayor Michael Bloomberg is taking a lot of heat for what is being perceived as a disorganized response to the storm:
Mayor Michael R. Bloomberg accepted responsibility Wednesday for the city's response to a crippling snowstorm, pledging to have every street plowed by morning and then to figure out why his administration's cleanup efforts were inadequate.

Speaking at a hardware store in the Hunts Point section of the South Bronx, Mr. Bloomberg said he was "extremely dissatisfied" with the performance of the city's emergency management system. He said the response was "a lot worse" than after other recent snowstorms and was not as efficient as "the city has a right to expect."

But he also defended his commissioners, including John J. Doherty, who runs the Sanitation Department. The mayor called him "the best sanitation commissioner this city has ever had, period, bar none."

Mr. Doherty said he expected to have all of the city's streets plowed by 7 a.m. Thursday. At midday Wednesday, about one-third of what city officials call "tertiary streets" had not yet been plowed, they said. The worst conditions were in residential areas of South Brooklyn and Staten Island, where the mayor said the topography and narrowness of the streets made plowing more difficult.

Mr. Bloomberg said the city had hired 700 day laborers to help shovel snow on Tuesday and planned to hire 1,200 on Wednesday. "The results have not been what we would like them to be but it was not for lack of effort," he said.

Most subway and bus services have been restored and fewer than 50 city buses remained stuck in the snow about noon Wednesday, down from a high of about 600. Jay H. Walder, who runs the Metropolitan Transportation Authority, said the only subway lines still not operating were the N line and the Franklin Avenue shuttle. He said the Metro-North railroad returned to normal service by Wednesday morning and the Long Island Rail Road hoped to resume full service by Wednesday evening.
Across the river in New Jersey, Chris Christe is taking some political heat for the fact that both he and the states Lt. Governor were out of the state when the storm hit:
A Democratic lawmaker is questioning why both Gov. Chris Christie and Lt. Gov. Kim Guadagno are out of state at the same time, leaving Senate President Stephen Sweeney (D-Gloucester) as the state's acting governor during a blizzard that paralyzed the state.

"We clearly made a mistake if we created the office lieutenant governor and wasted money if the lieutenant governor is not going to be here when the governor is out of state," said state Sen. Raymond Lesniak (D-Union). "It's being handled very well by Sen. Sweeney, but you have to really question the purpose of the office."

Christie in on vacation with his family at Disney World in Florida, while Guadagno is with her family in Mexico, Christie spokesman Michael Drewniak said. Sunday, hours after taking the oath to become acting governor, Sweeney declared a state of emergency.

"It's a big snow, definitely, but the world is not coming to an end," said Drewniak. "We are a northeastern state and we get snow – sometimes lots of it like this – and we will get through it just as we always do."
can
Drewniak noted Guadagno is paid in her capacity as secretary of state, not for being Lieutenant governor. She makes $141,000 a year in that cabinet position, which already existed in previous administrations.
Gudango's absence was actually the more puzzling one here since it was only three years ago that New Jersey voters passed a Constitutional Amendment to create the position, a move that was mostly in response to the fact that the state had been left without an elected Governor twice in the past ten years – first when Christine Todd Whitman resigned to become EPA Director in 2001, and then when James McGreevey resigned in the wake of a scandal involving his gay lover. Guadango not being in the state at the same time that Christie was also absent, regardless of the snow storm, just seemed like a bad move on her part. As it turned out, though, Gudango was out of the state because her father is in the final stages of Stage IV cancer.
Christie has taken heat, most of it from left wing bloggers and pundits, for being on vacation during the storm and the state of emergency that lasted through Monday night, but I'm honestly not sure what his presence would have accomplished. As long as there was someone in charge, and there was, then Christie would have just been sitting in his office reading reports, just like the Acting Governor was. Politically, it seems unlikely that this incident will hurt Christie with New Jersey voters mostly because there's no evidence that the state's handling of the storm was below par in any way (it's worth noting that, in New Jersey the state Dept. of Transportation is principally responsible for snow removal on highways and interstates only, local snow removal is handled at the county and township level).
If there's one politician, though, who has become something of a media star this week because of the storm, it's Newark Mayor Cory Booker:
Trapped in Newark after Blizzard 2010? Mayor Cory Booker wants to rescue you – and he's only a tweet away.

Booker has been tweeting up a storm, personally responding to tweets from citizens stranded by snowed-over streets. For days, Newark's hero mayor has helped dig out buried cars and snowy roads – and even delivered diapers to a stranded Newark family.

"Highland Ave b/w Bal and Berk not touched yet. My sis can't get out to get diapers," Timothy Hester frantically tweeted Booker. Hester lives in Virginia and tweeted the mayor on behalf of his snowbound sister Barbara, who lives in Newark.

The valiant mayor tweeted back, "I'm delivering the diapers now. We will get to her street soon."

After the diaper delivery, Hester displayed his appreciation Twitter-style: "Awesome! Thanks again!" and "#awesomemayorbooker delivers diapers!"

Booker also responded to a call for assistance by Newark resident TaJuan Bonds. "I'm stuck on bergen & grumman ave," tweeted Bonds. Booker tweeted back, "Please DM me your phone number" and sent another tweet when he arrived on the scene: "I'm here now to help."

Meanwhile, Bonds tweeted an expletive-laced post about the amount of snow he needed to shovel – and despite the fact that Booker had called Bonds' mother, the agitated citizen tweeted skepticism that Booker would show up.

The Newark mayor was not amused.

"Wow u shud be ashamed of yourself. U tweet vulgarities and then I come out here to help & its ur mom & sis digging. Where r u?" Booker scolded Bonds. The Newark mayor helped the snowed-in family shovel.

Apparently, Bonds and Booker did meet in person. Bonds tweeted "word he really here #can't front" and soon Booker tweeted for peace. "Thank u for coming to talk with me face 2 face. Ur a good brother, we need 2 be positive in the face of outrageous negativity".

Perhaps chastened, Bonds responded, "youre correct…I gotta channel my emotions…being stuck in this house not makin money is not fun". According to his Twitter feed, Bonds had already done quite a bit of shoveling but was still snowbound before the mayor arrived.

Bonds mother and sister were apparently more excited about the mayor's visit. After Booker called the family, Bonds tweeted, "my lil sister said she bout to change her clothes if da cameras are comin" and "my mother was smilin like jesus christ told her she's goin' to heaven".

Booker responded frankly to citizens' tweets, even when the news wasn't so good. "Will garbage be picked up tomorrow?" asked Kyeatta Hendricks. "Sorry no garbage tomorrow," the mayor replied.
The contrast between Booker and Bloomberg couldn't be more apparent, and one simply can't picture the billionaire making his way around New York digging people out (although it doesn't hurt that Booker is younger, and more fit, than Bloomberg). but Booker actually came to the defense of his fellow Mayor:
People far 2 rough on @mikebloomberg – still fighting 2 clear snow in NWK & we are 1/29th size of NYC
Nonetheless, Booker's hands-on approach to digging his city out of the snow has garnered international attention. It's not a gimmick either. Since becoming Mayor, Booker has been active in turning Newark around after decades of being governed by mostly corrupt Mayors, and he's allied himself with Governor Christie on issues like education reform even though the two of them come from different political parties. And on that note, there has already been talk among New Jersey Democrats of nominating Booker for Governor in 2013, although nobody seems to know if he's actually interested in running for that office. If he does run, though, Booker may find that just as snowstorms have been the downfall of politicians like New York Mayor John Lindsey, Chicago Mayor Michael Blandic and D.C. Mayor Marion Barry, Cory Booker could be proof that actively responding to constituents and helping them through a crisis works to a politicians benefits.