New York Times Editorial Cartoons Gone
America's Newspaper of Record has decided the backlash isn't worth it.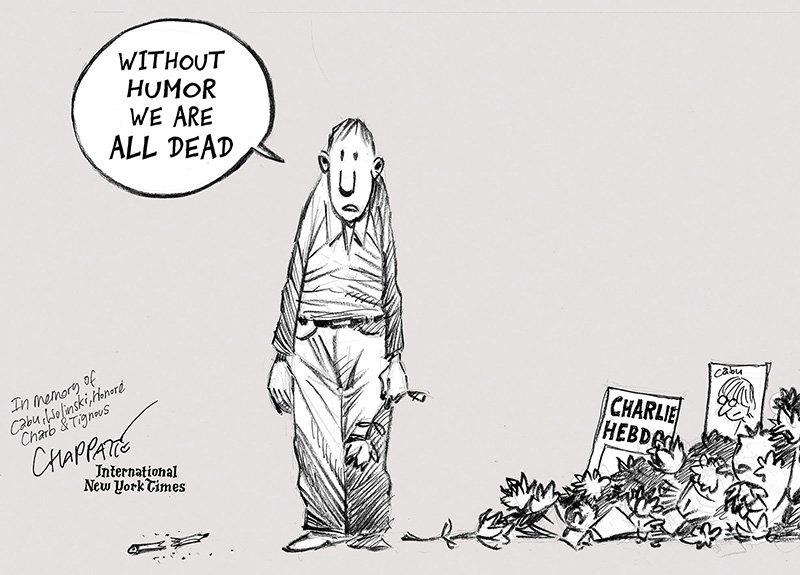 Patrick Chappatte laments the loss of his job . . . and something more profound.
All my professional life, I have been driven by the conviction that the unique freedom of political cartooning entails a great sense of responsibility.

In 20-plus years of delivering a twice-weekly cartoon for the International Herald Tribune first, and then The New York Times, and after receiving three OPC awards in that category, I thought the case for political cartoons had been made (in a newspaper that was notoriously reluctant to the form in past history.) But something happened. In April 2019, a Netanyahu caricature from syndication reprinted in the international editions triggered widespread outrage, a Times apology and the termination of syndicated cartoons. Last week, my employers told me they'll be ending in-house political cartoons as well by July. I'm putting down my pen, with a sigh: that's a lot of years of work undone by a single cartoon – not even mine – that should never have run in the best newspaper of the world.

I'm afraid this is not just about cartoons, but about journalism and opinion in general. We are in a world where moralistic mobs gather on social media and rise like a storm, falling upon newsrooms in an overwhelming blow. This requires immediate counter-measures by publishers, leaving no room for ponderation or meaningful discussions. Twitter is a place for furor, not debate. The most outraged voices tend to define the conversation, and the angry crowd follows in.

— "The end of political cartoons at The New York Times"
Chapatte has literally been there from the beginning:
In 1995, at twenty-something, I moved to New York with a crazy dream: I would convince the New York Times to have political cartoons. An art director told me: "We never had political cartoons and we will never have any." But I was stubborn. For years, I did illustrations for NYT Opinion and the Book Review, then I persuaded the Paris-based International Herald Tribune (a NYT-Washington Post joint venture) to hire an in-house editorial cartoonist. By 2013, when the NYT had fully incorporated the IHT, there I was: featured on the NYT website, on its social media and in its international print editions. In 2018, we started translating my cartoons on the NYT Chinese and Spanish websites. The U.S. paper edition remained the last frontier. Gone out the door, I had come back through the window. And proven that art director wrong: The New York Times did have in-house political cartoons. For a while in history, they dared.

Along with The Economist, featuring the excellent Kal, The New York Times was one of the last venues for international political cartooning – for a U.S. newspaper aiming to have a meaningful impact worldwide, it made sense. Cartoons can jump over borders. Who will show the emperor Erdogan that he has no clothes, when Turkish cartoonists can't do it ? – one of them, our friend Musa Kart, is now in jail. Cartoonists from Venezuela, Nicaragua and Russia were forced into exile. Over the last years, some of the very best cartoonists in the U.S., like Nick Anderson and Rob Rogers, lost their positions because their publishers found their work too critical of Trump. Maybe we should start worrying. And pushing back. Political cartoons were born with democracy. And they are challenged when freedom is.
While I have few regrets, indeed, over my long-ago transition from reading a single daily newspaper in hard copy to reading dozens of articles online from a variety of sources, I have some. Most importantly, while I've deliberately made myself read from a pretty wide ideological and geographic spectrum, the sheer volume of news available online has led to my reading less widely in terms of content. But Chappatte reminds me that I've largely stopped reading political cartoons, which were once upon a time a highlight of my day and often wound up clipped and taped to my office door or shared with students via overhead projector slides.
He's right that political cartoons can be quite powerful, often moreso than the printed word. And he's right, too, about the nature of the online outrage machine.
I don't blame the New York Times for this decision. They're first and foremost in the news reporting business. To the extent defending controversial cartoons is a distraction from that, it's probably not worth it to them.
A few years back, I noted a controversy over an "Obama's America" cartoon which leveraged a then-popular Internet meme and the fresh pain of the University of Alabama's loss to hated rival Auburn on a freak football play. In a post-irony era, the cartoon was deemed racist and the paper had to issue an apology. It was perhaps inevitable that the medium would go downhill after that.
Chappatte is more optimistic:Curiously, I remain positive. This is the era of images. In a world of short attention span, their power has never been so big. Out there is a whole world of possibilities, not only in editorial cartooning, still or animated, but also in new fields like on-stage illustrated presentations and long-form comics reportage – of which I have been a proponent for the last 25 years. (I'm happy, by the way, to have opened the door for the genre at the NYT with the "Inside Death Row" series in 2016. The following year, another series about Syrian refugees by Jake Halpern and Michael Sloan got the NYT a Pulitzer prize.) It's also a time where the media need to renew themselves and reach out to new audiences. And stop being afraid of the angry mob. In the insane world we live in, the art of the visual commentary is needed more than ever. And so is humor.
Yes, but it may not be possible.
We've long known that effective satire is virtually impossible. Those who already agree with the satirist find it hysterically funny but those who disagree either aren't in the audience or take the jokes seriously. The people Norman Lear were trying to persuade with "All in the Family" found Archie Bunker to be an endearing character who was making good sense.
The problem is made worse by our polarized era. Even though I'm on the same side as the "Saturday Night Live" crew vis-a-vis President Trump, I don't really find the constant stream of invective posing as humor funny. I've largely tuned out John Oliver and Stephen Colbert, too. At some point, it's just piling on.