Newt Gingrich In 2009: Hey, That Individual Mandate Is A Great Idea!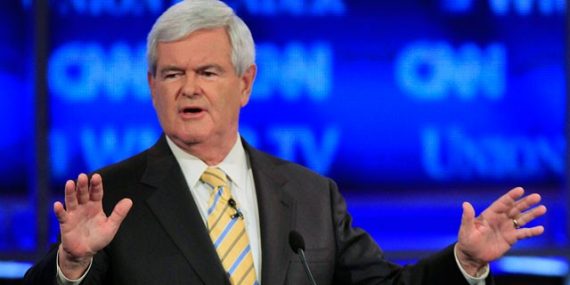 Newt Gingrich spent much of yesterday making his case against Mitt Romney on the grounds that Romney's history with the Massachusetts health care reform plan would make it impossible for him to draw real distinctions between himself and President Obama on the issue of health care. As it turns out, though, Romney isn't the only one who has that problem. Gingrich's own support for an individual mandate during the Clinton years and even a mere year before Barack Obama was elected have already been noted. Now, though, we've got Gingrich on the record supporting the idea of an individual health care insurance mandate in 2009 just as Congress was beginning to debate what would eventually become the Affordable Care Care:
The real foundation, the most important part of this, is individual rights, responsibilities, and expectations of behavior. … We believe that there should be must-carry, that everybody should have health insurance, or if you're an absolute libertarian, we would allow you to post a bond, but we would not allow people to be "free riders" failing to insure themselves and then showing up in the emergency room with no means of payment. If you have must carry, then the insurance companies have told us that we can have must-issue, and you will therefore have a system in which you don't have to worry about cherry-picking and maneuvering. … This is the kind of general model we will be advocating.
The quoted section begins at about the 28 second mark, but the entire audio clip is relevant. At the time, Gingrich was speaking on behalf of one of his business ventures, The Center For Health Transformation, an organization that received significant amounts of money from the health care industry, including many large pharmaceutical companies. At the time, it wasn't really shocking for Gingrich to say this because it was entirely consistent with what he'd been saying since the days of the long, hard debate over HillaryCare in 1994. It wasn't until the right started turning on ObamaCare, as it came to be called, that Gingrich changed his position. Now, Gingrich says he was wrong for all those years. however as Morgen at Verum Serum notes, the audio clip is fairly damning when it comes to the case that Gingrich himself tries to make against Romney:
Well, here you have it: not only has Gingrich been a long-standing proponent of a federal health insurance mandate, he clearly and unequivocally called for it as part of the White House health reform initiative in May 2009. Mission accomplished then.

There is something else worth noting in this clip. Not only did Gingrich make the "conservative" argument for the mandate in dealing with the free rider problem, he also advanced a favorite argument of the left. Which is that the only way insurers could be required to offer coverage to everyone regardless of their health status ("must issue"), was to require everyone to carry insurance. This was ultimately the argument which convinced none other than Barack Obama, who remember, opposed an individual mandate during the Democrat primary campaign in 2008.

Romney is arguably even more compromised on ObamaCare than Gingrich, but it's a much closer call in my opinion than some seem to believe. Call me an Alinskyite, but it seemed like Republican voters should probably know about this before the general election.
I bet they will after this starts showing up in SuperPAC ads in the near future.