Newt Gingrich Now Republican Frontrunner
Newt Gingrich, Republican frontrunner. Four words most people never thought they'd see together.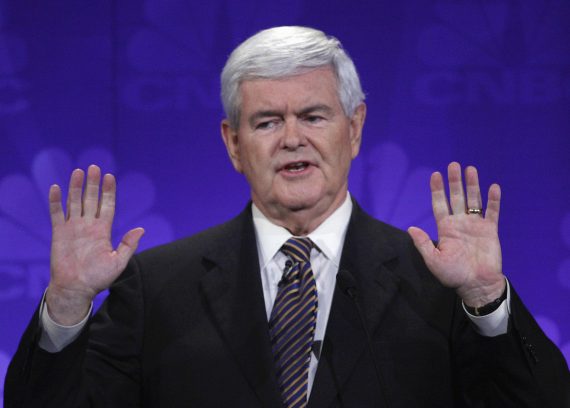 There's no point in my repeating how improbable all of this actually is, because it's pretty clear at this point we're in an election year where the improbable has become commonplace. Nonetheless, it's worth taking note of the fact that two new polls seem to confirm that Newt Gingrich, of all people, is the current frontrunner for the Republican nomination for President. How long that will last, of course, is another question.
First up, there's a new poll from CNN showing Gingrich at the  top of the field with a four point lead over Mitt Romney:
Newt Gingrich tops the list in the race for the GOP nomination, according to a new national survey.

And a CNN/ORC International Poll released on the eve of a CNN presidential debate focusing heavily on national security and foreign affairs also indicates Republicans consider the former House Speaker the most qualified GOP candidate to be Commander-in-Chief.

According to the survey, 24% of Republicans and independent voters who lean towards the GOP say they are most likely to support Gingrich for their party's nomination, with 20% saying they back Mitt Romney, the former Massachusetts governor who is making his second bid for the presidency.

Gingrich's four point margin over Romney is within the survey's sampling error. A CNN poll released one week ago had Romney at 24% and Gingrich at 22%. Gingrich was at just 8% in a CNN poll in October.

Former Godfather's Pizza CEO and radio talk show host Herman Cain garners support from 17% of the Republicans surveyed. Cain was at 25% support in CNN polling last month, but slipped after a controversy over sexual harassment allegations from his time as head of the National Restaurant Association during the late 1990s.

Rick Perry is at 11% in the new poll. The Texas governor soared to frontrunner status soon after he entered the race in mid-August, but thanks to stumbles in the debates this autumn, Perry's numbers dropped and are now holding steady in the low double digits. Rep. Ron Paul of Texas, who is making his third run for the White House, is at 9%, Rep. Michele Bachmann of Minnesota is at 5%, with former Sen. Rick Santorum at 3% and former Utah Gov. and former ambassador to China Jon Huntsman at 3%.
Diving into the poll internals [PDF], though, there's both good news and bad news for Gingrich, and signs that his lead may not lost very long:
Gingrich has the highest proportion of "enthusiastic" supporters (29%), although Herman Cain and Mitt Romney are close behind at 27% and 25% respectively;
Gingrich is viewed as the "strongest leader" by 29% of respondents, with Romney at 26%, and Cain at 15%;
Gingrich is seen as the candidate most likely to agree with the respondent on the issues (25%), Cain is at 18%, and Romney is at 16%;
Gingrich is viewed as being the most qualified to be Commander in Chief (36%), with Romney at 20%, Perry at 12%, and Cain at 10%;
Gingrich has nearly as much support among Tea Party voters (22%) as Mitt Romney (21%); and,
Gingrich gets the support of 31% of people who identify as Tea Supporters, with Cain at 21% and Romney at 19%
However, there are also warning signs:
Gingrich comes in third place in a list of candidates most likely to get the economy moving (19%) behind Mitt Romney (25%) and Herman Cain (20%);
Gingrich comes in fourth place (9%) in a list of candidates the respondents find most likeable behind Romney (29%), Cain (25%), and Perry (14%); and,
Gingrich comes in a distant second (21%) when respondents were asked which candidate is most likely to beat Obama, Romney came in first at 40%
That last one is, in the end, the same one that has tripped up all of the other candidates that have made a run at Mitt Romney only to fail in the end. There simply wasn't a plausible case for how they could beat Barack Obama. Both James Joyner and myself have discussed how those problems are magnified when it comes to someone with the personal, public, and political baggage of Newton LeRoy Gingrich. It strikes me that unless he can find a way to convince Republican voters that he actually has a chance of winning, then this latest rise in the poll is likely to be short lived.
Gingrich also has a four point lead in the Quinnipiac poll, which counts as a doubling of his support from the last time they polled the GOP field:
Former House Speaker Newt Gingrich more than doubles his share of the Republican presidential vote to lead the presidential pack with 26 percent and in a head-to-head matchup tops former Massachusetts Gov. Mitt Romney 49 – 39 percent, according to a Quinnipiac University national poll released today. But Romney is tied with President Barack Obama.

Former pizza magnate Herman Cain drops from the top spot with 30 percent in a November 2 national survey by the independent Quinnipiac (KWIN-uh-pe-ack) University to third place with 14 percent today. Romney goes from 23 percent November 2 to 22 percent.

Gingrich, who topped out at 10 percent 20 days ago, zooms to the top as he convinces 48 percent of GOP voters that among all GOP contenders he has the knowledge and experience necessary to be president, compared to Romney's 22 percent. Gingrich leads Romney 34 – 24 percent when GOP voters are asked who is a strong leader, a key quality Americans historically seek in a president. On foreign policy, he is seen as better by GOP voters 46 – 16 percent. But Gingrich trails Romney 32 – 9 percent when voters are asked who has "a strong moral character."

Republican voters nationwide pick Romney over Gingrich, 38 – 23 percent, as having the best chance to defeat President Obama. By 52 – 19 percent, Republicans say Romney rather than Gingrich is most likely to be the GOP presidential nominee.

(…)

"By 74 – 24 percent, GOP voters say they would prefer a candidate with whom they agreed on the issues rather than one who can win in November," said Brown. "Although more seem to prefer Gingrich on issues, it's clear that they agree Romney is their best candidate in November. The key for Romney will be retaining the perception of being a winner, while convincing skeptical conservatives that he shares their views and values."
At the same time, the broader polling shows Obama leading Gingrich 49-40, compared to a near tie at 45-45 when the President in matched up against Mitt Romney.
So, basically, we've got the same situation we've had before in this race. The conservative base of the party is rallying around a candidate they life, based mostly to be quite honest on his debate performances while at the same time ignoring his record, while at the same time admitting that they guy they keep avoiding over in the corner is the one most likely to win the election. How much longer this will continue is anyone's guess. Until people actually vote, all these polling surges are don't mean very much and it's unclear that Gingirch could translate his polling success into votes given the fact that he still doesn't seem to have much of an on-the-ground campaign operation in states like Iowa, South Carolina, and Florida. And let's say that Gingrich does falter in the next couple weeks, does that mean Republicans will finally start rallying around Romney as the inevitable nominee, or will someone else get a chance to rise in the polls for a Christmas present?
In any event, here's where the race stands now: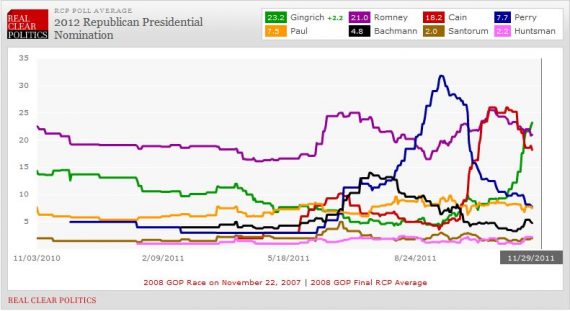 I stand by my previous statements that there seems to be very little that will actually stop Mitt Romney from getting the nomination, but it's becoming pretty clear that the road from here to there is going to be unlike anything like we've seen in a Republican race in a long time.