How Can Newt Gingrich Possibly Live Down His Past?
It's hard to see how Newt Gingirch can remain a viable candidate given his past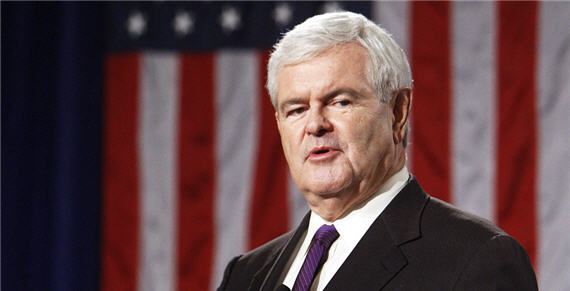 The most improbable thing about the rise of Newt Gingrich has been the extent to which he has spent the last several months campaigning as a small-government, fiscally conservative candidate when his own record, both in office and since he was forced to leave the Speakership and Congress in 1998. Already his ties to Freddie Mac have become an issue on the campaign trail, and it seems blindingly obvious that the services he and his consulting firm provided had nothing to do with being a "historian," as he claimed in last week's CNBC debate. Now, The Washington Post is out with a story detailing Gingrich's ties to some of America's biggest health care and health insurance companies:
A think tank founded by GOP presidential candidate Newt Gingrich collected at least $37 million over the past eight years from major health-care companies and industry groups, offering special access to the former House speaker and other perks, according to records and interviews.

The Center for Health Transformation, which opened in 2003, brought in dues of as much as $200,000 per year from insurers and other health-care firms, offering some of them "access to Newt Gingrich" and "direct Newt interaction," according to promotional materials. The biggest funders, including firms such as AstraZeneca, Blue Cross Blue Shield and Novo Nordisk, were also eligible to receive discounts on "products and workshops" from other Gingrich groups.

The health center advocated, among other things, requiring that "anyone who earns more than $50,000 a year must purchase health insurance or post a bond," a type of insurance mandate that has since become anathema to conservatives.

The group also pushed proposals to build centralized electronic medical records and use such data to research treatment effectiveness, both central features of President Obama's health-care reforms.

Gingrich, who has been under fire recently for his lucrative consulting business, left the health-care think tank earlier this year to run for president. But his time there exemplifies the former Georgia congressman's post-legislative career as a well-paid consultant and policy guru, a role that earned him and his companies tens of millions of dollars over the past decade.

(…)

The center attracted a long list of global health-care firms and interest groups, which paid $5,000 to $200,000 a year, based on their size, to be members. Based on archived membership lists going back to 2003, that means the center brought in as much as $6.25 million per year from higher-level members giving $50,000 or more, totaling at least $37 million since 2003.

That does not include many other sources of revenue, such as dues from smaller members and fees for polling, research and other services the center offered.

The center has listed scores of firms and industry groups as members over the years, amounting to a Who's Who of the medical field, from GE Healthcare to the American Hospital Association to Wellpoint, the nation's largest health insurer. The think tank also drew funding from employers with sizable health-care costs, such as Detroit's Big Three automakers, records show.

Several firms characterized their membership as a way to share information about potential health-care reforms.
Over at The New York Times, Jim Rutenberg details more of Gingrich's ties to, and propaganda for, the health care industry:
In July 2009, before the health care debate became a topic of angry discussion around the country, Newt Gingrich weighed in on what would be one of its flashpoints — end-of-life care provisions to help families decide whether terminally ill patients should avoid aggressive, and costly, medical measures.

Writing on the Web site of The Washington Post, Mr. Gingrich praised Gundersen Lutheran Health System of LaCrosse, Wis., for its successful efforts to persuade most patients to have "advance directives," saying that if Medicare had followed Gundersen's lead on end-of-life care and other practices, it would "save more than $33 billion a year."

But within weeks, Mr. Gingrich would find himself on the wrong end of what some Republicans labeled the "death panel" issue. Many conservatives had begun expressing anger at town hall meetings that summer because the proposed Democratic health-care law would have allowed Medicare to finance beneficiaries' consultations with professionals on whether to authorize aggressive and potentially life-saving interventions later in life.

On Thursday, Mr. Gingrich's spokesman confirmed that Gunderson was one of the paying clients of Mr. Gingrich's Center for Health Transformation, a health consulting firm whose other clients have included WellPoint, the American Hospital Association, and various other major health care concerns. His spokesman, R. C. Hammond, said the center has revenues of about $5 million a year.
Additionally, yesterday The Washington Examiner's Timothy Carney noted that Gingrich had been on the payroll of one of the pharmaceutic industry's largest lobbying groups during the 2003 battle over whether to add a prescription drug benefit to Medicare:
A former employee of the nation's biggest drug lobby told me Gingrich was being paid by the drug industry during the 2003 debate over the Medicare prescription drug benefit.

While the Bush White House and the Republican congressional leadership supported a bill creating a new entitlement for all seniors, Washington conservatives mostly opposed the bill. Gingrich went around Washington at the time plumping for the bill to free-market groups and activists.

"In the height of the debate," one conservative opponent of the bill told me, "Newt was calling around" selling the bill as a great conservative measure even though it was a new federal entitlement.

Bob Moffitt of the Heritage Foundation, another veteran of the Medicare drug battle, tells me that early in the debate Gingrich favored a Medicare drug benefit only for the poor. The drug lobby, however, had settled on backing a drug benefit for everyone on Medicare. Gingrich soon changed his tune, and began pushing the universal benefit.

The Pharmaceutical Research and Manufacturers of America is one of the largest lobbying organizations in the country, and it was a leading advocate of Bush's Medicare drug bill, which provides billions of dollars in subsidies for seniors to buy drugs, while prohibiting Medicare from negotiating for lower drug prices.

PhRMA support for the bill was key to winning over many Republicans, and right after the bill passed, PhRMA hired one of the bill's authors, House Commerce Committee Chairman Billy Tauzin, to be the group's president.

A source who worked for PhRMA at the time told me that Gingrich was being paid by "someone in the drug industry" — either PhRMA, some other industry group, or a specific drug company — as a consultant during the debate over the drug benefit. My source double-checked this with a former PhRMA colleague, who had the same recollection.
All of this leads Carney to note in a subsequent article the odd defenses that were coming his way to the fact that he was shining light on Gingirch's past as a shill for industries seeking to influence government and Gingirch's fellow conservatives on matters which clearly benefited them. The responses boiled down to either "stop attacking conservatives" or " what Gingrich was doing is just free enterprise." The first response is utter nonsense, of course, but sadly an exemplar of something we see quite a lot in partisan politics. Attacks on fellow Republicans or Democrats, even if they happen to be true, are considered to be verboten and those who engage in them are quickly shunted off the reservation.
The second response – that Gingrich was just being a "businessman" selling his services in a free market economy is one that I've heard myself from several Gingrich supporters and it is similarly nonsensical. The reason that these companies were giving money to Gingrich and his various business isn't because they valued his ideas, such as they are, but because they placed value on his ability to give them access, if not to lobby Congress then to lobby his fellow conservatives to convince them that a program like Medicare Part D was a good idea. In the case of that program in particular, many on the right point to the GOP's decision to cave on this issue as the beginning of the end of any hope that the Bush Era would engage in anything resembling fiscal conservatism. Given that, the fact that many of them seem so willing to march behind a many who was helping to make the case for that program strikes me as a fairly solid indictment of their own commitment to their supposed principles. If you think it's wrong for the government to take taxpayer dollars and given them to preferred industries, then why would you even think about supporting a man who spent the better part of his post-political career advocating those precise policies? It boggles the mind.
It makes one wonder just how long this Gingrich Boomlet can last. If the history of  this campaign to date is any guide, then the former Speaker is just another in a long line of not-Romney's who have risen in the polls only to fall once their flaws have been revealed. It's happened to Trump, Bachmann, Perry, and Cain and given the boatload of material on Gingrich over the past 20 years, not to mention the political enemies he's made during that time, one would think it will happen to him to. It's worth nothing that, so far, none of Gingrich's rivals have really gone after him on his record either on the stump or in the debates:
A Smart Politics content analysis of the last seven nationally televised debates since Rick Perry entered the race finds that Newt Gingrich is the only candidate yet to be on the receiving end of the more than 150 verbal attacks that have been levied by the Republican field.

Smart Politics first pointed out the lack of criticism Gingrich was receiving from the other candidates in a report published a month ago after the first four debates with Perry.

Now – three debates later – the numbers are even more stark.

After more than 11 hours of debate time and 158 barbs traded back and forth across the stage, not one (politically) poisoned dart has been thrown in Gingrich's direction.

Mitt Romney has now overtaken the fading Rick Perry as the most common target of criticism during the debates, receiving 59 verbal jabs, or 37.3 percent.

Romney is followed by Perry with 55 (34.8 percent), Herman Cain with 22 (13.9 percent), Ron Paul with 10 (6.3 percent), Jon Huntsman with five (3.2 percent), Rick Santorum with four (2.5 percent), and Michele Bachmann with three (1.9 percent).

And then there is Gingrich with zero.
Largely, one would think, this is because nobody considered Gingrich much of a threat or a contender until now. One would also suspect that this is going to change very soon, as soon as the next debate on November 22nd most likely. Of course, whatever else his flaws might be, Gingrich is a far better debater and rhetorician than Bachmann, Perry, or Cain could ever hope to be so it's possible that he'd be able to parry those attacks quite well. Nonetheless, the point remains that Gingrich is just now getting the vetting that other candidates have already gone through, and the voting public is about to be reminded of all the flaws of the old Newt Gingirch. That was the Newt Gingrich of the 1995-96 shutdown, the Newt Gingrich who threw a fit over seating on Air Force One during a trip to Israel, the Gingrich who pursed a President over a sex scandal while having an affair, and, as we've learned, the Newt Gingrich who was selling himself to big business and advocating policies as far away from limited government as Earth is from the Sun.
Is this the person Republicans would really nominate to represent them go up against Barack Obama? The polls right now indicate it would go pretty well for the incumbent President, which suggests that it would be nuts for Republicans to nominate someone as tainted as Gingrich. At the same time, the Republicans who respond to the polls don't seem to be paying much attention to reality right now.