Nikki Haley to Be UN Ambassador
While it seems a strange choice at first blush, it's a good one.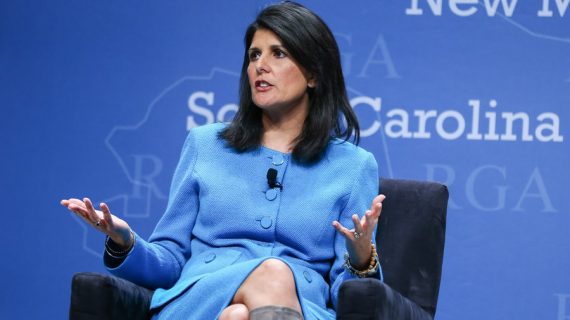 According to multiple reports, South Carolina Governor Nikki Haley is slated to become UN Ambassador in the incoming Trump administration. The Post and Courier:
President-elect Donald Trump is picking South Carolina Gov. Nikki Haley to become his U.S. ambassador to the United Nations, The Post and Courier has learned.

The move, expected Wednesday, continues the steep political rise of the daughter of Indian immigrants that started six years ago when the Bamberg native was elected as South Carolina's first female and minority governor.

The planned nomination to the cabinet-level post, confirmed by multiple sources with knowledge of the decision, is likely to raise questions about Haley's qualifications for a major foreign policy role since she has little diplomatic experience as state lawmaker and governor.

The 44-year-old's chief foreign work centers on negotiating with international companies seeking economic development deals in the state and leading seven overseas trade missions as governor. Her husband, Michael, was deployed for nearly a year in Afghanistan with the S.C. National Guard in 2013.

Recent UN ambassadors typically have experience in presidential administrations, usually with the State Department or National Security Council. The post would be Haley's first in the federal government.
While the choice struck me as odd when I first saw the news, her lack of foreign policy credentials are not particularly unusual. Indeed, some of our most famous UN Ambassadors have been politicians with no diplomatic background. While the first person to hold the post, Edward Stettinius Jr., had previously served as Secretary of State, many of his successors were neophytes. Indeed, his immediate successor, Warren Austin, was a United States Senator. Warren had spent a year in China as a business attorney but that's arguably less overseas experience than a coastal state governor.
Among other notable non-diplomats to hold the post have been Adlai Stevenson, an Illinois governor who was twice the unsuccessful Democratic nominee for president; retired Supreme Court Justice Arthur Goldberg; former Congressman and failed Senate candidate George H. W. Bush; newsman John Scali; former Pennsylvania Governor William Scranton; civil rights leader and Congressman Andrew Young; longtime Congressman Bill Richardson; and former Missouri Senator John Danforth.
Reagan's first UN Ambassador, Jeanne Kirkpatrick, had no previous government experience but was a foreign policy academic. Ditto Bill Clinton's first, Madeleine Albright.
I haven't followed Haley's career all that closely but she strikes me as a strong leader with good sensibilities on controversial issues. She's a welcome sane voice in an uncertain administration.