No, America's Generals Aren't Planning a Coup
A bizarre hit piece in National Journal gives the false impression that our military leaders are considering removing the president.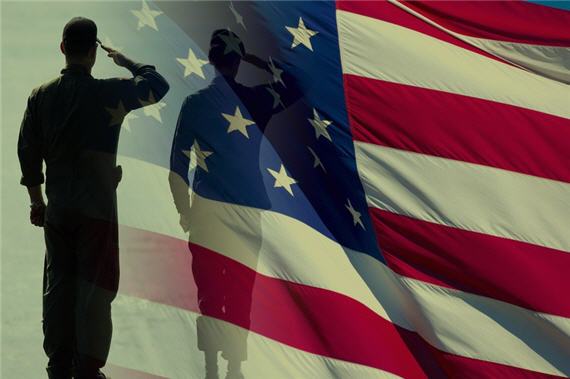 In a cleverly-written hit piece for National Journal ("Retired General: Some in Military Want to 'Take Out the President'") Alex Seitz-Wald gives the impression that there is active talk among the brass of assassinating President Obama.
A former top general and current executive at the Family Research Council says members of the military have considered staging a coup d'état against President, but will not because of civilian control of the military.

"People I've spoken to would like to see the military 'fulfill their constitutional duty and take out the president,' " retired Army Lt. Gen. William Boykin told World Net Daily, a website best known for pushing Obama "birther" conspiracy theories. "Our Constitution puts a civilian in charge of the military and as a result a coup would not be constitutional. You're not going to see a coup in the military."

"I talk to a lot of folks who don't support where Obama is taking the military, but in the military they can't say anything," Boykin said.

Boykin, an evangelical Christian who is now the executive vice president of the Family Research Council, was publicly repudiated by President Bush twice in 2003 for saying Muslims worship an "idol" and not "a real God." Last year, Boykin abruptly pulled out of appearing at a West Point ceremony after controversy erupted over the invitation. (Boykin has also said Islam "should not be protected under the First Amendment" and that there should be "no mosques in America" because "a mosque is an embassy for Islam and they recognize only a global caliphate.")

Boykin said Obama has purged from the ranks officers who don't support the president's "political correctness." The president's agenda, including the repeal of "don't ask, don't tell" and allowing women to serve in combat, are making the military weaker, Boykin added.

Another former general, retired Army Maj. Gen. Patrick Brady, a recipient of the Medal of Honor, bemoaned to WND that today's military is all "girly-men leadership [and] medals for not shooting and operating a computer."
Now, Boykin is a well-known crank and Brady is a 77-year-old but less-known crank. Both hold prominent positions in very socially conservative organizations. Both espouse views that I find embarrassing. Neither of them, however, advocate a military coup, which would be anathema to their decades of professional socialization as soldiers.
Seitz-Wald sources his story to a piece at World Net Daily titled "TOP GENERALS: OBAMA IS 'PURGING THE MILITARY'." While I have long avoided linking to WND reporting, having found them over the years to be more interested in pushing their right-wing agenda than the truth, they are in this case a much more reliable source than National Journal.  Here's the beginning of WND's story in its entirety, broken up by my commentary:
Retired Army Maj. Gen. Patrick Brady, recipient of the U.S. military's highest decoration, the Medal of Honor, as well as other top retired officers, say President Obama's agenda is decimating the morale of the U.S. ranks to the point members no longer feel prepared to fight or have the desire to win.

"There is no doubt he (Obama) is intent on emasculating the military and will fire anyone who disagrees with him" over such issues as "homosexuals, women in foxholes, the Obama sequester," Brady told WND
Now, this is nonsense. Lots of officers, especially top officers, disagree with Obama on these issues. But nobody is being fired for mere disagreement. Still, nothing is particularly offensive or surprising about Brady's views here; they're very reflective of military thinking circa 1993, when Brady retired from the Army. (Indeed, they reflect my own thinking circa 1993. In my case, my views have shifted in light of the evidence.)
"They are purging everyone, and if you want to keep your job, just keep your mouth shut," one source told WND.

Not only are military service members being demoralized and the ranks' overall readiness being reduced by the Obama administration's purge of key leaders, colonels – those lined up in rank to replace outgoing generals – are quietly taking their careers in other directions.
We're not told who this "source" is, or even whether they're in the military. But it's actually pretty routine for top officers to be selected or not for advancement based on whether they're aboard with the agenda of their commander-in-chief.
Retired Army Lt. Gen. William G. "Jerry" Boykin, who was with Delta Force and later Deputy Under Secretary of Defense for Intelligence under President George W. Bush, says it is worrying that four-star generals are being retired at the rate that has occurred under Obama.

"Over the past three years, it is unprecedented for the number of four-star generals to be relieved of duty, and not necessarily relieved for cause," Boykin said.

"I believe there is a purging of the military," he said. "The problem is worse than we have ever seen."
I've not noticed any especial acceleration of retirements, much less any "purge." But, certainly, nothing treasonous here.
Boykin points out that the military adheres to the constitutional requirement of a civilian leadership over the military. As a consequence, officers are not allowed to criticize their civilian leadership, as occurred when Gen. Stanley A. McChrystal was relieved in 2010 of his command of the International Security Assistance Force and commander of U.S. Forces in Afghanistan.

He was relieved due to what has been described as unflattering remarks made about Vice President Joe Biden and other administration officials in a Rolling Stone magazine article. He was recalled to Washington where Obama accepted his resignation as commander in Afghanistan.

Boykin says that because of the fundamental civilian leadership over the military, McCrystal was "appropriately forced to retire."

Some officers were involved in adulterous affairs and those situations, Boykin said, also were grounds for dismissal.
So, not only is Boykin not advocating a coup, he's actively arguing that such a thing would be an outrage. Like virtually all current and former officers, he understood that McChrystal had to go, theretofore sterling record or no, for allowing a command climate disrespectful to its civilian leadership. And, not surprisingly given his devout religious views, he's also fully on board with firing officers with zipper problems.
Boykin specifically said that because of the civilian-military relationship, he did not see any prospect for a "coup" coming from the military ranks.

"People I've spoken to would like to see the military 'fulfill their constitutional duty and take out the president,'" Boykin said. "Our Constitution puts a civilian in charge of the military and as a result a coup would not be constitutional. You're not going to see a coup in the military."
Again, Boykin specifically rules out a coup. The "people" he's "spoken to" who bring up the topic are almost certainly not people with significant military service, especially in the officer ranks. The notion is simply alien to their code and Boykin is pointing that out.
Nevertheless, Boykin said the future of the military is becoming more and more of concern, since colonels who would be generals also are being relieved of duty, if they show that they're not going to support Obama's agenda, which critics have described as socialist.

"I talk to a lot of folks who don't support where Obama is taking the military, but in the military they can't say anything," Boykin said.
Now, again, I haven't heard of a wave of colonels being relieved for not supporting the president's agenda. But, naturally, it's the duty of soldiers to carry out the lawful orders of their commander-in-chief. And, while he clearly would prefer a different commander-in-chief, Boykin not only understands that but he goes further: officers don't even have the right to publicly disagree with the president on matters of policy. (There are some limited exceptions, such as members of the Joint Chiefs of Staff testifying before Congress, but they're not applicable here.)
As a consequence, he said, the lower grades therefore have decided to leave, having been given the signal that there is no future in the military for them.

Boykin referred to recent reports that Obama has purged some 197 officers in the past five years.

These reports suggest these officers were suspected of disloyalty or disagreed with the Obama administration on policy or force-structure issues. As Boykin pointed out, a number of them have been relieved of duty for no given reason.

"Morale is at an unprecedented low," Boykin said, part of which is due to sequestration.

Sequestration has seriously cut back operational readiness for the military to the point where Boykin said that often they have no ammunition and are unable to conduct training because of the planned cuts.

"These officers want to train for war but are not be allowed to" because of the preoccupation not only with sequestration, but what Boykin said were other concerns surfacing in the military under Obama as commander-in-chief.
Now, it's a little silly to lay sequestration fully at the feet of the president. Yes, it was his administration's idea. But they introduced it as a poison pill—a practice so stupid and draconian that it would force Democrats and Republicans in Congress to strike a grand bargain—not as a preferred means of operating. Regardless, this is garden variety political bitching, not advocacy of a coup.
He referred specifically to the recent repeal of "Don't Ask, Don't Tell," which now allows openly homosexual personnel in the military. In addition, he said the integration of women into the infantry "will reduce readiness of units." He also was critical of the rules of engagement which he says favor "political correctness over our ability to fight to win."

"The last time we won an all-out war was in 1944," Boykin said. "Now, we don't have the will to win."
Again, this is silly. But, again, this viewpoint has been prevalent among soldiers for time immemorial. It's slowly changing among younger officers. Regardless, the Services are carrying out their orders.
Brady, who was a legendary "Dust Off" air ambulance pilot in Vietnam and detailed his experiences in his book, "Dead Men Flying: Victory in Viet Nam," said, "The problem is military people will seldom, while on duty, go on the record over such issues, and many will not ever, no matter how true.

"I hear from many off the record who are upset with the current military leadership and some are leaving and have left in the past," he said.
However anecdotal, I'm sure this is right: some significant number of military personnel are unhappy with rapid changes to their culture. But almost all of them are choosing among their two available options: shut the hell up or get the hell out. Those few who choose to stay in and undermine the civilian leadership are appropriately being punished.
From there, the article devolves into conspiracy theories about Benghazi, "girly-men" leadership, and various other rantings not addressed in Seitz-Wald's piece or worth getting into here. But there's zero evidence in the piece of even a single officer, active or retired, advocating the unlawful removal of the president.