No, Joe Miller Did Not Call Lisa Murkowski A Prostitute
The Miller-Murkowski showdown is starting to get silly.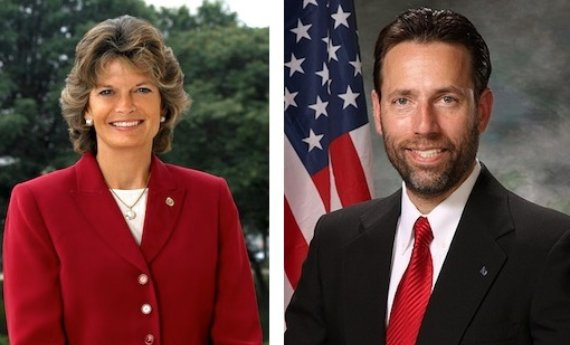 Howard Kurtz and others got into a bit of an uproar yesterday over this tweet from Alaska Republican Joe Miller: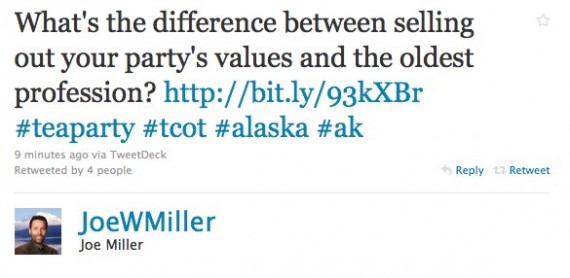 The Tweet was deleted and quickly replaced with this:
Please accept my apologies. Staffer trying to encourage Libertarians not to sell out. http://bit.ly/93kXBr #teaparty #tcot #alaska #ak
The link points to a Daily Caller story about the ongoing question of whether the Alaska Libertarian Party would give it's ballot space to Murkowski, and the "world's oldest profession" remark was clearly a reference to the LP, not Murkowski, but that didn't stop the Senator from jumping on the controversy:
"Alaskans deserve better. This type of statement is inexcusable from someone who wants to represent our state," Senator Murkowski said. "While I have been focused on the remaining ballots, the Miller campaign has launched yet another smear campaign against me. They lied about my record during the primary and now they have resorted to name-calling–it's disgusting."
"Alaskan values have never included a complete disregard for the truth or a lack of common decency," Murkowski said. "Mr. Miller owes all Alaskans, women and my family an apology."
Umm, not so much Senator, the comment was directed at the LP, not you, although as Robert Stacey McCain points out, if the Miller Campaign wants to influence the LP, there are smarter ways of doing it:
If Team Joe wants to "encourage Libertarians not to sell out," they could try this simple and direct solution: Have either the candidate or his campaign manager make a phone call to Alaska LP chairman Scott Kohlhaas and arrange to meet for a cup of coffee.

It would be that simple, but that hasn't happened yet.

Remember, first thing Wednesday morning — as soon as it became clear Murkowski had come up 1,668 votes short in the primary — Halcro called Kohlhaas to open negotiations, and Halcro is in direct communication with Murkowski.

All it would take to end this talk of Lisa the Loser becoming America's Least Plausible Libertarian is for Alaska LP officials to say, "No deal."

But — you knew there was a "but" coming, didn't you? — the LP people aren't going to make that kind of statement if Team Joe doesn't show them some respect. So we've got something of a Mexican standoff that seems to be caused by a belief among key people at Miller HQ that it would be beneath the dignity of a Republican Senate nominee to reach out directly to those wacko Libertarians.
At the same time, though, it appears that all this Murkowski/LP talk may be just that, talk:
Just got off the phone with Alaska LP vice chairman Harley Brown who said, "More than likely — 99 percent — there's no way Murkowski is going to be our nominee. I don't see that happening, honestly."

Furthermore, Brown dismissed as "completely ludicrous" any report that the Alaska LP has accepted or agreed to accept money from the Murkowski campaign. "That's just somebody running their mouth . . . just a rumor," Brown said.

Brown is an advocate for the legalization of marijuana, and said his original motivation for joining the Libertarian Party was former Gov. Frank Murkowski's strong anti-drug policy.

Brown says the LP is willing to meet with Murkowski — it would be "rude" to reject such an offer, he said — and he is "flattered" that the Libertarian Party spot on the ballot is suddenly so coveted. He and other LP activists "worked our butts off" to get enough petition signatures to keep from getting "kicked off the ballot," he said.
The idea of Lisa Murkowski running as a Libertarian is absurd, which I think is the point Miller's "staff tweet" was trying to make. Apparently the Alaska Libertarians already realize that.