No Sex Please, We're Japanese
The good folks at The Guardian wonder, "Why have young people in Japan stopped having sex?"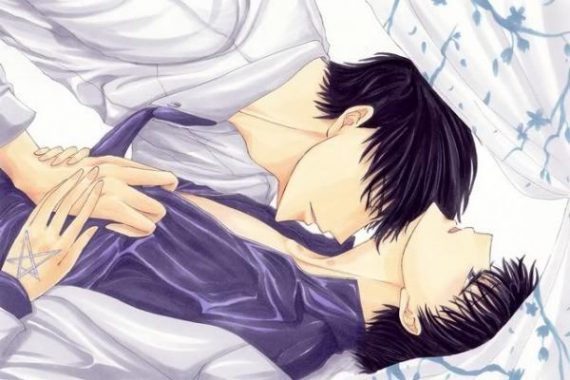 The good folks at The Guardian wonder, "Why have young people in Japan stopped having sex?"
Japan's under-40s appear to be losing interest in conventional relationships. Millions aren't even dating, and increasing numbers can't be bothered with sex. For their government, "celibacy syndrome" is part of a looming national catastrophe. Japan already has one of the world's lowest birth rates. Its population of 126 million, which has been shrinking for the past decade, is projected to plunge a further one-third by 2060. Aoyama believes the country is experiencing "a flight from human intimacy" – and it's partly the government's fault.

[…]

The number of single people has reached a record high. A survey in 2011 found that 61% of unmarried men and 49% of women aged 18-34 were not in any kind of romantic relationship, a rise of almost 10% from five years earlier. Another study found that a third of people under 30 had never dated at all. (There are no figures for same-sex relationships.) Although there has long been a pragmatic separation of love and sex in Japan – a country mostly free of religious morals – sex fares no better. A survey earlier this year by the Japan Family Planning Association (JFPA) found that 45% of women aged 16-24 "were not interested in or despised sexual contact". More than a quarter of men felt the same way.
I'm hesitant to reject data out of hand simply because it doesn't comport with my life experience but will make an exception here. There simply has to be a problem with the survey instrument here; it's just inconceivable that a quarter of Japanese males in their sexual prime are uninterested, much less despise, sexual contact. But I'd wager a hell of a lot that 95-plus percent of young Japanese men want to get laid.
Dating and marriage—much less giving birth to children—are different matters. These all require a substantial amount of effort and self-sacrifice and it's plausible that social changes, technology, and other factors are changing human behavior in those endeavors.
Many people who seek her out, says Aoyama, are deeply confused. "Some want a partner, some prefer being single, but few relate to normal love and marriage." However, the pressure to conform to Japan's anachronistic family model of salaryman husband and stay-at-home wife remains. "People don't know where to turn. They're coming to me because they think that, by wanting something different, there's something wrong with them."

Official alarmism doesn't help. Fewer babies were born here in 2012 than any year on record. (This was also the year, as the number of elderly people shoots up, that adult incontinence pants outsold baby nappies in Japan for the first time.) Kunio Kitamura, head of the JFPA, claims the demographic crisis is so serious that Japan "might eventually perish into extinction".

Japan's under-40s won't go forth and multiply out of duty, as postwar generations did. The country is undergoing major social transition after 20 years of economic stagnation. It is also battling against the effects on its already nuclear-destruction-scarred psyche of 2011's earthquake, tsunami and radioactive meltdown. There is no going back. "Both men and women say to me they don't see the point of love. They don't believe it can lead anywhere," says Aoyama. "Relationships have become too hard."

Marriage has become a minefield of unattractive choices. Japanese men have become less career-driven, and less solvent, as lifetime job security has waned. Japanese women have become more independent and ambitious. Yet conservative attitudes in the home and workplace persist. Japan's punishing corporate world makes it almost impossible for women to combine a career and family, while children are unaffordable unless both parents work. Cohabiting or unmarried parenthood is still unusual, dogged by bureaucratic disapproval.

Aoyama says the sexes, especially in Japan's giant cities, are "spiralling away from each other". Lacking long-term shared goals, many are turning to what she terms "Pot Noodle love" – easy or instant gratification, in the form of casual sex, short-term trysts and the usual technological suspects: online porn, virtual-reality "girlfriends", anime cartoons. Or else they're opting out altogether and replacing love and sex with other urban pastimes.
The report devolves into the weird, with discussion of particular "urban pastimes," after that but you get the idea.
Color me skeptical. The Guardian report relies way too heavily on a sex counselor who specializes in people struggling with sex aversion; pretty much by definition, her clients are atypical. The survey data are collected by the National Institute of Population and Social Security Research, which is specifically trying to figure out why Japanese aren't making more babies, and the Japan Family Planning Association, whose site is in Japanese other than the name and a banner proclaiming "Every Child a Wanted Child," a local branched of Planned Parenthood; it's not unreasonable to suspect that their agendas are contaminating the results.
The notion that the easy availability of online porn has made so-called "digital natives" less interested in IRL sex is neither new nor unique to Japan. I addressed the topic in these pixels almost exactly a decade ago in response to claims by Naomi Wolf:
Erotic imagery in the two-dimensional realm, much like drugs, is itself desensitizing. Watching beautiful movie stars with silicon-enhanced breasts romping around naked is interesting. For a while. And then it becomes, while not exactly boring, at least mundane. Seeing a good looking but famous woman nude in a movie or on a computer screen is, for those of us past adolescence, interesting in the way that the Blog Chicks Pix is: it's a curiousity. And, frankly, "More, more, you big stud!" isn't exactly the height of stimulation.

Real women, unlike those on a screen, are, to use a techological term, interactive. They have personalities. Plus, they're, well, corporeal. They're warm. They smell good. They taste good. They laugh at your jokes. And that's not to mention emotional attachment, the ability to share our lives, have babies, and all those other reasons why heterosexual men are drawn to women. Until fantasy gains those qualities, real women have no competition.
I don't think much has changed in that regard since 2003.