The Marriage Gap
A new poll reveals a stark gap between the voting preferences of married and unmarried voters, but that shouldn't be much of a surprise.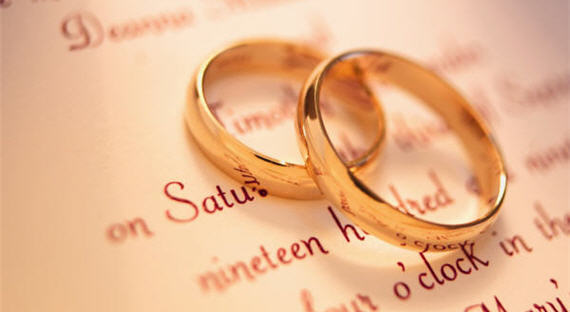 Yesterday's Quinnipiac University's national poll of the Presidential race, showed President Obama leading Mitt Romney by 46% to 43%, a number that's within the margin of error, but that's not what got the attention of many political pundits:
Unmarried voters support Obama by a 20-point margin, 54 percent to 34 percent. But married voters prefer Romney, 51 percent to 38 percent. Single women support Obama by a 2-to-1 margin, 60 percent to 31 percent. Married men back Romney, 54 percent to 35 percent.

"Although much has been made about the gender gap and how … Obama's lead among women fuels his campaign, the marriage gap is actually larger and more telling," said Peter Brown, assistant director of the Quinnipiac University Polling Institute. "The marriage gap may be related to the different priorities and economic situations of married and single people."
This isn't a new development, as the 2008 exit polls show us:

The breakdown is more interesting when you break it down by marital status and whether they have children: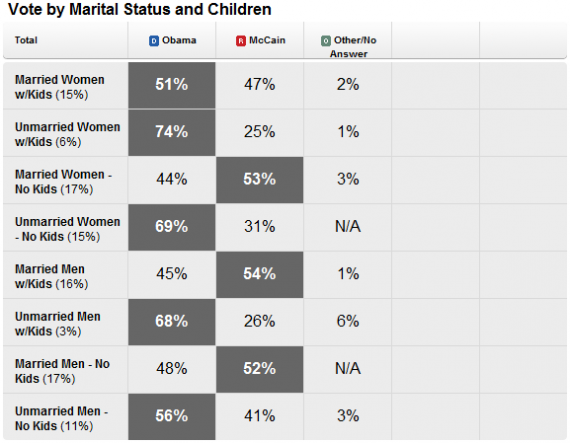 Most current polling doesn't appear to make the same kind of detailed breakdown among married men and women with and without children as they did in the exit poll, but one suspects that the numbers in 2012 would be roughly the same, especially among women where Obama maintains the same advantage he has for months now in poll after poll. In many senses, though, Mitt Romney seems to be doing much better among unmarried people than John McCain did on Election Day 2008, but that is likely mostly a reflection of the fact that the polls are, at least at the moment, very close and it's rather clear that we're not going to have the kind of election we did four years ago. Nonethless, the gap is still there.
Part of the explanation for this wide disparity among married and unmarried couples, no doubt, is related to age. Unmarried people are more likely to be young, after all, and younger voters have been among the President's strongest supporters since he first ran for President (although they didn't exactly have the impact on the 2008 election that some people thought they would). Additionally, as Brown said in a separate interview, the reality is that married and unmarried people have different priorities:
"Married people are more likely to be older, more financially secure and more socially conservative than unmarried voters. The married column includes more Republicans and more white voters," said Peter Brown, assistant director for the Quinnipiac University Polling Institute, in a statement released with the results. "Married voters are more likely to focus on the economy and health care, while single voters are more focused on issues such as gay rights and reproductive issues."
This seems about right. It's not so much that married voters stop caring about social issues the minute they say "I do," or that unmarried voters don't start caring about the economy until they walk down the aisle, it's just that you're looking at two demographic groups with two very different life priorities. I'm not even sure that there's anything in these "marriage gap" that requires campaigns to do anything different. After all, the message that appears to married voters is going to be the same message that likely appears to over-3o, middle class voters. Similarly, the message that appeals to unmarried voters will also be the one that appeals to younger voters. So, yes, the gap between married and unmarried voters is interesting, but I don't think it tells us much of anything we didn't already know.