Non-Violent Protests
At what point does a demonstration become something else?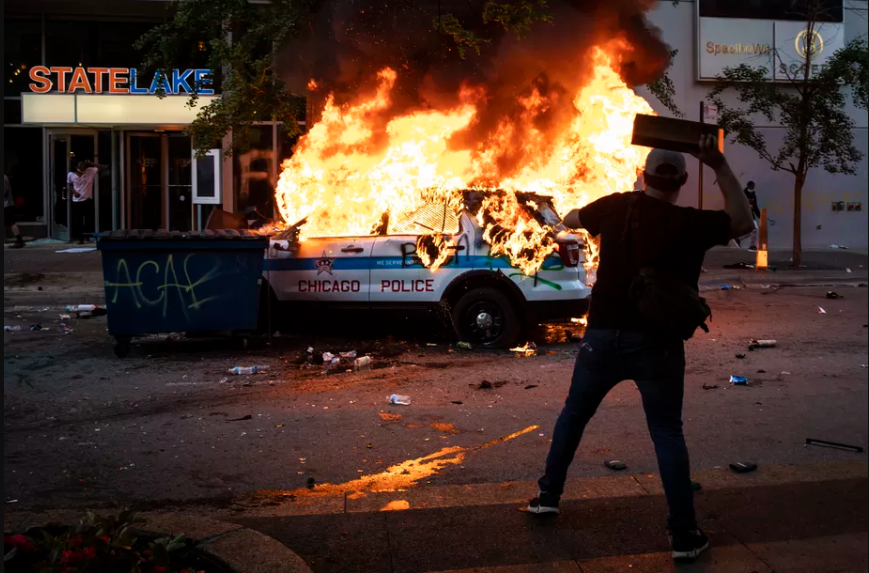 Dave Schuler is tired of the media frame that police are cracking down on "non-violent protests" when, in fact, the protests are violent.
In a posting ("'Largely Non-Violent'") yesterday, .he observes,
I recently read one of the most foolish things I have ever encountered, characterizing the situation in Portland as months of "largely non-violent" demonstrations. Demonstrations are either violent or non-violent. By the standard the author is laying down the First World War, famously characterized as "months of boredom punctuated by moments of terror", was largely non-violent.
That was on the heels of another post titled "Peaceful Protests," on the situation in Chicago, where he's lived for decades. He cites a report from the local NBC affiliate wherein "What started as a peaceful demonstration led to several clashes between police and individuals who were protesting the presence of the Christopher Columbus statue in Grant Park" and which notes, "Chicago police released video Monday that appears to show protesters jabbing officers with PVC pipe from a banner and throwing items such as rocks, fireworks and frozen water bottles."
Dave observes,
I think I would claim that pre-sharpened PVC and certainly fireworks constituted Class II weapons, those who employed them against the police are guilty of several felonies, and anyone who knew that the pre-sharpened PVC and fireworks would be brought to the event, for example through social media, is guilty of conspiracy to commit armed violence. That was no peaceful protest.
Over the weekend, in a post titled "Non-Violent Protests vs. Violent Protests," he laid out the argument in more detail. He contrasts the protests in which the late John Lewis participated in the 1960s with what's happening in his city:
Protests in which cans, bottles, or explosives are used and in which people are destroying or attempting to destroy property including public property are not non-violent. The moment the first rock is thrown or when people start actively rather than passively resisting police a threshold has been crossed. Those who set out to protest non-violently have been coopted into a riot. The media is dissimulating when they characterize a protest in which some of those protesting are non-violent but some are violent as non-violent and they are dishonoring the non-violent protesters of the civil rights era. They are on the wrong side.
I'm sympathetic to the argument here but am not sure I agree.
It's entirely possible for a group of people to peaceably assemble to protest police violence and have their protest coopted by rioters. I think that happened several times early on in the ongoing demonstrations prompted by the killing of George Floyd.
While I worried that the rioters would become the face of the movement and undermine its message—which hasn't happened—it never occurred to me to blame the protesters for the rioting. That was largely outside their control.
It seems absurd to suggest that, at the "moment the first rock is thrown," good citizens must disburse lest they be seen as part of a mob. It's an extreme form of a heckler's veto. Further, it would be an invitation for those who disagree with the message of the protestors to literally throw the first stone.
At the same time, there comes a point where Dave is right. If it's widely known that a significant number of thugs with sharpened PVC pipes are going to show up to commit acts of mayhem, something other than a "peaceful protest" is at work. And, regardless of good intention, those who attend with nonviolent intent are coopted.