North Korea Calming Down?
In a chaotic week, one source of chaos was remarkably quiet.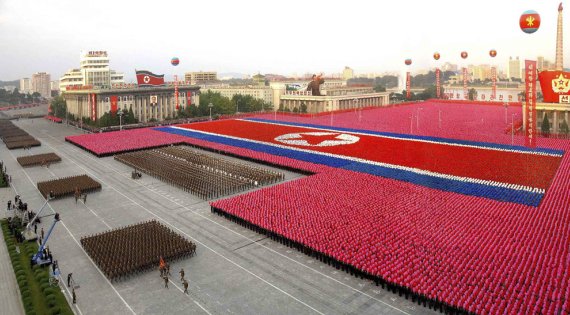 Noticeably absent from the news headlines in what was otherwise one of the most intense news weeks in awhile were any rumblings out of North Korea. Given the rhetoric has that been coming out of Pyongyang over the past two months or so, this was somewhat surprising especially given the fact that Mondday, the day of the bombing at the Boston Marathon was also the 101st birthday of Kim il Sung, the founder of the DPRK. As it turned out, the day passed in Pyongyang relatively quietly, which is a change from previous years.  The one statement that did come out of the north was a statement that it would not talk until sanctions are lifted and the U.S. and South Korea end their military exercises, which are scheduled to end later this month in any case. Some observers are looking at this and thinking it may be a sign that the North Koreans are beginning to dial down the inflamed rhetoric of the past several months:
SEOUL — Government officials and security analysts in the region say North Korea is scaling back its campaign of threats and showing signs it wants to ease tensions with South Korea and the United States.

That assessment, gaining credence among policymakers in recent days, does not mean that North Korea will soon agree to talks or that the long-term threat posed by its weapons program has been reduced. But officials say they are encouraged by a shift over the past week in Pyongyang's rhetoric, which, though still venomous, now includes hints about reconciliation.

"The tensions should gradually decrease from here, but we cannot lose ourselves" to complacency, a South Korean Defense Ministry official said, speaking on the condition of anonymity to convey government thinking. "We do still have to be prepared for any provocations."

Dialogue will be difficult, because Washington and Pyongyang are fundamentally at odds over what must happen first. On Thursday, the North issued a statement laying out its conditions for talks, including the lifting of U.N. sanctions and the removal of all U.S. nuclear assets from the region. The United States, which has already rejected such steps, instead wants Pyongyang to live up to preexisting disarmament agreements.

Secretary of State John F. Kerry said that North Korea's preconditions are "not acceptable," but he appeared to welcome the glimmer of interest in talks from Pyongyang.

"I'm prepared to look at that as, you know, at least a beginning gambit," he told the Senate Foreign Relations Committee.

Analysts say it's noteworthy that Pyongyang is even raising the possibility of talks, given that in recent weeks it has pledged nuclear annihilation of the United States, South Korea, Japan and Guam. That rhetoric, coupled with the North's renewed effort toproduce weapons-grade plutonium and its temporary suspension of a joint industrial complex near the North-South border, helped push tensions on the Korean Peninsula to their highest point in two decades.

In other demands, North Korea urged the South to stop blaming it for a recent cyberattack and for the 2010 torpedoing of a South Korean ship. It also called for an end to what it called "nuclear war drills," including U.S.-South Korean military exercises set to conclude later this month.
As always, it's hard to know exactly what is going through the minds of the leadership in Pyongyang, or to figure out what they want or what they will do next.  It's entirely possible that next week we'll be back to the rhetoric of two weeks ago and tensions will continue to escalate on the Korean Peninsula. At the same time, though, the North Koreans do have to realize that they really only have two options. Either they keep ramping up the rhetoric to the point where military confrontation becomes inevitable, in which case they will be destroyed, or they ratchet it down and find a face-saving way back to the negotiation table. Added in to that is the fact that their Chinese benefactors may well be putting pressure on them to tone it down before the situation on the peninsula becomes uncontrollable, which would definitely not be in China's interests.
Where we go from here will be easy to tell, just watch what North Korea says or does next.
H/T: Reason