North Korean Palace Intrigue
Kim Jong Il's reclusive third son is now on a path to inherit leadership of the country founded by his Grandfather.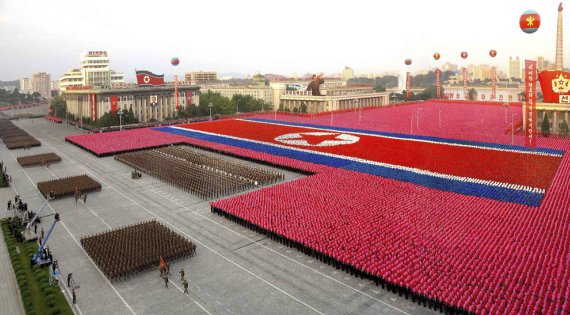 It appears that North Korea has begun the process of establishing for a third generation the worlds first and only hereditary communist dictatorship:
SEOUL – North Korean leader Kim Jong Il has promoted his youngest son, Kim Jong Eun, to four-star general, the country's state-run media reported early Tuesday, affirming the Kim family's plans for a second hereditary power transfer.

The brief report from the Korean Central News Agency signals the public emergence of the "Young General," whose name had never previously appeared in North Korean public documents or announcements. Coming hours before the state holds its biggest political conference in three decades, Kim Jong Eun's ascendancy probably marks the start of widespread leadership change within the Stalinist dictatorship, a means for the future leader to build his undeveloped support base and prevent regime collapse.

Kim Jong Il also named his sister, Kim Kyong Hui, as general. The promotions, taken together, reinforce the extent to which the ailing 68-year-old leader will depend on his immediate family for stability during the succession. Kim Kyong Hui has long been a trusted behind-the-scenes adviser to her brother. She is the wife of Jang Song Taek, who has received several promotions in recent years and now serves as vice chairman of the National Defense Commission. Jang is widely viewed as a regent for the father-to-son power hand-off – as well as an interim leader if Kim Jong Il were to die suddenly.

Experts and government officials in Washington and Seoul had largely expected that the Workers' Party conference, beginning Tuesday in Pyongyang, would coincide with a formal sign about succession. Frail and gaunt, rumored to be dealing with everything from depression to early dementia, Kim Jong Il has seemingly accelerated the succession plans since his stroke in August 2008. Most experts believe Kim Jong Eun is either 26 or 27.

"[This promotion] makes him legitimate at least in rank to succeed his father," said Victor Cha, an expert with the Center for Strategic and International Studies and a former U.S. representative in nuclear negotiations with Pyongyang. "The transition itself is academic. The real question will be whether they can hold it all together."
As one analyst notes, though, the promotions also demonstrates the extent to which the North Korean military has replaced the Korean Workers' Party as the true center of power in the country:
The last Workers' Party gathering of this size and scope was held in 1980, when Kim Jong-il was designated as the clear successor to his father.

"This is a step toward turning Kim Jong-un into a 'songun' leader, a symbolic gesture of upholding him as a military leader," said Cheong Seong-chang, a North Korea expert at the Sejong Institute near Seoul. Songun is the military-first policy adopted by Kim Jong-il, a companion philosophy to the "juche" ideology of self-reliance espoused by his father.

"This is the beginning of the process of promoting him to chief of command of the North Korean military," Mr. Cheong added.
As with all things North Korean, it's hard to tell what all of this actually means. The elder Kim could be dying, or he could live another ten years. The speed with which he appears to be moving to install his son into positions of power that, under ordinary circumstances, he is far too young to credibly fill, though, seems to indicate that there's some reason for a successor to be ready sooner rather than later.
What happens after that ? Your guess is as good as mine.