Trump Wants To Claim Credit For Thawing Of Relations Between North And South Korea
President Trump is apparently pressuring the President of South Korea to give him the credit for talks between North and South Korea that the United States isn't involved in at all.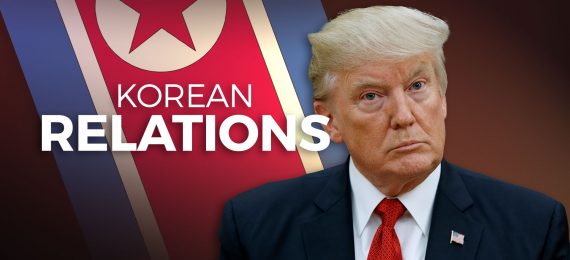 As I've noted in several posts this month, there has been a noticeable thawing of relations between North and South Korea that has raised eyebrows around the world and caused many to wonder what it was that prompted these developments. It began on New Year's Day, when North Korean leader Kim Jong Un used the occasion of his traditional address for the new year to appear to extend an olive branch to the Republic of Korea. In that speech, he suggested the resumption of a dialogue between the two nations that had largely ended when his regime began taking a more belligerent tone toward its neighbors such as South Korea and Japan and most especially toward the United States. This period of belligerence also coincided with an escalation of the DPRK's nuclear weapons and ballistic missile research programs which included both several underground nuclear test explosions and launches of missiles on test flights that clearly established that it was making progress on both missiles capable of reaching the continental United States and creating the type of warheads that could fit on such missiles. That led to the first joint talks between the two nations in nearly a decade, which itself led to several developments such as the re-establishment of a military hotline between the two nations that had been s shut down by the DPRK and an agreement that will allow North Korean athletes to participate in next month's Winter Olympics, with both nations marching together during the Opening Ceremonies at the start of the games. Additionally, the two nations agreed that they will have a joint women's hockey team during the games. This plan has been approved by the International Olympic Committee and would mark a return of a tradition that began at the 2000 Summer Olympics in Athens and happened again at each Olympics until roughly the Winter Olympics in 2006.
All of this occurred after a year during which tension on the peninsula seemed to be reaching a fever pitch to the point where the idea of war was openly being discussed on both sides of the Demilitarized Zone, and in the United States.  To no small degree, this has come about because of increasingly belligerent rhetoric between President Donald Trump and Kim Jong-Un. Over the summer, for example, President Trump started calling Kim Jong-Un "Little Rocket Man," a nickname that quickly became part of his rhetoric to the point where he began using it in campaign speeches and even during his address to the United Nations General Assembly. It most recently manifested itself when the President of the United States boasting about the size of his "nuclear button," and reports that the United States is considering an unprovoked first-strike. Now, with the world largely applauding North and South Korea for reaching some warming of relations on their own, President Trump is pressuring the President of South Korea to publicly credit him for these events:
SEOUL — Even before he was elected South Korea's president eight months ago, Moon Jae-in was vowing to take the "driver's seat" in global efforts to deal with North Korea.

But as the inter-Korean talks have shown this week, it's clearly Kim Jong Un who's steering, although Moon could fairly claim to be riding shotgun. It's Kim who's decided when the Koreas will talk and what they will talk about.

As for President Trump? Well, he could be said to be in the back, going along for the ride.

As South Korea presses ahead with efforts to bring a large North Korean delegation to the Winter Olympics in PyeongChang next month, it is willingly agreeing to North Korea's demands.

But Trump, a former businessman who prides himself on being a masterful negotiator, is claiming — and getting — most of the credit for the sudden burst of Olympics-related diplomacy between the two Koreas.

During a Jan. 4 phone call in which the South Korean leader briefed the American president on the plans for talks with North Korea, Trump asked Moon to publicly give him the credit for creating the environment for the talks, according to people familiar with the conversation.

(In these conversations, Trump calls his counterpart "Jae-in" — an unimaginable informality in Korean business etiquette. Moon calls Trump "Mr. President.")

Later that night, Trump tweeted that the talks wouldn't be happening "if I wasn't firm, strong and willing to commit our total 'might' against the North."

At a news conference six days later, Moon agreed Trump deserved "huge credit" for the talks.

Moon is trying to manipulate Trump into effectively undermining his own policy: putting pressure on North Korea, said one former official, asking for anonymity to protect officials still in government.

"Kim Jong Un is setting the agenda here," the former official said. "His purpose is to use these talks to show the world that he's okay and to make the sanctions effort lose steam."

Since taking office last May, Moon has repeatedly made overtures to North Korea but Kim consistently rebuffed them all — until New Year's Day, that is. Then, just weeks after declaring that his nuclear weapons program was complete, the North Korean leader called for "detente" with the South.

This prompted a flurry of activity in the South, including getting Trump to agree in that Jan. 4 phone call to postpone joint military drills until after the Olympics, to avoid antagonizing North Korea.

Further evidence of Kim's agenda-setting: The first item for discussion this week involved the performances of a North Korean propaganda orchestra known for numbers such as "Our Comrade Kim Jong Un." Then came the inclusion of a 240-member cheering squad known as an "army of beauties" because these squads have previously been made up entirely of attractive young women — and have been immensely popular in the South.

The South Korean government also agreed to combine the two Koreas' women's ice hockey teams — against the strong objections of the Southern team — and agreed to send Southern skiers to train on far inferior slopes in the North over the next few weeks.

(…)

The Moon administration is trying to build trust with the North in the hope this will lead to talks about its nuclear weapons program — although Kim's regime has made it clear that this is not an inter-Korean issue.

That process has gained extra urgency as Trump and his aides have talked increasingly about using military options to teach North Korea the error of its ways.

"When our government has talked to the Trump administration, we have always emphasized that the Olympics can be an excuse for North Korea to come out for talks," said Kim Hong-gul, the son of former South Korean president Kim Dae-jung, who won the Nobel Peace Prize for meeting Kim Jong Il in 2000. Kim Hong-gul met the current North Korean leader at Kim Jong Il's funeral in 2011 and is an influential voice on inter-Korean relations in the ruling Democratic Party.

"Our government has even more reason than ever to talk to North Korea because the stakes are now so much higher," he said. "We need to make sure war doesn't break out."

That could also be the reason for Kim Jong Un's change of heart, said Cheong Seong-chang, an expert on North Korea's leadership at the Sejong Institute near Seoul.

"Kim Jong Un bragged about the nuclear button on his desk but he can't rule out the chance that the United States will resort to military options, so he might be trying to buy some time," Cheong said.
To some extent, it is probable that at least part of the reason for Kim Jong-Un's decision to extend an olive branch to South Korea, as well as the progress that was made in the inter-Korean talks is due in no small part to the more belligerent rhetoric from the United States. However, I don't think it happened in the manner the Trump Administration would like us to believe, which essentially would be the argument that Kim Jong-Un agreed to talks because of increased concerns about what the United States might do. There's a good argument to be made that Kim is engaged in a game of his own and that Trump is letting him succeed. At least part of what's motivating North Korea is a desire to draw South Korea away from the United States at least to some extent. As I have noted in previous posts on this thaw in relations between the two Koreas, the relatively new President of South Korea, Moon Jae-In, campaigned in part on a platform that included the idea of trying to reduce tensions with the north. He was at least initially diverted from that path due in no small part to North Korea's own rhetoric and actions, such as its most recent nuclear and ballistic missile tests. Additionally, it's clear that the Republic of Korea isn't going to drift away from the United States. Nonetheless, from that campaign and from President Moon's subsequent statements, Kim obviously saw an opportunity to create an opening that would translate into some degree of positive coverage for his country among other nations, and especially with regard to nations such as Russia and China that are its primary trading partners.
The fact that Trump is so desperate to get credit for the small openings we've seen this month on the Korean peninsula says a lot about his character and his constant need for adulation and praise.  It's juvenile and stupid, of course, but it is also par for the course as far as Trump is concerned.