Trump Brags About The Size Of His Nuclear Button On Twitter
Donald Trump's irrational tweets are once again focused on the leader of North Korea.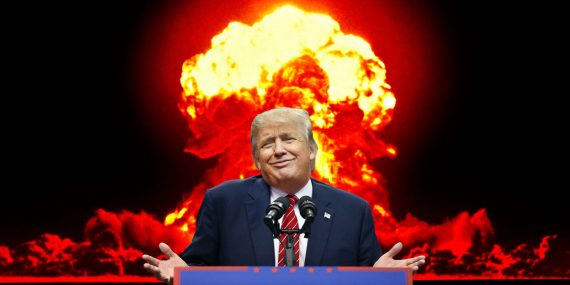 While yesterday was officially supposed to be the first day back to work after a long golfing working holiday vacation at his Mar-A-Lago resort in Florida, President Trump spent a good part of the day diving back into his Twitter habit, capping the day off with another Tweet aimed at North Korean leader Kim Jong-Un:
WASHINGTON — President Trump again raised the prospect of nuclear war with North Korea, boasting in strikingly playground terms on Tuesday night that he commands a "much bigger" and "more powerful" arsenal of devastating weapons than the outlier government in Asia.

"North Korean Leader Kim Jong Un just stated that the 'Nuclear Button is on his desk at all times,'" Mr. Trump wrote on Twitter. "Will someone from his depleted and food starved regime please inform him that I too have a Nuclear Button, but it is a much bigger & more powerful one than his, and my Button works!"

Mr. Trump's combative response to a statement made the day before by Mr. Kim raised the temperature in the brewing confrontation between the United States and North Korea even as American allies in South Korea were moving to open talks with Pyongyang. The contrast between Mr. Trump's language and the peace overture by South Korea highlighted the growing rift between two longtime allies.

The president's tone also generated a mix of scorn and alarm among lawmakers, diplomats and national security experts who called it juvenile and frightening for a president handling a foreign policy challenge with world-wrecking consequences. The language was reminiscent of Mr. Trump's boast during the 2016 presidential campaign that his hands, and by extension his genitals, were in fact big enough.

It came on a day when Mr. Trump, back in Washington from his Florida holiday break, effectively opened his new year with a barrage of provocative tweets on a host of issues. He called for an aide to Hillary Clinton to be thrown in jail, threatened to cut off aid to Pakistan and the Palestinians, assailed Democrats over immigration, claimed credit for the fact that no one died in a jet plane crash last year and announced that he would announce his own award next Monday for the most dishonest and corrupt news media.

The North Korea tweet near the end of the day seemed most distressing to some in Washington watching the escalating clash between the United States and a nuclear-armed North.

"I guess the president regards this as a show of strength," Representative Jim Himes, Democrat of Connecticut and a member of the House Intelligence Committee, said on CNN. "But as everybody who's ever been in a, you know, first grade playground recognizes, it's usually the person who's most aggressively pounding their chest that is in fact the weak one on the playground."

Eliot A. Cohen, who was counselor to Secretary of State Condoleezza Rice under President George W. Bush, said the tweet demonstrated an immaturity that is dangerous in a commander in chief.

"Spoken like a petulant ten year old," Mr. Cohen wrote on Twitter. "But one with nuclear weapons — for real — at his disposal. How responsible people around him, or supporting him, can dismiss this or laugh it off is beyond me."

Mr. Trump's supporters brushed off the criticism, calling the president's words a bracing stand that would force North Korea to confront the potential repercussions of its efforts to develop nuclear weapons that could reach the continental United States.

Michael Flynn Jr., the son of the president's former national security adviser, Michael T. Flynn, who has pleaded guilty to lying to investigators in the Russia investigation, said Mr. Trump's tweet was "just awesome." He added on Twitter: "This is why Trump was elected. A no bulls#t leader not afraid to stand up for his country."
In a normal Presidency, rhetoric like this would be shocking and just a little bit concerned with regard to what it might mean for U.S. policy toward North Korea as well as that particular President's view of the use of nuclear weapons. With Donald Trump, though, this is just another Tweet on another day, and yet another example of how he has routinely used his Twitter account to lash out in ways that make him appear to be, well, irrational and unhinged. As Brian Stelter of CNN put it, if the leader of another country said the things that Trump does on a regular basis, we'd all be saying that person was not well. With Trump, it's just the same stuff on a different day, and it's largely consistent with the way that he's used his Twitter account for years now. This also isn't the first time that he's used his Twitter account to last out at North Korea in response to provocative statements from Kim Jong-Un or the official press organs of the North Korean government.  Over the summer, for example, he started calling Kim Jong-Un "Little Rocket Man," a nickname that quickly became part of his rhetoric to the point where he began using it in campaign speeches and even during his address to the United Nations General Assembly. It's juvenile and stupid, of course, but it is also par for the course as far as Trump is concerned.
All of this comes at the same time that there appears to be a thaw developing between North and South Korea even as North Korea's leader keeps the rhetorical battle with the United States red hot. As I noted yesterday, North Korean leader Kim Jong-Un kicked off the new year with a speech that appeared to be quite conciliatory toward the south, suggesting among other things that the two nations explore the idea of allowing  North Korean athletes to compete in the Winter Olympics, which will take place in South Korea next month. South Korean President Moon responded positively to that idea and suggested that the two nations send delegations to talk to each other. There was further thawing today when North Korea reopened a cross-border hotline to the south that had been closed for more than two years amid rising tensions on the peninsula. Contrasted with Trump's continued belligerent rhetoric, these actions seem designed to present a different face to the south and drive somewhat of a wedge between South Korea and its American ally. With rhetoric such as the tweet he sent last night, Trump is only helping that effort.