Northern Virginia Tragedy Becomes Part Of National Immigration Debate
A fatal car crash on a country road in Northern Virginia has become part of the national debate on over illegal immigration.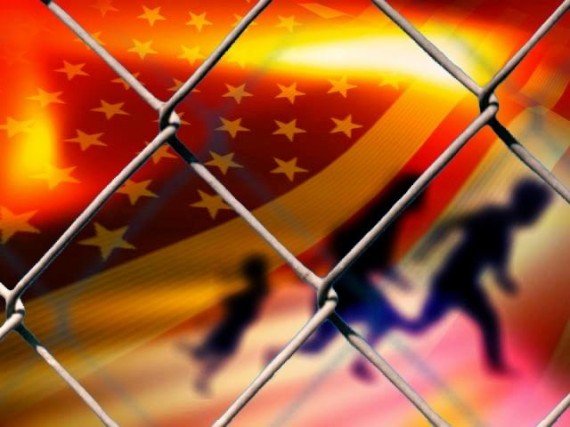 A car crash in the Northern Virginia suburbs has become part of the national debate over immigration:
An alleged drunk driver involved in a crash Sunday morning that killed a Catholic nun in Prince William County and left two other nuns gravely injured has a record of numerous motor vehicle violations in recent years, including two drunken-driving cases for which he served 20 days in jail, according to authorities and court records.

The suspect, Carlos A. Martinelly Montano, 23, an illegal immigrant from Bolivia, was also detained by U.S. Immigration and Customs Enforcement after a drunken-driving arrest in 2008. Montano was released on his own recognizance pending a deportation hearing, which has yet to occur because of a backlog, said ICE spokeswoman Cori Bassett.

Montano "has reported as required on a monthly basis to ICE" while awaiting the hearing, Bassett said. Gang members and other violent criminals are often jailed to await deportation hearings, but two drunken-driving arrests "aren't enough to warrant detention," said an immigration official, speaking on the condition of anonymity because the case against Montano is pending.

Prince William Commonwealth's Attorney Paul B. Ebert voiced anger about the case in an interview Monday.

"He's thumbed his nose at the laws of the Commonwealth of Virginia for years," Ebert said of Montano. "He continued to drive, even though his privilege had been revoked and he didn't have the right to drive. And he continued to drive drunk, which led to this horrible, horrible situation."

Montano was intoxicated when the 1997 Subaru Outback he was driving in the Bristow area struck a guardrail on Bristow Road near Wright Lane shortly before 8:30 a.m. Sunday, police said. The Outback, traveling north, spun out of control and careered into the southbound lanes, colliding head-on with the nuns' 2003 Toyota Corolla.
The story of this car crash, which ordinarily would be restricted to the Metro Section of The Washington Post, has received national coverage due to the fact that Montano was an illegal immigrant under the threat of a deportation order by ICE, and the fact that he wasn't in detention at the time of the accident.
It's equally valid, though, to point to this is as an example of flaws in Virginia's DUI statutes. This was the third time in three years that Montano had driven while intoxicated, that we know of:
About 3:15 a.m. on July 7, 2007, according to court documents, a police officer found Montano asleep behind the wheel of a car idling at a stop sign. After the officer ordered him to step out, Montano "was extremely unsteady on his feet and almost fell to the road," a police report says. It says Montano told the officer he had consumed about eight beers.

Tests showed Montano's blood-alcohol level was 0.13 percent, well above the 0.08 percent legal limit for driving in Virginia, court records show. His license was suspended after his conviction, but he was not sentenced to jail.

Just after 2 a.m. on Oct. 4, 2008, a police officer stopped Montano for driving erratically, court documents show. He told the officer that he had consumed five or six beers, a police report says. It says that a breath test given to Montano 90 minutes after his arrest found his blood-alcohol level to be 0.17 percent, more than twice the legal limit.

In Virginia, a second drunken-driving conviction within five years is punishable by up to a year in jail, and the defendant must serve at least 10 days. Montano was given a 363-day sentence with all but 20 days suspended, records show.
Twenty days in jail, under a statute that could have sent him to jail for a year. Yes, it wouldn't have prevented Montano from being on the road on July 31, 2010, but it would've kept him off the road, and perhaps led to an expedited handling of his deportation proceedings.
This isn't ICE's fault. The truth of the matter is that the facilities used to house immigrants awaiting deportation hearings are already over-crowded and priority is given to keeping in custody only those considered most dangerous. Did Montano qualify under that criteria ? Based on Sunday's tragedy, obviously, but his record beforehand arguably didn't indicate that he was as much of a danger as, say, a member of a Salvadoran street gang.
Interestingly enough, the victim's fellow Nuns are pleading that this case not be demagogued for political purposes:
The religious order that was home to three nuns whose car was hit Sunday morning by an alleged drunk driver in Northern Virginia said it is upset at what it views as the politicization of the incident.

Sister Glenna Smith, a spokeswoman for the Benedictine Sisters, said Tuesday that "we are dismayed" by reports that the crash, which killed one woman and critically injured two others, is focusing attention on the man's status as an alleged illegal immigrant. Critics of federal immigration policy have seized on the crash.

"The fact the he had DUIs is really poignant, but he's a child of God and deserves to be treated with dignity," Smith said of the driver, Carlos A. Martinelly Montano. "I don't want to make a pro- or anti-immigrant statement but simply a point that he is an individual human person and we will be approaching him with mercy. Denise, of all us, would be the first to offer forgiveness."

Another nun said Montano's parents, Maria and Alejandro Martinelly, appeared unexpectedly at the monastery in Bristow on Sunday night. Sister Andrea Verchuck, who has lived at the monastery for 66 years, said she was working at her desk that night when the doorbell rang.

The couple were apologetic, she said, and told her they had tried to get their son help. Verchuck said she was glad she answered the door, so she could reassure them that the nuns "held no grudges."
Not surprising coming from Catholic Nuns, but perhaps it's an attitude we should all think about adopting.
As for Montano, yes, he should be deported. After he's spent a sufficient amount of time in a Virginia prison in punishment for taking the life of another human being.