November Jobs Report Stronger Than Expected
Some good numbers for November in the Jobs report, but questions about the future remain.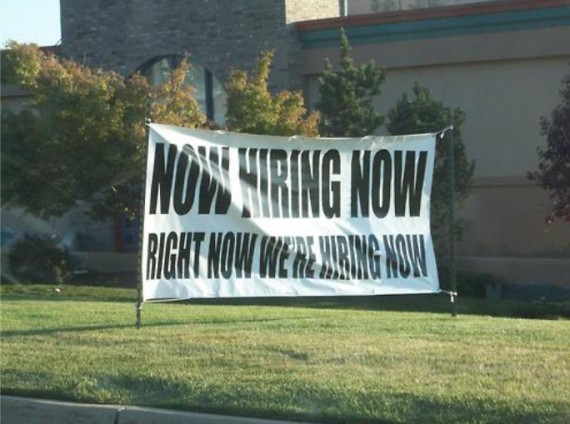 Last month's Jobs Report for October was surprisingly stronger than expected. For a month in which hundreds of thousands of people were on leave because of the Federal Government shutdown, we saw 204,000 new jobs created while the unemployment rate ticked up slightly apparently due to the fact that people were actually starting to re-enter the labor force. As I noted at the time, there were several caveats surrounding the report but, on the whole, it was a rather strong number, and hopefully one that would hold up going forward. As we approached today's release of the November report, analysts expected to see job growth in the 180,000 range and perhaps a modest drop in the unemployment rate. The ADP report, which doesn't always reflect what the Bureau of Labor Statistics will report, showed a more optimistic 215,000 jobs added last month. As it turns out, ADP's more optimistic number was closer to reality this time, and this morning we received an all around fairly positive jobs report:
The economy added 203,000 jobs in November, a bit better than expected, as the unemployment rate fell to 7 percent, the lowest in five years.

While the return of hundreds of thousands of federal employees following October's government shutdown may have exaggerated the move in the unemployment rate for November, the continuing payroll gains suggest the economy has picked up at least a modicum of momentum very recently.

Economists surveyed by Bloomberg before the Labor Department announcement had expected an increase of 185,000 jobs, with the unemployment rate falling by 0.1 percentage point to 7.2 percent.

Payrolls are tracked using data gathered from employers, while the unemployment rate is based on a separately survey of households.

On Wall Street, the monthly report on the labor market is by far the most closely watched economic indicator, but the November data created more anticipation than usual.

That's because the Federal Reserve seems poised to begin slowly easing back on its stimulus efforts. While the move had been expected in September, it was put off amid mixed economic data instead of the sustained signs of improvement policy makers want to see. The delay by the central bank caught Wall Street off guard three months ago.

With a spate of recent positive data, economists said a move by the Fed had become more certain, either later this month or more likely early next year. The latest figures on hiring come in the wake of more robust data for economic growth and jobless claims on Thursday and a report on Monday showing increased activity at factories.

While welcome news for job seekers, a healthier labor market is likely to be viewed more warily by investors and traders, at least in the short term.

Stronger economic growth and employment gains should bolster corporate earnings and therefore stocks over time, but speculators fear a quick Fed tapering could sap the stock market's recent momentum. The Standard & Poor's 500-stock index is up more than 25 percent in 2013. In premarket trading after the Labor Department data came out, stocks were higher.

Although the holiday shopping season seems to have gotten off to a mixed start, the retail sector added 22,000 jobs last month. Manufacturers, which are closely watched as a bellwether for the broader economy, hired 27,000 workers. And the overall participation rate rose 0.2 percentage point to 63 percent, reversing a decline in recent months.
From the BLS Report:
Total nonfarm payroll employment increased by 203,000 in November. Job growth averaged 195,000 per month over the prior 12 months. In November, job gains occurred in transportation and warehousing, health care, and manufacturing. (See table B-1.)

Employment in transportation and warehousing rose by 31,000 in November, with gains in couriers and messengers (+9,000), truck transportation (+8,000), warehousing and storage (+5,000), and air transportation (+3,000).

Health care employment continued to increase over the month (+28,000). Job gains occurred in home healthcare services (+12,000) and offices of physicians (+7,000), while nursing care facilities lost jobs (-4,000). Job growth in health care has averaged 19,000 per month thus far this year, compared with an average monthly gain of 27,000 in 2012.

In November, manufacturing added 27,000 jobs. Within the industry, job gains occurred in food manufacturing (+8,000) and in motor vehicles and parts (+7,000).

In November, employment in professional and business services continued to trend up (+35,000). Over the prior 12 months, the industry added an average of 55,000 jobs per month.

Retail trade employment alsojob continued to expand in November (+22,000). Within the industry, job growth occurred in general merchandise stores (+14,000); in sporting goods, hobby, book, and music stores (+12,000); and in automobile dealers (+7,000). Over the prior 12 months, job growth in retail trade averaged 31,000 per month.

Within leisure and hospitality, employment in food services and drinking places continued to trend up in November (+18,000). Job growth in this industry averaged 28,000 per month over the prior 12 months.

Employment in construction continued to trend up in November (+17,000). Monthly job gains in the industry averaged 15,000 over the prior 12 months.

Federal government employment continued to decline (-7,000) in November. Over the past 12 months, federal government employment has decreased by 92,000.

Employment in other major industries, including mining and logging, wholesale trade, information, and financial activities, showed little or no change in November.
Looking further into the report, we see that there was strong growth a mong both full-time and part-time employment, indeed that full-time job growth was apparently far stronger than part-time. This somewhat reverses a trend that we'd been seeing for a significant period in which it was part-time employment that was growing at a faster pace while full-time job opportunities went wanting. Whether this is a temporary phenomenon unique to November or the beginning of a new trend will have to wait until we see future reports. Obviously, though, stronger full-time employment growth would be the ideal situation. Also reversing recent trends were small upticks in both labor force participation and the population/employment ratio, which indicates that the 3/10 of a point drop in the unemployment rate was due to actual job growth, not a reflection of people giving up on the labor market as has seemingly been in the case. It's worth noting, though, that the two numbers are still lower than they were a year ago. One can also see this in the fact that U-6, the broadest measure of unemployment that the BLS reports on, dropped from 13.8% to 13.2%, again with the caveat that the number of people who count as "long term unemployed" still numbers at over 4,000,000. Both the October and September jobs numbers have held up under revisions. The, September number was revised upward from +163,000 to +175,000 while the October number was revised downward from +204,000 to +200,000 for a net increase increase over the two months of +8,000. Finally, the average jobs growth over the  past three months stands at just shy of 193,000 and at roughly 190,000 for the past twelve months.
There is plenty of positive news to point to here, obviously. Another month of job growth above 200,000 is certainly stronger than some of the numbers that we've seen in the past, although it remains short of the number generally accepted as being necessary to keep up with population growth. The fact that the unemployment rate dropped while labor force participation rose is a sign that people who have been sitting on the sidelines began to start actively seek employment again, although its worth noting that at least part of this is a reversal from October when the rate ticked up 1/10th of a point in likely reaction to the government shutdown. Additionally, job growth in most key sectors seemed to be fairly strong for the month with nearly every private sector job category showing fairly strong job growth. At the same time, it's worth noting that job growth continues to remain stubbornly low. Average job growth below the 200,000-225,000 range is far from ideal and places us in a range where it would still be another five years before we reach pre-recession employment levels, a remarkably long period of time even taking into account that this has been the longest jobs recession since World War II.
We're likely to see some good numbers in December reflecting hiring for Christmas shopping, which is why it will be best to wait until January to see if these trends continue. If they do, then the next question will be how much longer the Federal Reserve Board is going to continue helping to prop up the stock market by continuing its Quantitative Easing policies, but that's a question for another day.