NTSB: Lower Threshold For DUI From .08 To .05
A government panel is recommending that the BAC limit for drunk driving be lowered nearly 40%.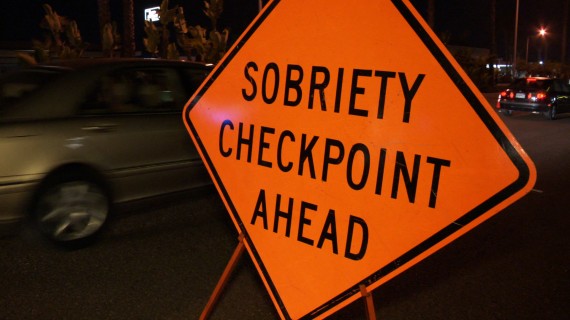 The National Transportation Safety Board is recommending that the standard blood alcohol limit at which someone is considered legally intoxicated be lowered:
WASHINGTON — Thousands of people are killed or injured every year by drivers who have not reached the legal standard for being drunk but who have a reduced ability to see, make decisions or operate a vehicle, the National Transportation Safety Board said on Tuesday, and it recommended that the states reduce the allowable blood-alcohol concentration by more than a third, to 0.05 percent from 0.08 percent.

The current standard was established a decade ago at the instigation of Congress, and progress has stalled, the board said, with about 10,000 fatalities a year.

"There are at least 10,000 reasons to tackle this issue," said Deborah A.P. Hersman, the chairwoman of the board. Foreign countries with stricter standards have had substantially more success, according to the board.

The board voted for a variety of recommendations. Some of them, like requiring that anyone convicted of drunken driving be required to install a breathalyzer interlock in their car, which would prevent the vehicle from starting without an alcohol test, were focused on heavy drinkers and repeat offenders.

Officials said they hoped that a stricter standard would reduce drinking and driving both among social drinkers and among heavy drinkers.

Blood-alcohol concentration varies by body weight, gender, stomach contents and other factors, but generally speaking, a 180-pound man could consume four beers or glasses of wine in 90 minutes without reaching the current limit. At a limit of 0.05 percent, he could legally consume only three. A 130-pound woman could probably consume three drinks in 90 minutes and still be legal under the existing standard; if the limit were lowered, she could consume only two.

The blood-alcohol recommendation faces opposition. Sarah Longwell, the managing director at the American Beverage Institute, a restaurant trade association, called the idea "ludicrous."

"Moving from .08 to .05 would criminalize perfectly responsible behavior," she said. And "further restriction of moderate consumption of alcohol by responsible adults prior to driving does nothing to stop hard-core drunk drivers from getting behind the wheel," she said.

The board is already on record favoring research on built-in alcohol detectors, which could measure blood-alcohol content through a driver's palms on the steering wheel or some other unobtrusive way. Those could be available as an option on new cars or could be universally required. Either would affect drinkers who have never been caught driving, who make up more than 90 percent of those involved in fatal alcohol-related crashes.

People with a blood-alcohol level of 0.05 percent are 38 percent more likely to be involved in a crash than those who have not been drinking, according to government statistics. People with a blood-alcohol level of 0.08 percent are 169 percent more likely.

The standard in most of the industrialized world is 0.05 percent. All 50 states and the District of Columbia switched to 0.08 percent after President Bill Clinton signed a law in 2000 that withheld highway construction money from states that did not agree to that standard.
At this point, of course, this is only a reccomendation. In order for this to become law, the legislatures of all 50 states and the District of Columbia would have to change their laws, as would Congress for those areas of highway, such as National Parks and military bases, that are under Federal jurisdiction. The odds of that happening any time soon seem fairly low, especially since the campaign against intoxicated driving that has been going on sine the 1980s has been incredibly successful and the general number of deaths from drunk driving has declined over the period. Additionally, we are now in an era where drunk driving is viewed almost universally as a serious offense and, indeed, where it can have serious consequences on someone who is convicted in ways ranging from a temporary loss of license to increased insurance rates for just a first offence.This is a marked difference from forty years ago when DUI laws and punishments were almost universally lenient until groups like Mothers Against Drunk Driving came along and started lobbying state legislatures to tighten up the law. Because of their success, though, it seems apparent that there might not be the same sense of urgency that there was 40 years ago. Indeed as Connor Simpson states, there isn't necessary a lot of agreement with the NTSB's recommendations:
[T]he recommendation to lower the legal limit isn't even receiving overwhelming support from those who typically campaign against drunk driving. "We don't expect any state to go to .05," said Jonathan Adkins, a (very realistic) Governors Highway Safety Association spokesman. "This recommendation is ludicrous," said Sarah Longwell, the (bottom line-focused) managing director of the American Beverage Institute. Even Mothers Against Drunk Driving — the lobbying group that won a string of victories in getting the national BAC levels in every state down from around 0.15 to 0.08 in the first place — isn't crazy about the new idea. They "would not oppose" the change, as the Times puts it, but ultimately the group supports other potential changes. This is the board "trying to focus on a group of people who are more social drinkers, who haven't been targeted in a while," said MADD rep J.T. Griffin, clearly seeking more widespread efforts on drunk driving.
There is another factor to consider here when evaluating something like the nearly 40% reduction in the acceptable BAC limit that's being proposed here, and that's  whether it might be unfair to people who are generally not malevolent. As I noted above, a DUI conviction now carries with it serious legal consequences, and there's every reason to believe that this will continue to be the case if the BAC limit is lowered to .05. Indeed, some of the other recommendations that are being made would actually increase the penalties for even a first offense DUI, including things such as requiring everyone convicted of a DUI to have an ignition interlock device installed in their car that would require them to pass a breathalyzer test in order to start the vehicle. Do we really want to subject a whole new group of people to these penalties? I'm not here to defend drunk driving, but it strikes me that it might be better to focus our efforts on the heavy drinkers and repeat offenders that are the real danger on the road rather than diverting police resources toward drivers who may be a little buzzed but aren't really very impaired.