Obama Administration Knew Of Obamacare Website Problems A Month Before Launch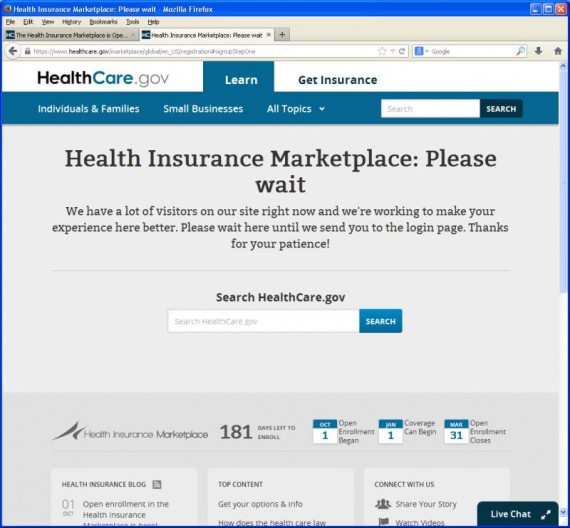 CNN is reporting that the Obama Administration was warned about problems with the website hosting the Federal Obamacare exchange a month before the site went live:
Washington (CNN) – The Obama administration was given stark warnings just one month before launch that the federal healthcare site was not ready to go live, according to a confidential report obtained by CNN.

The caution, from the main contractor CGI, warned of a number of open risks and issues for the HealthCare.gov web site even as company executives were testifying publicly that the project had achieved key milestones.

On Capitol Hill on Tuesday, Medicaid Chief Marilyn Tavenner, whose job it was to oversee the October 1 rollout of the website, said she did not foresee its problems.

"No, we had tested the website and we were comfortable with its performance," she said. "Now, like I said, we knew all along there would be as with any new website, some individual glitches we would have to work out. But, the volume issue and the creation of account issues was not anticipated and obviously took us by surprise. And did not show up in testing."

But the CGI document, which describes "top risks currently open" and "outstanding issues currently being mitigated" says the testing timeframes are "not adequate to complete full functional, system, and integration testing activities" and lists the impact of the problems as "significant."

Another element is listed as " not enough time in schedule to conduct adequate performance testing" and given the highest priority.

CGI had no comment other than to confirm authenticity of the report that also gave "the highest priority" and warns "we don't have access to monitoring tools" and "hub services are intermittently unavailable" — short for the "site's not working sometimes."

One concern, listed as "severe," warned, "CGI does not have access to necessary tools to manage envs in test, imp, and prod. Specifically (1) we don't have access to central log collection / view (2) we don't have access to monitoring tools. We have repeatedly asked CMS and URS but have not been granted this access."

The report, which documents issues from August 2013 and was sent to at least one employee at CMS by an executive at CGI on September 6, was submitted in response to a request by the House Oversight Committee, which is now investigating the rollout of the health law.
Additionally, this morning Associated Press is reporting that the Administration was also warned about security risks:
An internal government memo obtained by The Associated Press shows administration officials were concerned that a lack of testing posed a "high" security risk for President Barack Obama's new health insurance website.

The Sept. 27 memo to Medicare chief Marylin Tavenner said a website contractor wasn't able to test all the security controls in one complete version of the system.

Insufficient testing "exposed a level of uncertainty that can be deemed as a high risk," the memo said.
Health and Human Services Secretary Kathleen Sebilius is now appearing before a House Committee on these issues, but considering that the committee has decided that individual questions will be limited to four minutes, the prospect that anything of substance is going to be discovered is pretty much non-existent. Nonetheless, at a glance it appears that we're looking at some fairly serious government contracting failures here, including failures in project by the Center for Medicare and Medicare Services, the HHS Agency responsible for running the Federal exchange. Considering that this is the same agency that will be administering the program once it's up and running, that doesn't exactly inspire a high degree of confidence.
Update: Shortly after this post was published, the Chair and Ranking Member of the Committee that Sebelius is appearing before agreed to limit question time to two minutes for each member so that each member present would be able to ask a question. Just one question mind you, and there'd barely be time for a response. This isn't a serious oversight hearing.
Also, ironically, the Healthcare.gov, other than the front-end of the site,  has been down the entire time that Sebelius has been testifying.