Obama Approval at Record Low 42%
President Obama's approval is at its lowest point to date, matching President Clinton's in 1994. It's 14 points higher than his predecessor's.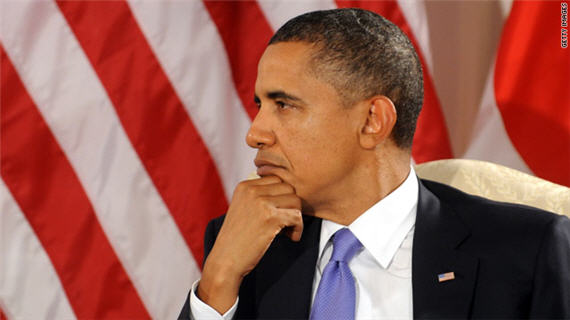 President Obama's approval is at its lowest point to date:
President Barack Obama is contending with the lowest approval rating of his 20-month presidency, a new CNN/Opinion Research Corporation poll finds. The president's approval rating now stands at 42 percent – an all time low in CNN polling and 8 points lower than where Obama was only three weeks ago. Moreover, 56 percent of all Americans think the president has fallen short of their expectations.

The president's sagging poll numbers couldn't come at a worse time for congressional Democrats, themselves facing a nine-point deficit in the so-called "generic ballot" question heading into the midterm elections. In fact, the president's approval rating is the same as that of President Clinton's in 1994 – the midterm election year that saw Republicans wrest control of both the House and Senate.
The numbers aren't shockingly bad, given the dreadful state of the economy.   And it's silly that this is somehow going to drag down Democrats' chances in November; Obama's approval is simply a proxy for theirs, so we're measuring the same thing twice.
In even worse news for congressional Democrats, likely voters say they are considerably more likely to vote for a candidate the president opposes than one he supports. On the other hand, 50 percent of voters said they would be more likely to vote for a Tea Party-backed candidate while a third of Americans said Tea Party support would dissuade their vote for a candidate.
That data tells us absolutely nothing of interest.
Still, the president can take some solace in the fact several past presidents have been beset by slumping numbers at the 2-year mark: In addition to Clinton, both Reagan and Jimmy Carter found their support at 42 percent at this point in their first term. Of course, Clinton and Reagan went on to big reelection wins only two years later.
And George H.W. Bush was in the 90's well into 1991 and went on to lose big the next year, his approval having dropped to 29% in July.      And Obama's 42% is still fantastically higher than the 28% his predecessor had in May 2008.