Obama Campaign Saw Jon Huntsman As A Threat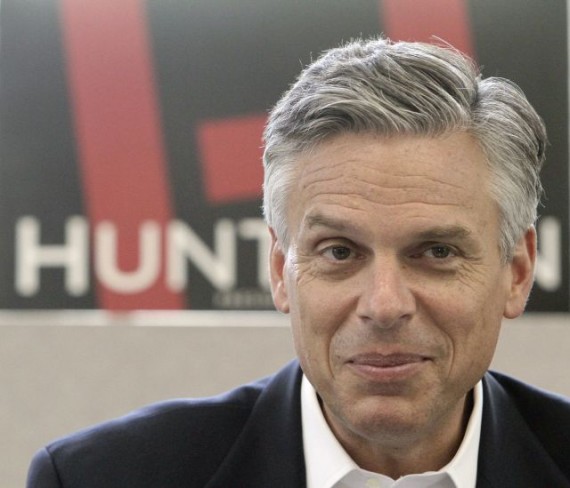 Republicans rejected him, but the Obama campaign viewed him as a threat:
When Obama campaign aides surveyed the field of Republican presidential hopefuls early on, they saw a certain handsome Mormon candidate and thought he'd be trouble in a general election showdown.

It wasn't Mitt Romney.

Jon Huntsman is the former Utah governor who took a moderate stance in a GOP field that leaned to the right. He didn't get very far in the Republican nomination fight, but team Obama viewed him as a serious candidate who could pose real problems in a general election.

"We were honest about our concerns about Huntsman," Obama campaign manager Jim Messina said at a Politico breakfast event Tuesday. "I think Huntsman would have been a very tough candidate."

As for the president, he liked Mr. Huntsman enough to appoint him ambassador to China in 2009. Mr. Messina, who was working in the White House at the time, said he helped Mr. Huntsman win Senate confirmation.

"As someone who helped manage his confirmation for Chinese ambassador, he's a good guy," Mr. Messina said. "We looked at his profile in a general election and thought he would have been" a formidable candidate.  Politico's video of the remarks is here.

(…)

So, did the White House shuttle Mr. Huntsman off to China in hopes of forestalling a presidential bid? Was the Obama team looking to remove Mr. Huntsman from the "chessboard?" asked moderator Mike Allen of Politico.

"No, I thought he was a committed American who would serve our country well, and he did," Mr. Messina replied.
If there was anyone running for President on the Republican side in 2012 other than Mitt Romney who could have given Barack Obama a run for his money, it was Jon Huntsman. Unfortunately, his campaign started off on a very bad foot at the beginning by ignoring and even alienating the base of the party, which is never a smart strategy when you're a relative unknown running for your party's nomination. Added to that is the fact that many conservatives disliked him, absurdly, simply because he had served as an Ambassador under President Obama, as if serving your country is a bad thing. There was a s slight Huntsman bump as the New Hampshire Primary approached, but it was too little and far too late to save a candidacy that had bet everything on the Granite State. Personally, I hope Governor Huntsman doesn't let the 2012 experience sour him on running again in the future because he's still got much to contribute.