Jon Huntsman Resigns As Ambassador To Russia Ahead Of Possible Return To Politics
Jon Huntsman has resigned as Ambassador to Russia ahead of an anticipated bid to return as Utah's Governor, a position he held 11 years ago.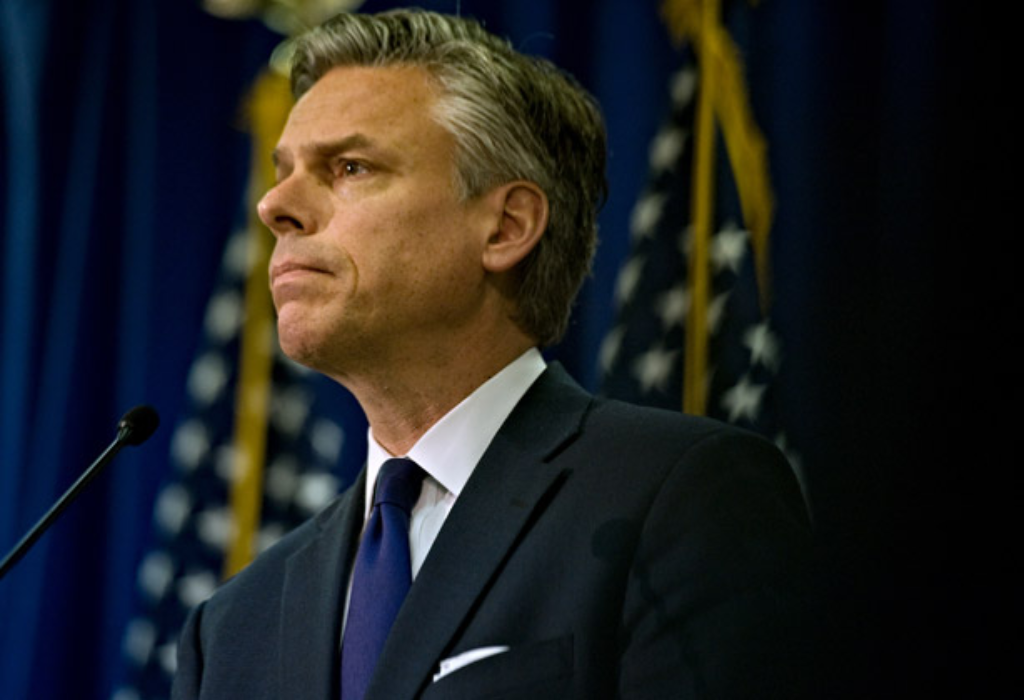 Jon Huntsman has resigned as U.S. Ambassador to Russia ahead of what is expected to be a return to Utah politics and an effort to regain his seat as Governor, which he first gave up to serve as President Obama's Ambassador to China:
U.S. Ambassador to Russia Jon Huntsman is returning home to Utah where he is reportedly mulling another run for governor.

Huntsman sent President Donald Trump a resignation letter Tuesday morning and is planning to move back to the Beehive State in October.

"American citizenship is a privilege and I believe the most basic responsibility in return is service to country," Huntsman begins his letter to the president. "To that end, I am honored by the trust you have placed in me as the United States ambassador to Russia during this historically difficult period in bilateral relations."

Huntsman added that he had told Trump and Secretary of State Mike Pompeo that it was he and his family's desire to return to America after two years of service "to reconnect with our growing family and responsibilities at home."

"It is my hope that this will allow sufficient time for a successor to be nominated and confirmed," the ambassador said. "I pledge my full effort in facilitating a smooth transition that ensures our foreign policy goals are kept in proper focus."

Huntsman, 59, is a former Utah governor who left the post in 2009 to serve as U.S. ambassador to China, and is now reportedly considering another run for the state's highest office, according to those close to him.

Should he run, Huntsman will face a possibly crowded field that includes Lt. Gov. Spencer Cox, who is polling about the same as Huntsman among registered voters but faring better among Republicans.

Huntsman was a popular governor in the state, winning every county in Utah in his 2008 bid and leaving office with an approval rating topping 80 percentage points.

(…)

In his two-page letter sent to the White House, Huntsman extolls the work of U.S. diplomats "laboring under extremely difficult circumstances to promote and protect America's interests."

And he offered his advice for what should come after he departs.

"Going forward, we must continue to hold Russia accountable when its behavior threatens us and our allies," Huntsman wrote. "While much of what divides us is irreconcilable, there are common interests we cannot ignore. No reset or restart is going to help, just a clear understanding of our interests and values — and a practical framework for sustained dialogue. Through our diplomacy, we have worked to stabilize years of acrimony and incertitude with the hope of a better relationship. Failure is not an option, and the people on both sides deserve better."

Huntsman tried to paint the relationship as one that could get better if the two countries could work together.

"The bonds between our people remain strong," Huntsman said in a video released by the embassy last year. "The United States is ready to cooperate and forge a better relationship between our two countries. But that will only be possible when Russia chooses to become a more responsible partner."

Huntsman's tenure was also challenging with the sanctions in place. While his predecessors had a staff of more than 1,200 people, an embassy in Moscow and three consulates and a country house, Huntsman was left with 455 staffers and only the embassy and two consulates.

(…)

Though Huntsman's role came at a difficult time, foreign policy experts say he held his own under pressure.

William Courtney, an adjunct senior fellow at the RAND Corporation and former ambassador to Kazakhstan and Georgia, just returned from a trip to Moscow and said Huntsman is widely respected there.

"Under his leadership, embassy morale is high despite tense U.S.-Russian relations and a debilitating draw down of employees resulting from reciprocal U.S. and Russian diplomatic expulsions," Courtney said.

"The U.S. business community in Moscow admires the ambassador for seeking to maintain and expand commercial ties in non-sanctioned sectors," Courtney continued. "This is important both because it benefits the U.S. economy, and because commercial ties provide an enduring foundation for U.S.-Russian relations throughout political ups and downs."
Huntsman has had a career that has varied between the political and diplomatic worlds for several decades now. Prior to becoming Governor, he held a variety of diplomatic positions over the years, most notably as Ambassador to Singapore under President George H.W. Bush Deputy U.S. Trade Representative under President George W. Bush. In 2004, he was elected Governor of Utah, a position he continued to hold until mid-2009 when he resigned to accept an appointment as Ambassador to China under President Obama, a position he held until resigning in 2011. Several months after resigning as Ambassador, Huntsman entered the crowded field for the 2012 Republican nomination for President and, while his campaign seemed promising at the start, he never really caught fire and ultimately dropped out of the race in January 2012, endorsing Mitt Romney. After 2012, Huntsman served in a variety of positions in the private sector, including a stint as Chairman of the Atlantic Council and involvement in a somewhat noteworthy movement to advocate for a third-party in American politics. Finally, in 2017 he was nominated to be the American Ambassador to Moscow by President Trump, a position he's held since 2017.
There have been some rumors in the Utah press, and among some observers of Utah politics that I've talked to over the past several months, that Huntsman was putting together what could end up being a campaign for Governor. There are no term limits for Governor in the Beehive State, but the current Governor, Gary Herbert, indicated several months ago that he would not run for a third term, leaving the position, and the Republican nomination race, wide open.
If he does run for the seat he once held, Huntsman will face something of a contest. There are currently two declared candidates in the race, including Spencer Cox, the Lt. Governor and there have been reports that others, including current Utah Senator Mike Lee, could enter the race. Additionally, the Utah GOP's nomination process is somewhat complicated in that it includes both a convention and a primary. The first step is a convention attended by delegates selected at caucuses at the local level earlier in the year. Ultimately, there are about 4,000 delegates chosen to attend the state conventions that are held in April of an election year. If a candidate obtains the votes of 60% of the delegates eligible to vote for them then there will be no primary and the winning candidate automatically becomes the nominee. If no candidate is able to obtain the 60% needed after either the initial ballot or a runoff held immediately afterward, then the top two candidates are forced into a primary. This is what happened to Mitt Romney in 2016, who fell just a bit short in the convention but came back to easily win the primary several months later. So far, there has been no polling of a potential Republican field that includes Huntsman so it's hard to say how he'd fare in a race taking place some eleven years after he last held elected office in the state.
In any case, Huntsman performed about as well as can be expected of an Ambassador under Donald Trump and he was quite popular in the state when he was Governor, so this could pose a good sign for him in 2020.
Here's Hunstman's resignation letter:
Ambassador Jon Huntsman Res… by Doug Mataconis on Scribd