Obama Impersonator Tells Racist Jokes at Republican Conference
I've been arguing for years that what the Republican Party needs is to embrace its crazies and play more to racist elements in its base. It looks like someone's listening.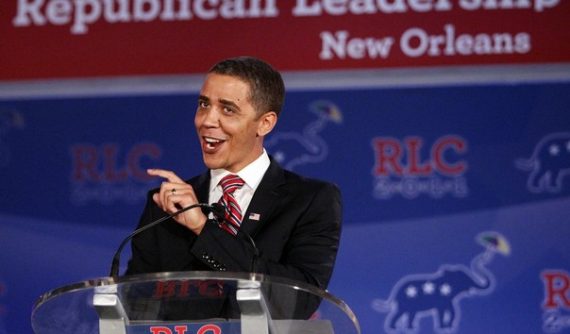 I've been arguing for years that what the Republican Party needs is to embrace its crazies and play more to racist elements in its base. It looks like someone's listening.
WaPo ("Obama impersonator pulled offstage after making racial, gay jokes at GOP gathering")
A President Obama impersonator was pulled off the stage Saturday at the Republican Leadership Conference, after telling a string of racially themed jokes about the president.

The impersonator, Reggie Brown, took the stage at the annual presidential cattle call to the Bruce Springsteen song "Born in the USA" — an apparent allusion to the birther controversy. He proceeded to tell a series of off-color jokes poking fun at Obama's biracial heritage and a gay member of Congress.

Eventually, RLC President and CEO Charlie Davis made the decision to pull him offstage, and a man came onstage to physcially escort Brown off. "I pulled him off the stage," Davis acknowledged afterward. "I just thought he had gone too far. He was funny the first 10 or 15 minutes, but it was inappropriate, it was getting ridiculous." Davis added: "We've had a great event. Probably the only problem we've had was the impersonator."

A sampling of the racial jokes:

• On Black History Month: "Michelle celebrates the full month. I celebrate half."

• "My mother loved a black man," but "she was not a Kardashian."

• A picture was shown of Obama and the first lady when he took office. The impersonator then showed a picture of what the Obamas will look like when the president leaves office, and it was the characters of Fred Sanford and his sister-in-law, Ethel, from the show "Sanford and Son."

Race wasn't the only subject where the impersonator pushed the envelope.

• Of Tim Pawlenty's decision not to criticize Mitt Romney at Monday's debate: "[CNN's] John King served him up a ball softer than Barney Frank's backside." (Frank is a gay member of Congress from Massachusetts.)
The Hill ("'Obama' pushes the humor limit at GOP leadership conference"):
A fake President Obama addressed the Republican Leadership Conference in New Orleans Saturday, courtesy of impersonator Reggie Brown.

Brown cut a close likeness to Obama and generally nailed the president's intonation and diction. Some of his jokes came at the expense of GOP presidential hopefuls, yielding boos from the audience, however.

His jabs at the real President Obama, however, are getting all the attention. "My favorite month is February, Black history month," the fake Obama said. "Michelle celebrates the full month, and I celebrate half." "My mother loved a black man and no she was not a Kardashian," he added.

Fake Obama showed a photo of what how aged he will look at the end of his first term and it was a shot of Sanford from the Sanford and Son.

"You're welcome for the thriving economy I helped to create," he said. "You are welcome for the gift of humility I have given to Anthony Weiner."

"The truth is we need to build tunnels and bridges, that way people will have something to live under or jump off of," the Obama double said.

He went on to poke fun at House Speaker John Boehner's (R-Ohio) skin color and tossed off a Rosy O'Donnell fat joke.
Here's a video, courtesy C-SPAN:
The "Born in the USA" lead-in is actually funny, in that it could be taken as self-deprecating. In the context of the larger act, though, it looks like pandering to the Birther morons.
The jokes about the economy, Weiner, and Republican candidates were all fair game, too. And, hell, taken on its own the Fred Sanford joke is funny; that presidents age dramatically while in office is standard comedy fare.
We're well past the point where Barney Frank jokes are funny or appropriate. Dick Armey's "Barney Fag" gaffe years back pretty much killed it and, frankly, society has long since moved on from sodomy jokes.
The jokes about Obama's heritage might actually have been hilarious in the right context. For example, they'd have had them rolling in the aisles if Obama himself told them at one of those black tie dinners where presidents become stand-up comics for a few minutes. Chris Rock or Larry Wilmore could likely pull them off, too–especially in front of an Obama-friendly audience. But they're uncomfortable when used by Obama's opponents.
It's true that Reggie Brown himself is African American, which usually confers substantial leeway in racially charged comedy. But context matters. Given the GOP's tense relations with the black community, they've got to be very careful when joking about America's first black president. Poking fun at his policies, his mannerisms, his golf game, and so forth is fine. But his skin color is a danger zone best avoided.