Obama Shakes Hands With A Guy Wearing A Horse's Head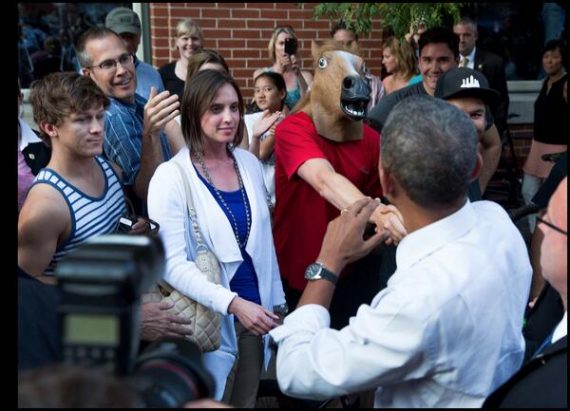 President Obama had an odd encounter on the rope line in Denver late yesterday:
The bear was on the loose on Tuesday evening — this time in Colorado.

President Barack Obama greeted supporters on a walk following dinner in downtown Denver, a night that resulted in shaking hands with a man in a horse mask, and shooting pool and drinking beers during a chance encounter Gov. John Hickenlooper.

Shortly after landing in the Rocky Mountain State, the president dined at the Wazee Supper Club in downtown Denver with five people who had written him letters. "I'm so glad you're here," the president told his dinner companions, according to a White House pool report.

After dinner, Obama — who has begun to venture out in Washington, D.C., and interact with more average Americans — decided to walk down Denver's 15th street and talk to members of the crowd. Obama spent about 10 minutes speaking with people, according to the pool report, including an interaction with one crowd member wearing a horse head.

The president handed out "high fives, fist bumps," as he put it, to many of his supporters there.
I guess I'm somewhat surprised the Secret Service let that happen. Nonetheless, feel free to create your own caption.
Photo via New York Times Photographer Doug Mills