ObamaCare Hits New Lows In Poll
The PPACA has had a rough 2013, and 2014 could be even worse.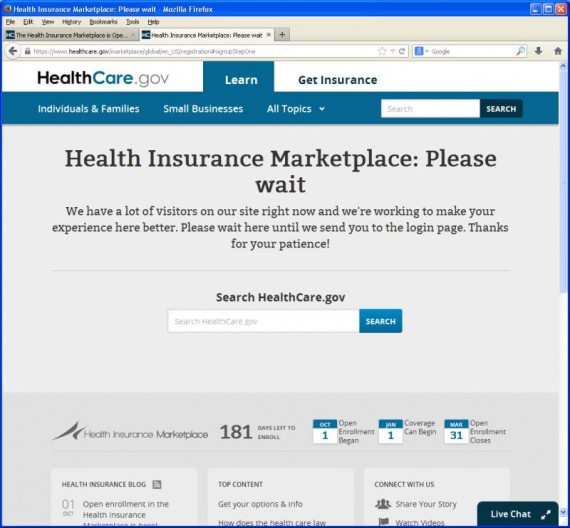 The latest CNN/ORC poll shows the Affordable Care Act hitting new lows among the public:
Washington (CNN) – Support for the country's new health care law has dropped to a record low, according to a new national poll.

And a CNN/ORC International survey released Monday also indicates that most Americans predict that the Affordable Care Act will actually result in higher prices for their own medical care.


Only 35% of those questioned in the poll say they support the health care law, a 5-point drop in less than a month. Sixty-two percent say they oppose the law, up four points from November.

Nearly all of the newfound opposition is coming from women.

"Opposition to Obamacare rose six points among women, from 54% in November to 60% now, while opinion of the new law remained virtually unchanged among men," CNN Polling Director Keating Holland said. "That's bad news for an administration that is reaching out to moms across the country in an effort to make Obamacare a success."

According to the survey, 43% say they oppose the health care law because it is too liberal, with 15% saying they give the measure a thumbs down because it is not liberal enough. That means half the public either favors Obamacare, or opposes it because it's not liberal enough, down four points from last month.

Sixty-three percent say they believe the new law will increase the amount of money they personally pay for medical care, which may not be a good sign for a law known as the "Affordable Care Act."

The survey also indicates that 42% say they will be personally worse off under Obamacare, with 16% saying the law will help them, and four in 10 saying it will have no effect on them.

Just over six in 10 say they believe they will be able to receive care from the same doctors that they now use, with 35% saying they will not be able to see the same doctors.
Supporters of ObamaCare, no doubt, point to the numbers that say that more than half of those surveyed either support the law or say it isn't "liberal" enough as something that's actually good news for the law. Admittedly, that's a number that it would be foolish to ignore. At the same time, though, the fact that opposition to the law is still hitting new lows and that people surveyed still have little confidence that it will make the health care system better can't be ignored.
To a large degree, these numbers are a legacy of the problems that we've seen with the law since October 1st, and proponents of the law have taken it as a matter of faith at this point that things will improved once people come to realize the benefits of the PPACA. Perhaps that's true, but there's also another possibility. Going forward, there are several potential problems that could develop that will only serve to diminish public confidence in the law such as:
Higher health care costs even after tax subsidies for premiums are taken into account. Many reports about the policies that consumers have found available on both the Federal Exchange and the exchanges run by the states have noted that these policies end up having both higher premiums and higher deductibles than the plans that people are being forced for one reason or another to abandon. While the premium increases may end up being covered by tax subsidies for many people, that won't be true of increased deductibles. That means people will end up paying more out-of-pocket for their health care, which could be a significant problem living on incomes that already leave little room for extra spending.
Existing physicians not being part of the network covered by new insurance plans. When the Administration was selling the PPACA to the public, the other half of "If you like your plan, you can keep your plan" was "If you like your doctor, you can keep your doctor." Already, there have been anecdotal reports of people who have discovered their existing phyisician(s) will not be part of the network covered by the plans available to them. This means either finding a new doctor, or paying the increased out-of-network cost of health care that results from going to an out-of-network doctor. The same goes for hospitals. Here in Northern Virginia, for example, it has been reported that many of the insurance plans available to Virginia residents do not have the largest hospital system in the area as part of their network. This creates many potential inconveniences or increased costs for people when it becomes necessary to seek admission to a hospital.
Consumers discovering they don't really have coverage. One of the under-reported stories regarding the exchanges has been the issue that insurance companies have, in many cases, not receiving the complete package of information they need to actually open policies for individual consumers. Thus, we could go into January with large numbers of people thinking they have coverage when they actually don't because back office problems at the exchanges meant that the insurance companies didn't actually get the information they need to create those policies. The headaches such a development could create ought to be self-evident.
'It's possible that none of these problems will occur, of course, or that their impact will be minimal. However, these are just three of the things that could go wrong between now and the 2014 elections that would likely have an impact on closes races, especially those involving red state Democrats such as Mary Landrieu, Kay Hagan, Mark Pryor, and Mark Begich. For that reason alone, the fact that the PPACA is ending 2013, and starting out 2014, at its lowest point in public opinion polls to date is something that should be dismissed out of hand by the law's proponents. The road ahead could be quite rocky indeed.