Obama's Final State Of The Union Garners Record Low Ratings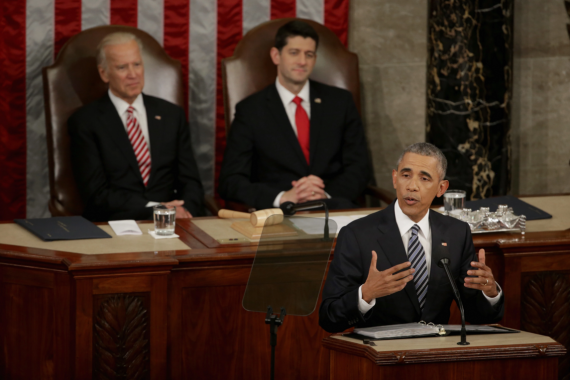 President Obama's final State Of The Union address was the lowest rated in quite some time:
President Barack Obama's final State of the Union address drew 31.3 million viewers across 12 networks, marking a new record low in viewership, according to Nielsen.

More than 21 million people watched on the "big four" broadcast networks. CBS led the broadcasters with 6.89 million viewers, followed by NBC with 6.62 million viewers, ABC with 5.02 million viewers, and Fox with 2.37 million.

On cable news, more than 9.5 million people tuned into the "big three" of Fox News, CNN and MSNBC, on average. Fox News, CNN and MSNBC were all up compared to last year's address, with CNN averaging 3.49 million viewers, Fox News 3.47 million viewers, and MSNBC 2.52 million viewers. In the core adults 25-54 demo, CNN led cable news with 1.30 million viewers, Fox News with 753,000 viewers, and MSNBC with 604,000 viewers.

Last year, 31.7 million viewers watched the State of the Union address, on average, across 13 networks, including the Spanish-language networks, and smaller cable channels like Al Jazeera America and Fox Business. That was the lowest viewership of president Obama's tenure. President George W. Bush's final State of the Union address in 2008 averaged 37.5 million viewers, while the final State of the Union of Bill Clinton's tenure averaged 31.5 million.
The decline in ratings from previous President hasn't followed a straight line, of course. Typically, it has been the case that ratings for State of the Union addresses early in a Presidents tenure draw much higher ratings than those of ones later on, and this is especially true of the final years of a two-term President. President Clinton, for example, drew some 67 million viewers for his first State Of The Union address in 1993, while President George W. Bush drew more than 60 million viewers for each of the State Of The Union addresses he delivered in the two years after the September 11th attacks, while President Obama drew nearly that many f0r his first State of the Union address. Obviously, there is more interest in these speeches early in a President's tenure than there is later on, especially at the end of a two-term Presidency when the final addresses are as much about taking victory laps as they are about a real policy agenda. Additionally, it's worth noting that the ratings for Tuesday night do not take into account people who may have watching via online streaming on their computers or mobile devices. Based on past patterns, you can probably add another 1-2 million to account for those people.
Most likely, the next State of the Union will draw much higher ratings as the nation tunes in to see what the new President has to say. Of course, if Donald Trump wins the election the entire event will be emceed by Regis Philbin and will feature showgirls, the Radio City Rockettes, and musical performances by Katy Perry and Taylor Swift. I'll be yuuuuuuge.