Obama's Odd Choice for World Bank President
Jim Yong Kim is an impressive man. But he's got no background in banking, finance, or economics.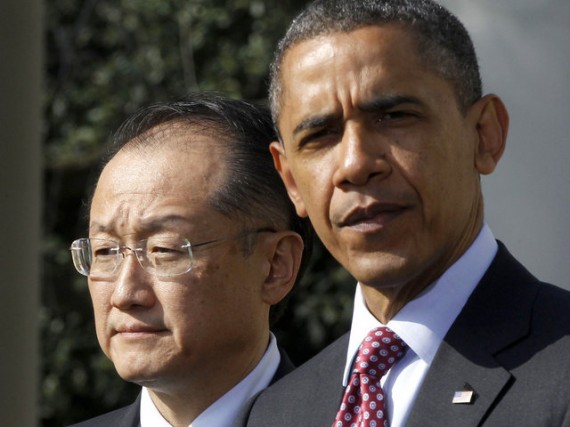 President Obama surprised just about everyone with his choice of Jim Yong Kim for the World Bank. While Kim's an impressive man, indeed, it's a very strange choice.
LAT ("Obama nominates Dartmouth's Jim Yong Kim to be World Bank chief"):
President Obama on Friday nominated Dartmouth College President Jim Yong Kim, a physician and anthropologist by training, to succeed Robert Zoellick as the next president of the World Bank.

The naming of Kim was seen as a surprise. Kim, 52, though highly regarded for his leadership in global health issues, is not well known in political or financial circles. But the appointment of the South Korean-born Kim may also deflect criticisms from developing economies of the United States having a lock on the World Bank's top position.

Kim, president of Dartmouth since 2009, was the former director of the World Health Organization's HIV/Aids department. Kim moved with his family to the United States at age 5 and grew up in Muscatine, Iowa, according to his biography posted in Dartmouth's website. He graduated from Brown University and received his medical degree from Harvard.
ThinkProgress has a nice roundup titled "Meet Jim Yong Kim, President Obama's Pick To Head The World Bank." Among the notable points:
– He's currently president of Dartmouth College, the first physician to hold that position and the first Asian-American to lead an Ivy League college.

– Kim co-founded the Partners in Health (PIH), a non-profit that focused on drug-resistant tuberculosis and helped drive down the cost of medication so that treatment could be widely available.

– He is also a former director of the Department of HIV/AIDS at the World Health Organization (WHO).

– Kim was born in Seoul, South Korea in 1959, but grew up in Muscatine, Iowa after his family moved when he was 5. He earned his M.D. from Harvard Medical Scool in 1991 and a doctorate in anthropology from Harvard University in 1993.

– He is critical of pharmaceutical patents, telling Financial Times in 2006, "The pharmaceutical companies are saying it would be better for countries to use their discounted price schemes. But we're already hitting supply problems, while demand for the drugs is growing steadily."

– He replicated Paul Farmer's model of how to treat tuberculosis (TB) patients in Haiti. Through his research on how to most effectively treat patients with drug-resistant TB in developing nations, Kim trained hundreds of community health workers to deliver drugs to patients' homes.

– His project achieved cure rates of more than 80 percent — better than many U.S. hospitals — and he pushed drug makers to produce the necessary antibiotics less expensively.

– He won a MacArthur "genius" fellowship in 2003.
So, again, quite impressive. But what has any of this to do with, well, running a bank?
Brad Plummer, writing for Ezra Klein's Wonkblog, examines "The pros and cons of having a doctor run the World Bank."
Development experts see real pros and cons to the move. Public health is a huge part of development — in recent years, lot of money has gone into fighting malaria and HIV/AIDS. Yet it's not necessarily the World Bank's specialty, says Todd Moss, a senior fellow at the Center for Global Development. "Their strength is in financial management, infrastructure, even agriculture," Moss says. The World Bank, which provides low-interest loans to developing countries, has actually been shifting away from health in recent years, ceding a lot of HIV/AIDS work to well-funded nonprofits like the Gates Foundation. (That said, the bank's still a major source of anti-malaria funding.)

Could Kim change that and push the World Bank back toward public health? Moss says that's not a given. Much of the World Bank's agenda is set by its 187 shareholder countries. A president can influence that agenda — the previous president, Robert Zoellick, nudged the bank to focus more on tourism development — but mainly at the margins. And the United States, which has a major voice in the bank, may not want to see such a shift. "The United States loves to invest in public health," Moss says. "But we already have PEPFAR [the government's AIDS relief program], and the U.S. Agency for International Development is already health-dominated. I'm not sure whether the Treasury Department would want the World Bank to move back into health as well."

Meanwhile, William Easterly, a former World Bank economist and professor at New York University, worries about the pitfalls of having a doctor at the head of the World Bank, rather than someone more economics-oriented. "As president, you're fundamentally making decisions that are guided by economics," he says. "You're trying to divvy up scarce funds and focus on the world's most pressing needs."

This is true even in public health, Easterly notes. Economists have found that certain treatments — such as oral rehydration for babies with diarrhea — are terrific bargains, while other investments in antiretroviral drugs for HIV/AIDS may not have as great a payoff. "You have to have the mind-set to allocate scarce funds, rather than approaching the problem as if we have unlimited resources for suffering people," he says. And Easterly worries that too many doctors and public health experts, in his experience, are resistant to this approach. "Frankly," he adds, "I see some danger signs in this kind of pick."
Even if Kim were radically successful in reshaping the World Bank into a public health institution, why in the world would we want to do that? We've already got the World Health Organization and a plethora of other organizations with that portfolio. Kim's a brilliant fellow and, one imagines, a very successful leader. Maybe he can stretch his talents and be an outstanding head banker. But aren't there some really brilliant people out there with, say, backgrounds in economics, finance, banking, or actually related fields?