Obama's 'Polish Death Camps' Gaffe Leads To Diplomatic Incident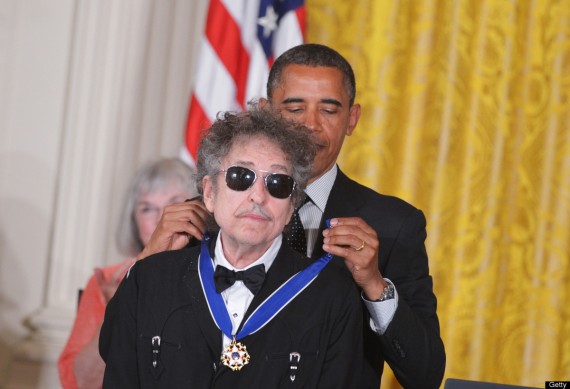 The ceremony where  the President hands out the Presidential Medal of Freedom isn't usually supported to be controversial. After all, it's primarily meant to commemorate the cultural or political contributions of people who are near the end of their careers. Among this year's recipients, for example, were John Glenn, Israeli President Shimon Peres, and Bob Dylan (pictured). Not exactly a controversial bunch. Unfortunately for the President, a badly worded speech about fellow recipient Jan Karski, who was a member of the Polish resistance, has led to a bit of a diplomatic kerfuffle:
Poles and Polish-Americans expressed outrage today at President Obama's reference earlier to "a Polish death camp" — as opposed to a Nazi death camp in German-occupied Poland.

"The White House will apologize for this outrageous error," Foreign Minister Radek Sikorski tweeted.  Sikorski said that Polish Prime Minister Donald Tusk "will make a statement in the morning. It's a pity that this important ceremony was upstaged by ignorance and incompetence."

The president had been trying to honor a famous Pole, awarding a Presidential Medal of Freedom to Jan Karski, a resistance fighter who sneaked behind enemy lines to bear witness to the atrocities being committed against Jews. President Obama referred to him being smuggled "into the Warsaw ghetto and a Polish death camp to see for himself."

Sikorski also tonight tweeted a link to an Economist story noting that "few things annoy Poles more than being blamed for the crimes committed by the Nazi occupiers of their homeland. For many years, Polish media, diplomats and politicians have tried to persuade outsiders to stop using the phrase 'Polish death camps' as a shorthand description of Auschwitz and other exemplars of Nazi brutality and mass murder. Unfortunately this seems to have escaped BaracK Obama's staff seem not to have noticed this."

National Security Council spokesman Tommy Vietor said in a statement, "The President was referring to Nazi death camps operated in Poland. The President has demonstrated in word and deed his rock-solid commitment to our close alliance with Poland."
This is no doubt true, and when I first heard about this last night I assumed that Obama had mis-spoken, or that there had been an error in the teleprompter, however the prepared remarks released by the White House also contain the "Polish death camps" line. This is something that someone probably should have noticed beforehand and realized that it was not only historically inaccurate but that it would cause our Polish friends to be upset about something that, even 67 years later is still an open wound for them.
This was a dumb mistake that probably should've been avoided. I expect we'll see an apology quite soon.