Observations on Day Two of the Hearings
Basically: Trump is a liar or delusional (perhaps both?).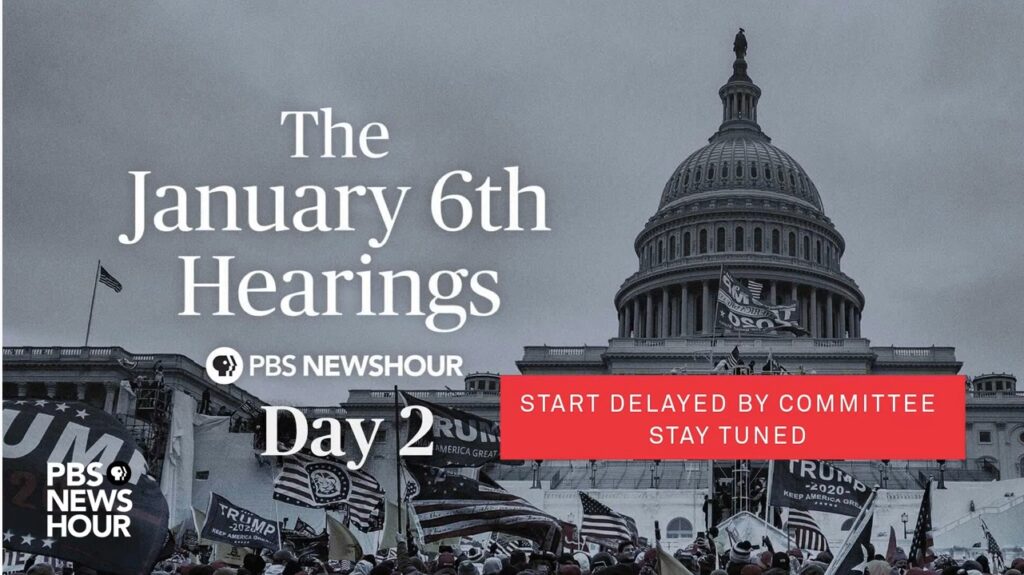 I watched the bulk of part II of the 1/6 hearing yesterday evening. My basic takeaway is that they were less engaging than the first night, but that they did a good job of detailing that Trump had no excuse for not knowing the truth about the election results. It is therefore not unfair of accusing him of lying to the American people about the outcomes of the election, although the issue may well be his attachment to reality.
Indeed, I came away with an impression of his behavior along the times of William Saletan, that he might not have been lying but instead was flatly delusional: If Trump Wasn't Lying, That's Worse.
On Monday, the House January 6th Committee presented evidence that Donald Trump, after losing the 2020 election, promoted allegations of voter fraud that his own advisers had told him were false. According to the committee, this evidence proves he was lying.

But the evidence actually points to a different conclusion: Trump wasn't lying in the way that other presidents have done. He was simply impervious. He refused to accept unwelcome facts. And that degree of imperviousness, in a president, is much more dangerous than dishonesty.
It is insanely dangerous to have a president unwilling and unable to assess facts when presented. And, of course, this is what we saw during his presidency, whether it was on the topic of trade policy, foreign policy, or public health–all to the detriment of the country.
Really, the testimony presented simply underscored that Trump is more than willing to believe wild claims if he sees them on television or the like.
In terms of the most significant information from the presentation yesterday, I would go with Bill Barr's testimony, but I will also concur with this headline from TPM: Bill Barr Can't Flee The Stench Of What He Did For Trump.
Indeed, on the one hand, I appreciate his candor in describing Trump's delusional behavior, such as the following (from the Saletan link above):
In his testimony, Barr described a meeting with Trump on Dec. 14, 2020. Trump was still ranting about Dominion and other fantastic tales. "I was somewhat demoralized," Barr told the committee, "because I thought, boy, if he really believes this stuff . . . he's become detached from reality." Barr speculated that Trump had "lost contact." He recalled that each time he told Trump "how crazy some of these allegations were," Trump brushed aside the information: "There was never an indication of interest in what the actual facts were."
On the other hand, the smug, self-satisfied incredulity in which Barr delivers this assessment is utterly devoid of any recognition of Trump's record of detachment from reality prior to the election as well as seeming amnesia of Barr's own role in propping up Trump's credibility (not to mention his own downgrading of the Mueller report, among other actions).
And if he really wanted to help the world understand that we had a president who was clearly divorced from reality, you think he would be working a little harder to get the word out not, as the TPM notes:
Barr has still said that he would vote for Trump, the would-be election thief, again in 2024. 

And, perhaps more to the point, even as the attempt to subvert the 2020 election was going on, Barr couldn't help but offer Trump cloying praise in his resignation letter.

"Your record is all the more historic because you accomplished it in the face of relentless, implacable resistance," Barr wrote in that missive.
Look, I clearly understand the way in which partisan identity shapes behaviors, but it is utterly astounding to me that Barr can so directly recount what he saw in the Oval Office and not be trying to prevent someone he sees as delusional from occupying the most powerful office in the world again. It is gut-wrenchingly astounding.