Of Laws and Men
Our system lacks accountability.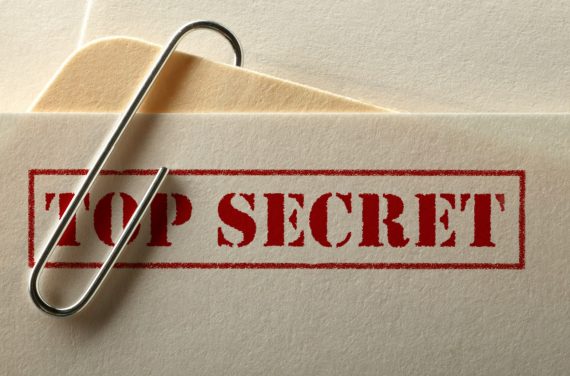 My co-blogger James Joyner frequently notes a frustrating truth: it is highly unlikely that Donald Trump will be prosecuted for his actions while in the presidency. This is a result of norms that heavily dictate against using the legal system against political opponents and, just as importantly, the fact that laws are often not written in a way that malfeasance by a president is easily prosecuted. And, beyond that, when one person's malfeasance is construed by political opponents as "just politics" the pathway to remedies in the legal system are simply limited. The recourse, therefore, is supposed to be at the ballot box.*
For example, while I think there are grounds to assert that Trump had substantial responsibility for what happened in the U.S. Capitol on 1/6, I have substantial doubts about there being a legal pathway to indictment, let alone prosecution. The law is just too nebulous and basic politics gets too heavily in the way.
But an emerging story about the handling of documents by the administration has led to discussions that perhaps Trump actually ran afoul of the Presidential Records Act of 1978. Unlike something like incitement charges, the document situation is easier to deal with than some of the other problematic behaviors of the 45th president, because it is harder to have a partisan spin rules like "can't tear up official documents" (let alone flush them) and "everything has to be kept in the archive." While I fully realize that partisan actors can find a way to spin anything, there is no avoiding the facts of tearing up official documents is fundamentally different than trying to parse if a clearly political speech was incitement or just hyperbolic.
Let's consider this from WaPo: 15 boxes: Inside the long, strange trip of Trump's classified records.
The tale of these 15 boxes — and the material contained within — underscores how defiantly and indiscriminately Trump violated the records law, which requires that the White House preserve all written communication related to a president's official duties and then turn it over to the National Archives. Instead, starting in his presidency and continuing into his post-presidency, documents both classified and mundane — as well as official gifts, which are governed by similarly stringent rules — were treated with the same disregard and enveloped in the same chaos that characterized his term in office.

[…]

But it remains unclear what protocols were followed because, as one person familiar with the transfer said, "Nothing about this is normal." Officials have not identified what company handled the Mar-a-Lago shipment.

"He would roll his eyes at the rules, so we did, too," said Stephanie Grisham, the former Trump White House press secretary who has become an outspoken Trump critic after the Jan. 6 insurrection on the U.S. Capitol. "We weren't going to get in trouble because he's the president of the United States."

Grisham, the author of "I'll Take Your Questions Now: What I Saw at the Trump White House," recalled one instance in which she expressed concern about violating the Hatch Act, which prohibits federal employees from engaging in some forms of political activity. Grisham said that Trump told her: "Who's the boss of the Hatch Act? It's me. So say whatever you want."
That statement, which is emblematic of Trump's behavior in office, is the direct opposite of the phrase "a government of laws, not of men" and, instead, is equivalent of Louis XIV's famous utterance, L'état, c'est moi. It also, I would note, runs counter to the notion of "limited government." (And yes, fully realize this is not the first time such facts have been obvious, nor even the most egregious example).
If the president can do whatever the president wants, then Hamilton basically got what he wanted, after all, an elected monarch (just with fixed terms).
That cavalier attitude about the rules extended to Trump's treatment of documents, which he routinely ripped up and threw away, forcing aides to retrieve them and send to the White House Office of Records Management to be taped back together to comply with the Presidential Records Act.

Trump had a ripping process so distinctive that several aides instantly recalled it — two large, clean tears that left paper in quarters — and the remnants were strewn on desks, in trash cans and on floors, from the Oval Office to Air Force One. As president, Trump also regularly retired to his private residence with reams of official documents, often leaving them to pile up until records staff came searching for them.
Nonetheless:
Trump was warned by his first two chiefs of staff — Reince Priebus and John F. Kelly — about complying with the records act, as well as by Donald McGahn, his White House counsel.
In regards to the 15 boxes and the post-presidency period:
Ultimately, Trump arrived at Mar-a-Lago with the array of documents and other items that should have been turned over to the Archives. In a statement, the Archives said Trump's representatives have said they are "continuing to search" for documents that belong to the government.

[…]

"The Clintons had to return gifts, and there were lots of presidents who didn't write anything down, or not keeping emails, but I don't know of a story since 1978 of a president leaving with this much material," said Julian Zelizer, a presidential historian at Princeton University. "I can't give you someone worse than Trump."

As the boxes' journey came to a close, Trump advisers have scrambled to do damage control. They have asked the Archives to dispute the spate of recent reporting on the myriad ways Trump ignored the Presidential Records Act and to declare that Trump has done nothing wrong, according to two people familiar with the entreaties, speaking anonymously to share details of private discussions.
That documents were mistreated by the former president seems likely, but guess what? The PRA has no teeth. To quote another WaPo piece:
There really aren't any [enforcement mechanisms]. The law assumes presidents and their administrations will make a good-faith effort to comply.

[…]

The law is really more of a guideline, said James Grossman, executive director of the American Historical Association. "So if you have people in the White House who want to make things work, then they have guidelines to follow. I doubt it occurred to anybody when it was passed that it would need an enforcement mechanism."
All of this (really, the whole Trump presidency) speaks to the inadequacy of our legal regime as it pertains to presidential power and ethics. There appears to be almost nothing that can be done to hold a president or ex-president accountable for their behavior. The Justice Department has held for years that a sitting president almost certainly cannot and should not be indicted and political norms and practices insist that post-office attempts at accountability are so tainted with politics that they cannot be pursued.** The only constitutional remedy, impeachment (which is not really an especially good accountability tool for illegality) was never the best idea in the first place and it rendered utterly useless due to the power and influence of partisanship in the legislature.
It is striking to me how anemic the PRA is, given that if there was a time for Congress to assert itself over the executive, it was in the immediate aftermath of Watergate. And yet, they delivered toothless hope instead of an unenforceable law.
Indeed, the entire ongoing discussion of dealing with a president like Trump (and he is not going to be the last, and likely not the worst) is the degree to which it undercuts a deeply held mythology of the US founding: the idea that our most profound guiding principle for founding the country was to reject the concentrated executive power (i.e., tyranny!) of the king.
The lack of significant legislative control over the executive continues to be a major deficiency within our separation of powers system with its vaunted checks and balances. Despite, again, the mythology that separation of powers systems are better at curtailing abuse than fused (i.e., parliamentary) ones (since in such systems the executive and legislature are controlled by the majority party/coalition), I can't help but note that the incentives for congress to do much of anything to check the president (regardless of party) are lacking. (We could toss in the role played by things like executive orders and the like to this broader conversation).
I will, as I often do, the more that legislatures fail to act, the more the executive will encroach into their space.
TL;DR version: if congress can't come up with laws to make presidents do simple things like maintaining the archives without relying heavily on the goodwill of the given president, how can we expect there to be any real constraints on the executive?
---
*Of course, since the democratic responsiveness of our system is shakey, I fully acknowledge the problems with that route. After all, this post is about a president who won the office while losing the popular vote and, moreover, with the backdrop of a judicial system and especially a high court, that was heavily influenced by that person (and confirmed by a Senate that over-represents some citizens). The complexity of all of this is immense.
**Note that the most egregious example of presidential malfeasance pre-Trump was met with a presidential pardon rather than prosecution and accountability.