Oh Yes, This Will Solve Everything: Israel-Gaza Edition
The son of a former Israeli Prime Minister proposes an utterly insane idea.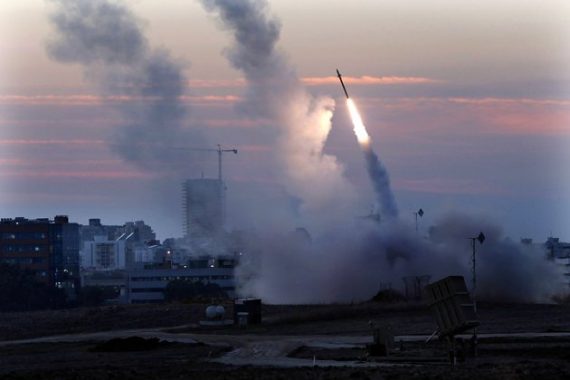 Gilad Sharon, the son of former Israeli Prime Minister Ariel Sharon, has a rather, well, interesting solution to his nation's problems with Hamas and Gaza:
Anyone who thinks Hamas is going to beg for a cease-fire, that Operation Pillar of Defense will draw to a close and quiet will reign in the South because we hit targets in the Gaza Strip, needs to think again.

With the elimination of a murderous terrorist and the destruction of Hamas's long-range missile stockpile, the operation was off to an auspicious start, but what now? This must not be allowed to end as did Operation Cast Lead: We bomb them, they fire missiles at us, and then a cease-fire, followed by "showers" – namely sporadic missile fire and isolated incidents along the fence. Life under such a rain of death is no life at all, and we cannot allow ourselves to become resigned to it.

A strong opening isn't enough, you also have to know how to finish – and finish decisively. If it isn't clear whether the ball crossed the goal-line or not, the goal isn't decisive. The ball needs to hit the net, visible to all. What does a decisive victory sound like? A Tarzan-like cry that lets the entire jungle know in no uncertain terms just who won, and just who was defeated.

To accomplish this, you need to achieve what the other side can't bear, can't live with, and our initial bombing campaign isn't it.
So, what, exactly is it that Sharon is suggesting? Well, he lays it out pretty clearly:
Why do our citizens have to live with rocket fire from Gaza while we fight with our hands tied? Why are the citizens of Gaza immune? If the Syrians were to open fire on our towns, would we not attack Damascus? If the Cubans were to fire at Miami, wouldn't Havana suffer the consequences? That's what's called "deterrence" – if you shoot at me, I'll shoot at you. There is no justification for the State of Gaza being able to shoot at our towns with impunity. We need to flatten entire neighborhoods in Gaza. Flatten all of Gaza. The Americans didn't stop with Hiroshima – the Japanese weren't surrendering fast enough, so they hit Nagasaki, too.

There should be no electricity in Gaza, no gasoline or moving vehicles, nothing. Then they'd really call for a ceasefire.

Were this to happen, the images from Gaza might be unpleasant – but victory would be swift, and the lives of our soldiers and civilians spared.
Unpleasant would not even begin to describe the images that Sharon is envisioning.  At population estimated as of 2009 at 449,221 people covering a land mass of a mere 17 square miles, Gaza, or as it used to be known The Gaza Strip, is among the most densely populated pieces of land on the entire planet. Pursuing the strategy that Sharon advocates here would result in a tremendous loss of life and a massive humanitarian disaster. Perhaps it would achieve the goal that he thinks is most important at the moment in that it would silence, for a time at east, the rockets from Gaza in to southern Israel, however it would be at best a temporary reprieve. We've already seen that Hamas in Gaza has a tremendous infrastructure capable of launching these rockets and moving their locations with very short notice. There's no reason to believe that this would change with the kind of "scorched earth" strategy that Sharon proposes here. Indeed, it would likely make the bombardment of Israel by Hamas rockets worse and it very likely would inspire terrorist attacks not just from Hamas, but from Hezbollah, and other organizations. Finally, I cannot fathom how a military operation like this could do anything put poison Israel's relatively calm relationship with the Fatah-led government in the West Bank.
As I've said in previous posts, I support Israel's right to take the actions necessary to suppress those that would indiscriminately fire rockets into civilian areas in southern Israel. I don't think there's any rational argument against a sovereign nation's right to protect its citizens from a threat like that, and there's no question that Hamas started this fight when it resumed the rocket attacks in violation of a cease fire agreement that had been in place for quite some time. However, the road that Sharon thinks his country should go down would only end in disaster. The kind of campaign he proposes in Gaza would end up being a massive humanitarian disaster which, at the very least, would only turn world opinion even further against Israel than it already might be at the moment. Additionally, it would likely lead to terrorist retaliation against Israeli (and, by extension, American) interests around the world while at the same time creating an entirely new generation of terrorists.
Israel has the right, indeed the responsibility, to respond to the indiscriminate rocket attacks that Hamas is unleashing on its population. However, the insane ideas that Gilad Sharon advocates will not only do nothing to solve his nation's problems, they would only make them worse.