Ohio Politicians Predictably Unhappy About Denali Decision
Ohio politicos are predictably unhappy about the decision to return Mount Denali to its rightful place.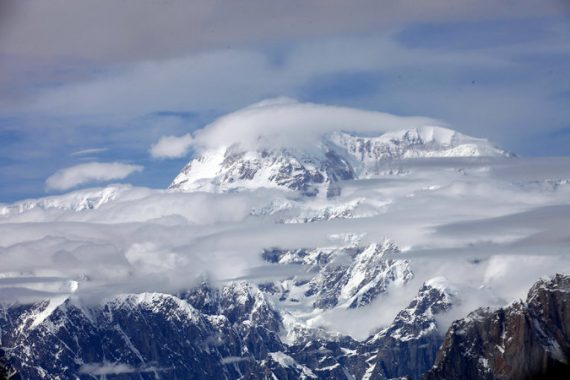 Not surprisingly, Ohio's Congressional Delegation isn't all that happy about the President's decision to rename Mount McKinley to Mount Denali, the name that Alaskans have known it by for generations.
House Speaker John Boehner for example says he is "deeply disappointed" by the President's decision:
"There is a reason President McKinley's name has served atop the highest peak in North America for more than 100 years, and that is because it is a testament to his great legacy. McKinley served our country with distinction during the Civil War as a member of the Army. He made a difference for his constituents and his state as a member of the House of Representatives and as Governor of the great state of Ohio. And he led this nation to prosperity and victory in the Spanish-American War as the 25th President of the United States. I'm deeply disappointed in this decision."
I realize that Boehner is from Ohio and that, other than Ohio State Buckeyes and the Wright Brothers, McKinley is probably that state's biggest claim to fame (let's not talking about that Harding guy), but this quite silly. McKinley may have been President and he may have served in the Civil War, but he never had any connection to Alaska, and the mountain only ended up bearing his name because a supporter led an effort to start calling it that shortly before McKinley ran for President in 1896. Moreover, I'm not sure that his legacy as the President who presided over the Spanish-American War is anything to be proud of. While the United States won that war, the end result was to turn to the nation into a colonial power, which led to decades of conflict in The Phillippenes. Not to mention the fact that the war was utterly unnecessary to begin with, and seems likely to have been sparked by an incident that now appears to have been an accident rather than an act of war.
Senator Rob Portman, meanwhile, went on something of a Twitter rant over the affair, and accused the President "going around Congress" to get this done, as did Ohio Congressman Bob Gibbs. In reality, it appears that the renaming was accomplished via the powers granted to the Department of the Interior, and ultimately the President, regarding national landmarks and monuments. It appears to have been entirely legal, and it seems unlikely that anything can be done about it any case.
I suppose this is all to be expected from Ohio politicians, but it really is quite silly. Unless you live in Alaska, I'm not sure why you should have a say in what the mountain is called in the first place, and since Alaskans have called in Denali for generations — even Sarah Palin refers to it in that way in her speeches — I don't really see what the problem is. This is especially true considering that McKinley never visited Alaska or had any connection to the state. Nonetheless, our political system being what it is I'm sure we'll getting comments on this from all the Presidential candidates before long.