Omnibus Bill Has Everything But the Kitchen Sink
A 4155-page, $1.65 trillion dollar budget deal has been reached.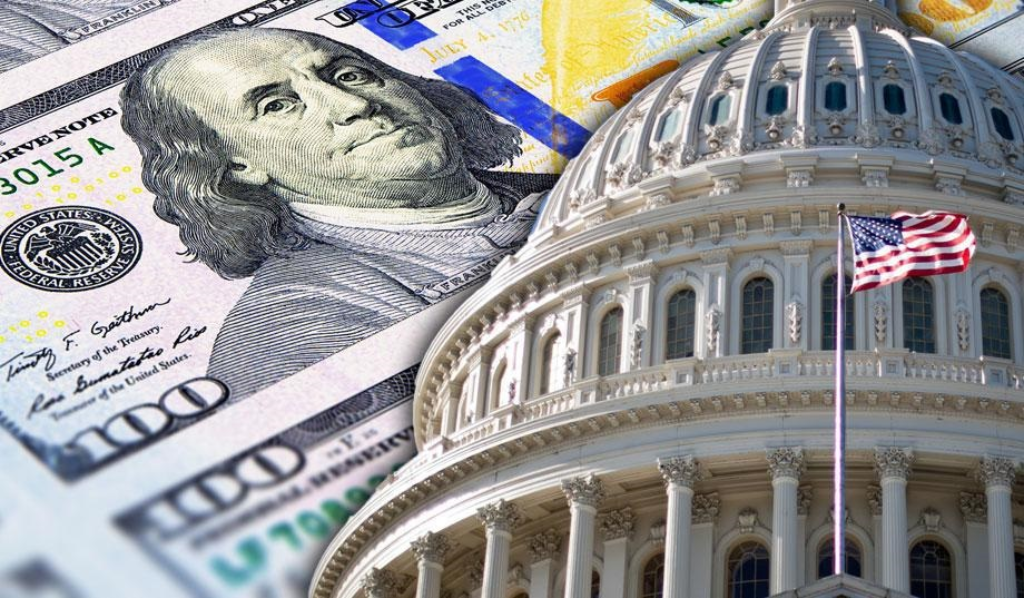 In theory, I very much agree with the Wall Street Journal's Editorial Board in their primary objection to "The Ugliest Omnibus Bill Ever."
The 117th Congress has been the most spendthrift in history, and this week it plans to go out with one final bipartisan back-slapping hurrah—a 4,155-page omnibus spending bill that is the worst in history. This is no way to govern in a democracy, but here we are.

The Members, in their efforts to disguise what they're doing, rolled out the final product late Monday night. They plan to whip it through by Thursday while Americans are busy with pre-Christmas plans and before even the Members know what they're voting on.

Democrats failed in their duty to pass normal spending bills, so they are using this omnibus to finance all of government with $1.65 trillion for fiscal 2023. But wait, it's worse. Congress is also adding major policy changes many of which deserve separate votes or couldn't pass by themselves—from healthcare to presidential election rules to regulation of the beauty industry (see nearby).
Leaving aside that Democrats don't have the ability to pass laws without Republican support under our system, I agree in principle that 4155-page bills are a horrible way to govern. I would much prefer that election reform, tax reform, retirement reform, aid to Ukraine, and all manner of other individual policy decisions be made in standalone bills rather than crammed into an "omnibus" ostensibly about funding the government.
But, like so much that we do, it's a workaround necessitated by a nearly-broken system. The majority party only gets up to three bites at the "reconciliation" apple, so consolidation is all but required. Indeed, in this instance, most of the add-ons would be considered "extraneous" and not eligible to be passed via that process. So, a careful compromise based on lots of horse trading was essential.
A bill this large—1,500 pages more than last year's omnibus—can't be all bad, and this contains a few bright spots. One is $858 billion for defense, a 9.7% increase. That's $45 billion more than President Biden sought, and it will backfill dwindling weapons stocks, give military members a 4.6% pay raise, and help stabilize the naval fleet, among other urgent needs.
It's worth pointing out that these things would likely not pass in a straight up or down vote, either. Although, if they did, it would have to be on a bipartisan basis, not just because of the filibuster but because a large contingent of the Democratic Party thinks we already spend far too much on Defense. For that matter, that's true of the post-2010 incarnation of the Republican Party, too.
There's $45 billion in new military and economic aid for Ukraine in its desperate fight against Vladimir Putin's attempt to conquer more of Europe. There are also new incentives for retirement savings, including an increase to 75 in the age holders must begin to withdraw funds. So much for most of the good news.
So, clearly, the WSJEB's objection is to content, not to procedure. They're happy to get provisions they like passed into law through the back door.
I don't have a strong opinion on most of the issues they raise, since they weren't heavily debated.
Republicans claim they've broken the longtime Democratic demand for defense-non-defense spending "parity," but that's not clear. The GOP says non-defense discretionary is $787 billion, a 7.9% increase, which is on top of the $4.6 trillion Congress has already spent over two years.

But House Appropriations Chair Rosa DeLauro says the number is $800 billion, a 9.3% increase and "the highest level for non-defense funding ever." If Ms. DeLauro is taking credit, the money is in there somewhere. Perhaps she's including $40 billion in "supplemental" disaster relief for states hit by hurricanes, droughts and wildfires, much of which will exceed the amount of damage.
Presumably, disaster relief that "will exceed the amount of damage" is intended to be preventative—building dams, upgrading building codes, clearing forests, or whathaveyou to mitigate future damage. If so, I likely favor it. Or it could just be old-fashioned pork. Which I oppose in principle but is handy for getting deals passed.
The domestic accounts include increases for food stamps, heating assistance, Pell grants and Head Start. The bill provides a $25 million funding boost for the National Labor Relations Board, which now exists to harass business on behalf of Big Labor. There's a 30% increase for the Child Care and Development Block Grant Program, which the left hopes to build into a universal entitlement.

Republicans are boasting about a symbolic $275 million cut to the IRS's annual budget—but that's a drop in the $80 billion gusher bestowed on the agency in August. The overall discretionary pot holds as much as $16 billion in earmarks—including $656 million in parting gifts for retiring Senate Appropriations Vice Chairman Richard Shelby.
As a general rule, I favor more money for the IRS's enforcement wing. There are a lot of well-off folks cheating the Treasury out of a lot of money precisely because it's so hard to collect from people who have armies of lawyers and accountants. In practice, though, we're likely to focus our increased collection efforts on those not so armed.
Past omnibuses included discreet policy riders, though don't confuse those with the major legislation in this bill. This omnibus bans TikTok on government devices, which is warranted given the security risks from the Chinese-owned app but which was added at the last minute with no debate.
I'm honestly surprised that didn't happen years ago. The security risks have long been known. But, again, I would prefer this done in a standalone bill, or at least one aimed at cyber security, rather than in a budget omnibus.
Congress is jamming through major changes in public-land management; a plan to phase out large-scale driftnet fishing; new oversight on horse-racing; a restructure of the U.S. Patent and Trademark Office; changes to help Boeing meet aircraft-certification deadlines; and alterations to lobster regulation. That's before lawmakers shoe-horned in sweeping healthcare changes on everything from Medicaid eligibility to the Children's Health Insurance Program to Medicare provider payments.

At least Republicans blocked Senate Majority Leader Chuck Schumer's cannabis-financing bill and an expansion of the child tax credit. But Congress also failed on the one bipartisan provision that might help the economy next year: a reinstatement of full deduction for business research and development expenses.
Again, I don't know enough about any of these changes to have a real opinion on their merits. And, again, I'd prefer more targeted bills. But the Board seems mostly to be objecting to Democrats, who won the White House and control of both Houses of Congress pursuant to the 2020 elections, passing their policy preferences into law while they still can.
But here's the thing: presuming this thing passes, it'll be with the support of the Republican leadership in the Senate. Presumably, that means they got quite a bit of what they wanted—or at least forced Democrats to take less of what they wanted—in exchange for allowing the bill to pass. That's actually how the system is supposed to work.
Ostensibly, the Board turns back to procedure here:
The political process here is as bad as most of the policy. Major changes in law deserve their own debate and vote. Instead, a handful of powerful legislators wrote this vast bill in a backroom. Members can use the need to fund the government as an excuse to say they supported, or opposed, specific provisions as future politics demands.
But then pivot back to policy:
This didn't have to be. Congress could pass a short-term funding bill and kick this mess to next year when the GOP House would have more leverage. A few Republicans are suggesting they may try to delay a Senate vote, and please do. For trying to stick the country with this omnibus, Congress should miss Christmas.
So, for one thing, I'm not sure it's true that Republicans will have more leverage come January. Yes, they'll have a thin House majority. Presuming whoever winds up being Speaker is as effective as Nancy Pelosi in holding the Caucus together, they'll be able to write spending bills. But Democrats will be able to block anything in the Senate, so it's pretty much the relationship that prevails now but in reverse.
Beyond that, this deal has presumably been months in the making. The same folks in charge of the Senate now will be in charge then. But they'll have to start negotiations over with the new House Democratic leadership—which will be younger and, I strongly suspect, less pragmatic than Pelosi, Hoyer, and Clyburn.